Bowls of Plenty: Recipes for Healthy and Delicious Whole-Grain Meals by Carolynn Carreño
January 28, 2017 by Jenny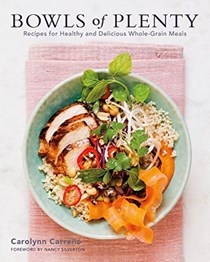 Bowls of Plenty: Recipes for Healthy and Delicious Whole-Grain Meals
by Carolynn Carreño dishes up (is bowled up a thing?) over 75 delicious recipes for hearty meals in the humble bowl. Does the cookbook collector need another book for bowl food? Yes, when it is as great and unique as this one.
I admit – I'm the first to say – enough with the grain bowls – I also admit I'm wrong. This book is beautiful with tasty, flavorful meals that appear comforting, delicious and good for us. She breaks down grains, how to create our own nut milks, provides tutorials on perfecting eggs and other bowl components, and provides ways to create and add variety to our own Asian bowls, Mezze bowls and much more.
Besides the totally yummy recipe we're sharing today for the Five Spice Riblets – Carolynn delivers a wide range of international cuisines such as Glazed Pork Belly with Ginger Scallion Rice and Pickled Vegetables, Vietnamese Bowl with Sweet and Tangy Vinaigrette, and a Japanese Breakfast Bowl with Spinach, Salmon, and Sweet Miso Dressing. Desserts are covered with Coconut Black and Wild Rice Pudding with Mangoes and Macadamia Nuts, Quinoa Indian Pudding and recipes for cobbler and cake utilizing healthy grains. Not only are international flavors represented, but she hits on American classics such as a Pastrami and Rye Berry Hash with Mustard Greens and Pickled Mustard Seeds and a Spiced Apple Breakfast Farro with Yogurt Cream. A
full index of the recipes
can be found here at EYB.
Carolynn is a James Beard award-winning food writer and co-author of 12 cookbooks. If the photos and ingredients listed in these recipes are any indication, I am going to have a very delicious time using this book. Approachable, fun and comforting food sounds perfect for weeknight meals and for party food as well.

FIVE-SPICE RIBLETS with Sticky Rice and Apple Slaw
I call these ribs "candied meat" because they're so sticky and sweet. I adapted the recipe from one my friend Susan Spungen, who worked for Martha Stewart Living for years (and who also beautifully styled the food in this book), published in one of the books she did with Martha. Have your butcher split the ribs down the middle so you can make bite-size riblets. If you buy your ribs at the grocery store with no butcher to be seen, it won't be the end of the world-you'll just have longer ribs to gnaw on. I serve the riblets with a refreshing rice and apple slaw, but if you prefer a hot entrée, serve them over Ginger Scallion Rice (recipe in book) or plain brown rice and a green vegetable. This bowl is the perfect example of serving meat as a side dish. Serves 4
INGREDIENTS
1 rack baby back ribs, sawed in half down the middle into riblets
½ cup apple cider vinegar
¼ cup Dijon mustard
¼ cup sambal oelek (or another Asian chile garlic paste)
½ cup maple syrup
½ cup molasses
½ teaspoon five-spice powder
2 teaspoons kosher salt
Sticky Rice and Apple Slaw (recipe follows)
Toasted white sesame seeds, for sprinkling
METHOD
Cut between each bone to create individual riblets.
Combine the vinegar, mustard, sambal, ¼ cup of the maple syrup, and ¼ cup of the molasses in a glass or ceramic baking dish or zip-top bag. Add the ribs and turn to coat them with the marinade. Cover the baking dish or close the bag and put the ribs in the refrigerator to marinate for at least 1 hour and as long as overnight.
Adjust the oven racks so one is in the middle position and preheat the oven to 350°F. To make easy cleanup, line a baking dish with aluminum foil. Make sure there are no tears or open seams in the lining; otherwise, the sticky stuff will leak onto the baking dish, which will cause the foil to stick to it.
Remove the ribs from the marinade and put them bone-side down on the foil-lined baking sheet. Pour the marinade over them and season the sides facing up with the five-spice powder and salt. Cover the pan tightly with foil and bake the ribs for 1¼ hours. While the ribs are cooking, stir the remaining ¼ cup maple syrup and molasses together in a small bowl. Remove the ribs from the oven and remove the foil; be careful, as steam will rise from the pan.
Increase the oven temperature to 400ºF.
Baste the ribs with the maple-molasses mixture and return them to the oven, uncovered. Bake until they are sticky and glazed looking, turning the ribs with tongs to coat them in the liquid a few times during the process; this will take anywhere from 10 to 30 minutes, depending on how much liquid is in the pan. Keep an eye on it, as the liquid can go from sticky and delicious to burnt pretty quickly.
To serve, pile the slaw into four or more bowls. Remove the ribs from the oven and serve them piled up on the bowls of slaw. Sprinkle the ribs with sesame seeds and serve.
APPLE SLAW
Who doesn't love a good slaw? This one contains sticky rice, so it does double duty as a grain base for yummy sticky ribs, and a salad. It requires a lot of slicing. If you've been meaning to buy a mandoline, now is the time.Serves 4 to 6
INGREDIENTS
½ cup canola oil
½ cup apple cider vinegar
2 tablespoons honey
2 teaspoons toasted sesame oil
1 teaspoon kosher salt
2⁄3 cup short-grain brown rice, cooked (about 2 cups cooked rice)
½ head napa or green cabbage, cored and thinly sliced (about 4 cups)
1 cup sugar snap peas (or snow peas), very thinly sliced on an angle
4 radishes, trimmed, scrubbed, and cut into thin matchsticks
1 Granny Smith apple, halved, cored, and cut into thin matchsticks
1 (3- or 4-ounce) package pea shoots or pea shoot flowers (available at grocery stores), stems pinched off (optional)
2 tablespoons toasted sesame seeds (white, black, or both)
METHOD
Combine the canola oil, vinegar, honey, sesame oil, and salt in a small jar, close the jar, and shake it vigorously to combine. (Alternatively, whisk everything together in a small bowl.)
Put the rice in a big bowl. Add the cabbage, sugar snap peas, radishes, apple, pea shoots, and sesame seeds. Drizzle half the dressing over the slaw and toss to mix everything together. Add more dressing if you think the slaw needs it.
Excerpted from the book BOWLS OF PLENTY by Carolynn Carreño. Copyright © 2017 by Carolynn Carreño. Reprinted with permission of Grand Central Life & Style. All rights reserved. Photo by Beatriz da Costa.