Vij's Indian Our Stories, Spices and Cherished Recipes
January 26, 2017 by Jenny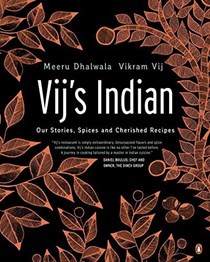 Vij's Indian: Our Stories, Spices and Cherished Recipes by Meeru Dhalwala and Vikram Vij opens with these words "Cooking is the doorway to caring about where our food comes from, taking care of our families and taking care of our health. It connects our hands to our senses and to everyone's hearts." Such a simple statement that carries so much truth and weight.
I've been a fan of Meeru and Vikram, the powerhouse couple behind Canadian's fabulous Indian restaurants, for years. My friend, Janis recommended their cookbooks to me and it was love at first bite. Vij's at Home and Vij's Elegant and Inspired Indian Cuisine are treasures in my collection. Of note, Vikram's memoir is to be released in March entitled: Vij: A Chef's One-Way Ticket to Canada with Indian Spices in His Suitcase.
Vij's Indian offers us 80 new and inspiring recipes approachable by both the new and experienced home cook. The authors have also included pairing suggestions for those unfamiliar with Indian cookery to help in planning a cohesive meal. The stories and memories shared are entertaining and the recipes, as with their prior cookbooks, will not disappoint. Why have a crepe when you can have a Carrot and Semolina Crepe or potatoes when you can create Creamy Fenugreek and Cumin Potatoes. The warmth of Indian spices, the melding of flavors to deliver exciting Indian dishes, the stories and background along with the authors' combined years of delivering great food make this book a must have.
Thanks to Penguin Random House Canada for allowing us to share one of the delicious recipes from this title. Be sure to enter our contest for a chance to win one of three copies of this beautiful book.
OVEN-BAKED CHICKEN WITH CHARD AND RED RADISHES
2 pounds chicken wings or bone-in thighs
1 /4 cup cooking oil
2 tablespoons chopped garlic
(6 to 7 medium cloves)
1 1 / 2 tablespoons mild ancho chili powder
1 1 / 2 tablespoons ground cumin
2 teaspoons salt
1 / 2 tablespoon dried oregano
6 whole cloves
2 cups puréed fresh or canned tomatoes (5 to 6 medium)
2 bunches chard (any kind), stems discarded, chopped
1 bunch red radishes
1 small head cauliflower, cut into large pieces, OR 1 pound potatoes, chopped into large pieces, OR
1 pound fresh green beans, chopped
1 lemon, cut into 6 wedges (optional)

This no-nonsense curry-flavoured dish is our first-ever Indian meal made with chard … and oregano. We make this easy meal at home all the time, and it's a favourite of Nanaki and Shanik's friends when they join us for dinner.

The red radishes are a must: they become sweet when cooked, and much of their colour goes into the curry itself. If the leaves of the radishes are in good shape, wash them and include them in the curry too. And though we suggest cauliflower, potatoes, green beans (or a combination of them), we add any vegetables we're in the mood for that fit into the casserole dish. When you mix the vegetables into the tomatoes, it will look like you have way too many, but remember that chard wilts as it cooks.

We cook with bone-in chicken, either wings or thighs. When we're in the mood for full fat and rich flavour, we cook with the wings. When we want extra chicken, we use the thighs. To get the fatty flavour without getting all the fat, we take the skin off half of the thighs and leave the skin on the other half. We serve this chicken with a baguette or rice pilaf.

SERVES 6
PREP & COOKING TIME: 45 MINUTES

PREHEAT the oven to 400°F. Have ready a 9- × 12-inch casserole dish and a sheet of aluminum foil large enough to cover it.
Place the chicken pieces in a large bowl. Add the oil, garlic, ancho chili powder, cumin, 1 teaspoon of the salt, the oregano and cloves. Using your hands, mix well until the chicken is well coated.

Pour the tomatoes into the casserole dish. The next step is messy, so place the casserole dish on the counter or somewhere that's easy to clean up. Add the chard, radishes, cauliflower (or potatoes or green beans) and salt and mix until the vegetables are well combined with the tomatoes. Once the vegetables are mixed, use your hands to press down on the vegetables so you have room to add the chicken.

Arrange the chicken on top of the vegetables (be sure to scrape all the garlic and oil from the mixing bowl), cover loosely with the aluminum foil and bake for 30 minutes. Remove from the oven, carefully pull back the foil (there will be lots of hot steam) and take a peek. If you are cooking chicken wings, they will be done. If you're baking thighs, poke the tip of a knife into the thickest part of a thigh to check that the middle is thoroughly cooked-it will be juicy but there will be no pink meat in the centre.

TO SERVE Serve family style right from the casserole dish, piping hot and with a pair of large serving spoons so everyone can help themselves. Serve with lemon wedges on the side, if you like.

Excerpted from Vij's Indian: Our Stories, Spices and Cherished Recipes by Meeru Dhalwala and Vikram Vij. Recipes Copyright © 2016 Meeru Dhalwala and Vikram Vij. Text copyright © 2016 Meeru Dhalwala. Wine notes copyright © 2016 Mike Bernardo. Published by Penguin Canada, a division of Penguin Random House Canada Limited. Reproduced by arrangement with the Publisher. All rights reserved.