Are James Beard's six essential herbs right for today's cooks?
January 24, 2017 by Darcie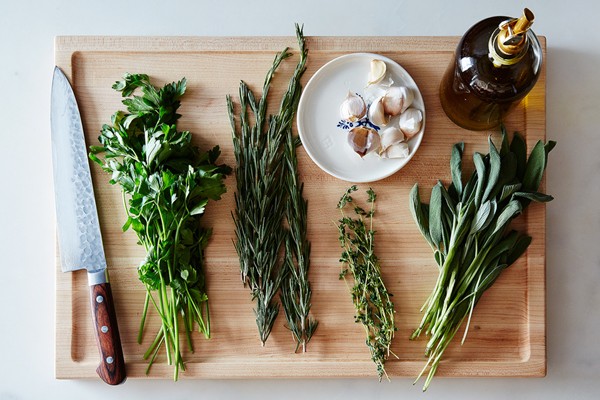 In 1974, James Beard published his iconic Beard on Food. In that tome, he listed the six herbs that he couldn't cook without (actually seven because he felt parsley was so universal that it didn't need to be named). The Beard Foundation recently excerpted the list and Beard's explanation of his selections. The must-have herbs were basil, bay leaf, rosemary, savory, tarragon, and thyme. Most of these herbs are still popular today, but with tastes changing over the past forty-plus years, it may be time to rethink whether Mr. Beard would change his mind if he were still alive today.
There's little doubt that basil, rosemary, and thyme would still make the cut. However, with the ever-increasing popularity in Western diets for Latin American, Middle Eastern, and Southeast Asian flavors, tarragon, savory, and bay leaf might be displaced for other herbs like cilantro, mint, or chives. If you consider garlic a herb (as do several gardening websites), that might oust an herb as well.
Whether or not you agree with Beard's selection of essential herbs, his advice on cooking with old, faded flavors still rings true: "There's no economy in cooking with a spent herb." Beard recommended that you store dried herbs in a dark place in a tightly sealed container, and that you periodically check on them to ensure they are still potent. If they aren't, toss and replace.
Photo of How to make an herb rub without a recipe from indexed blog Food52