January 2017 – Cookbook Roundup
January 23, 2017 by Jenny
Each month I happily wade through hundreds of cookbooks, selecting and reviewing all the best new releases from U.S., Canada, U.K., Ireland, Australia, and New Zealand and this month one from Belgium! The only thing left for you to do is to add them to your Bookshelf.
Time to put health first this month as many of January's titles reflect more nutritionally focused choices for our menu planning. We have a few titles that are not health-related and might foil our resolutions – if they haven't been foiled already. It is the end of January after all – the gyms should be cleared out and the fryer released from being exiled to the garage. One such title is all about dumplings (one of my favorite things – there is something about those delicious packed goodies all in a tiny bundle) and another devoted to the trendy hygge way of life which is hot right now. Mary Berry has a new UK release this month and Phaidon's Quick & Easy Thai looks great. Grab your green smoothie or potato chips and enjoy this list!
If you are planning to purchase any of these books for yourself or as gifts, please use the Buy Book link as we will receive a small affiliate fee that will allow us to index more books. You don't even need to buy the book you clicked from, we get affiliate revenue for anything you buy from Amazon over the next 24 hours after clicking the link. You will find the Buy book link (pale blue box to the right of Bookshelf) when you click on the book titles highlighted in this post (or any post) – your support is very much appreciated.
And just a reminder – we have many great giveaways open here at Eat Your Books. Be sure to enter and check your email folders for notifications!
U.S.
The Ultimate Vegan Cookbook for Your Instant Pot: 80 Easy and Delicious Plant-Based Recipes That You Can Make in Half the Time
by Kathy Hester contains recipes such as Herbed French Lentils with Beets and Pink Rice, Creamy Mushroom Curry with Brown Basmati Rice Pilaf, Southern-Style Pinto Beans, Whole-Grain Cornbread, Smoky Pecan Brussels Sprouts and Tres Leches-Inspired Dessert Tamales. Kathy also shares how to cook an entire meal at the same time with layered entrees and sides as well as how to save time and money by making your own homemade condiments like No-Effort Soy Yogurt, Fresh Tomato Marinara Sauce and Not-Raw Almond Milk. Kathy is the vegan queen – her recipes work.
The Poke Cookbook: The Freshest Way to Eat Fish
by Martha Cheng brings the flavors of Hawaii to our kitchens with 45 recipes for traditional poke, modern twists, bases, bowls, and other local-style accompaniments. From classic Shoyu Ahi to creative Uni, Lychee, and Coconut to vegetarian Mango and Jicama, poke is delicious, simple, and endlessly customizable.
The Virtuous Tart: Sinful but Saintly Recipes for Sweets, Treats, and Snacks by Susan Jane White is being released in the U.S. this month. Previously released in Ireland in 2015, this title contains over 60 recipes with healthy benefits. Recipes include: Piña Kale-ada, full of fortifying folate, Lemon Shizzle Cake, bursting with vitamin C and an anti-inflammatory dose of turmeric, Honuts, the healthy donut, and Macaccino Torte with Toasted Pecan and Chocolate Crumble, beaming with stamina-building maca and antioxidant-rich cacao. The photographs are beautiful and if these cakes and treats taste as good as they look – sign me up! Susan will be in New York City for an event in February be sure to check it out. We will be sharing a promotion on this cookbook soon.
Cooking with Leo: An Allergen-Free Autism Family Cookbook
by Erica Daniels tells the story of a mother desperate to heal and to connect with her severely autistic son. For many years, Erica Daniels had been out to find a successful dietary intervention for her eleven-year-old son Leo, who suffers from significant food allergies, gastrointestinal disease and autism. Through trial and error in her own kitchen, she finally hit her gastronomic stride of preparing nourishing meals for her entire family without gluten, dairy, soy, nuts, additives, or GMOS.
Cooking that Counts: 1,200 to 1,500-Calorie Meal Plans to Lose Weight Deliciously by Editors of Cooking Light delivers sustainable 1,200-1,500 calorie-controlled meal plans packed with tasty food in an easy-to-use format. Unlike other weight-loss plans that rely on processed meals and pre-portioned snacks, the Cooking Light solution emphasizes delicious meals prepared with whole, natural foods and teaches proper portion sizes. With more than 150 recipes, readers will enjoy menu variety (hopefully picking up some new favorite recipes along the way!) as well as some flexibility to enjoy desserts and alcohol.
Bowls of Plenty: Recipes for Healthy and Delicious Whole-Grain Meals
by Carolynn Carreño brings grain bowls to the home cook, offering more than 75 recipes for hearty, grain-centric, one-dish meals that layer flavorful veggies and delicious sauces and vinaigrettes, with optional meats and dairy on a foundation of whole-grain staples. When we hear grain bowls we may tend to shy away but this book is packed with delicious recipes such as Five-Spice Riblets with Sticky Rice and Apple Slaw, Chinese Chicken Salad with Toasted Almonds and Crispy Rice and Mezze Bowl with Pomegranate-Glazed Lamb Meatballs, Hummus, and Tzatziki. I was hesitant about Bowls of Plenty until I saw it – but it is gorgeous and full of deliciousness. Carolynn has an
event scheduled
to promote her book and be sure to enter our
giveaway
and check out the
review and recipe post
which shares a recipe for Five-Spice Riblets with Sticky Rice and Apple Slaw.
Real Food, Real Simple: 80 Delicious Paleo-Friendly, Gluten-Free Recipes in 5 Steps or Less
by Taylor Riggs makes preparing whole, nutrient-dense foods as easy as one, two, three, four, five with delicious recipes that are gluten-free, Paleo-friendly and exceptionally healthy. The author, a Registered Dietitian Nutritionist and founder of Simply Taylor, shares 80 incredible recipes that encompass her healthy lifestyle manifesto in five steps or less. Her recipes showcase complex and intriguing flavors but are surprisingly easy to make and include Asian Chicken Lettuce Wraps, Hawaiian Beef Burgers with Pineapple and Avocado and Balsamic Date and Prosciutto Pizza with Goat Cheese and Arugula.
Paleo Cooking With Your Instant Pot: 80 Incredible Gluten- and Grain-Free Recipes Made Twice as Delicious in Half the Time
by Jennifer Robins, creator of Predominantly Paleo and
bestselling author
, will show you how to drastically cut cooking time for your Paleo dishes in your Instant Pot®. Recipes include Decked-Out Omelet, Legit Bread Under Pressure, Honey Sriracha Chicken Wings, Pressure-Cooked Sirloin Steak and Hidden Spinach Bundt Cakes.
Good Housekeeping Easy Paleo: 70 Delicious Recipes
delivers Good Housekeeping's take on the popular new diet that is surprisingly simple and flexible. With more than 60 recipes to show you a deliciously different path to wellness and featuring dishes such as Savory Pumpkin and Sage Soup, Lemon-Oregano Chicken with Mint Zucchini, Skewered Shrimp, Kale Chips, Cauliflower Tapenade, and Grilled Sweet Potatoes – you can't go wrong.
Salad in a Jar: 68 Recipes for Salads and Dressings
by Anna Helm Baxter provides healthy, easy alternatives to dissatisfying or overpriced grab-and-go meals. These nutritionally balanced recipes are perfect for making ahead. Anna Helm Baxter reveals the keys to layering ingredients to maximize freshness and texture for a hearty and satisfying dish or snack. Tips and tricks include instructions on designing salads in a jar with recipes for raw salads, side salads, meal salads, snacks, and desserts.
Super Smoothies: 61 Recipes and 12 Detox Plans
by Fern Green is an easy-to-follow and informative guide that pares smoothie-making back to its essence. The recipes are presented in highly visual spreads, with each ingredient photographed for at-a-glance instruction. Suggested 3- and 5-day detox plans target specific concerns, such as weight loss, metabolism, digestion, and clear skin, and the smoothies are optimized to enhance and rejuvenate well-being, with health benefits noted for each recipe. Using fresh fruits and vegetables, Super Smoothies provides the perfect introduction for novice smoothie makers, as well as new inspiration for experienced blenders.
Romancing the Chicks: Stories, Recipes and Thoughts
by Mandaar Sukhtankar was released in India and the U.S. this month. It is a collection of Mandaar Sukhtankar's writings from various publications. A career spanning two decades in five-star hotel kitchens brings us this delightful book of recipes, as well as his memories and a fresh perspective on cuisine using his tremendous experience and experiments in the kitchen. Romancing the Chicks is not just a cookbook, it is a book that celebrates food.
All in the Food: 75 Years of Cathal Brugha Street
by Frank Cullen was previously released in Ireland last October and is headed to the U.S. this month. Cathal Brugha Street in Ireland is one of the world's most famous culinary schools. This celebration of its amazing 75 years includes recipes from top chefs who trained or taught there. From starters, mains, and desserts to a great cocktail selection, there's something for home cooks and experts alike.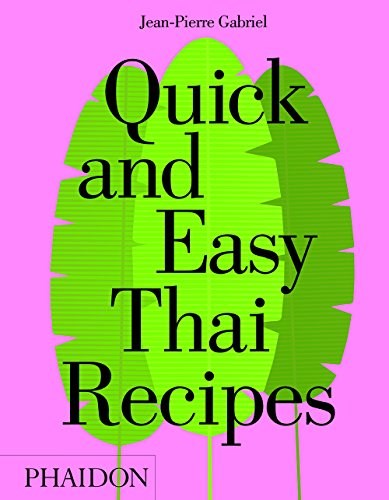 Quick & Easy Thai Recipes
by Jean-Pierre Gabriel shares 100 recipes, all of which have been selected and adapted from Phaidon's national cuisine cookbook,
Thailand: The Cookbook
, form the ultimate collection of authentic and approachable recipes for home cooks of all levels. Please remember Eat Your Book members receive
30% off Phaidon titles
when using the link provided.

U.K.
Deliciously Ella With Friends: Healthy recipes to love, share and enjoy together
by Ella Woodward is the much-anticipated follow-up from blogger Deliciously Ella, the inspirational bestselling food writer who has taken the cookery world by storm since her bestseller
Deliciously Ella Every Day
. In this title, Ella makes it easy to prepare delicious food for you, your friends and family, whatever the occasion. No more wondering whether certain dishes go together, Ella makes life simple with her menus – whether you are planning a laid-back brunch, a last-minute lunch or a fancy supper, Ella has it covered with wonderful hearty and filling recipes that celebrate her natural eating philosophy.
Gatherings
by Flora Sheddon is being released in the U.K. this month and coming to the U.S. in April. This book is a mixture of modern dishes, staple snacks, salads and sides, interesting bakes, and puddings perfect to end a feast with. Nothing overly fussy or complicated, just tasty, pretty plates of food. Choose from the chapters led by occasion or pick and choose from dishes such as Sloe Gin Braised Venison, Cocoa Nib Brownies and Redcurrant Pavlovas to put on a spread. There are menu ideas to show you how to pull it all together from the young Great British Bake Off contestant. The book is gorgeous!
Neil Perry's Good Cooking
by Neil Perry is being released this month in the UK and previously released in Australia in November. This book has over 110 simple yet sophisticated recipes that will show you just how easy it is to create amazing flavours at home with seasonal produce. Drawing on culinary influences both global and local, this collection features recipes suitable for any occasion, and is full of food that will entice you into the kitchen and inspire you to cook. Some of the examples of recipes are: Pork and kimchi fritters with spring onion dipping sauce, Thai basil and vermicelli, and Cinnamon and chilli braised beef; and devour desserts like Raspberry and yoghurt mousse cake and Spiced date cake with creme anglaise. One of my favorite titles from this author is
Spice Temple
and I'm working on collecting the rest. I just ordered this title and
Simply Asian
! I'm going to need a bigger house.
Roots: The Complete Guide to the Underground Superfood (Superfoods for Life)
by Stephanie Pedersen shares 75 delicious and nutritious recipes for root vegetables. From the humble potato to beets, carrots, and yucca, root vegetables are packed with nutrients, vitamins, and antioxidants. Plus, they're easy to prepare, readily available, inexpensive, and a treat to eat. Pedersen's latest book in
Sterling's Superfood for Life
series shows how to transform these nutritional powerhouses into tasty snacks, treats, smoothies, juices, meals, and desserts, as well as beauty products. It provides the latest research on these vegetables' health benefits, along with helpful sidebars, interesting trivia, FAQs, and eight pages of beautiful color food photography. Featured roots include: beets, burdock, carrots, yucca, celeriac, jicama, parsnips, potatoes, radishes, rutabagas, salsify, sweet potatoes, sunchokes, turnips and more.
Bowls of Goodness: Vibrant Vegetarian Recipes Full of Nourishment
by Nina Olsson shares the author's eclectic mix of recipes – which are all vegetarian, and often vegan and gluten-free too. Most dishes are based on her popular blog and showcase plant based bowl food at its best. They include such dishes as Cosmic Green Smoothie, Loyal Lentil Chilli, Laksa Lux Bowl, Water melon Poke Bowl and Almond filled Dumplings in Blackberry Sauce. This title will be released in the U.S. in August.
Porridge: Oats + Grains + Seeds + Rice
by Anni Kravi shares over 50 recipes which take inspiration from around the world, using oats, quinoa, amaranth, raw buckwheat, bulgur wheat, rice and spelt. The chapters are broken down into mylk (almond milk and coconut milk) bases, sweet, savoury, raw and cooked recipes and over 20 inventive toppings. All the recipes are sugar-free, dairy-free, vegetarian and vegan.
Savour: Sensational Soups to Fulfil & Fortify
by Amber Locke celebrates the glory of vegetables all year round with these spectacularly tasty soups. From a refreshing Watermelon Gazpacho, perfect for a summer's afternoon, to a chunky, wholesome Black-Eyed Bean Chilli stew to warm you up on a cold winter's night, soup is not just incredibly versatile but is also an easy way to make the most of fresh, seasonal ingredients. Try Curried Greens and Coconut, Butternut Noodle, Sparkling Pineapple soup, and many more. Featuring more than 100 recipes, including extra toppings and twists to transform your bowl, Savour has something for everyone.
The Medicinal Chef: How to Cook Healthily: Simple Techniques and Everyday Recipes for a Healthy, Happy Life
by Dale Pinnock will teach us the basics of healthy cooking so that we can take control of our long-term health – starting in our own kitchens. The author starts by explaining the benefits of various ingredients like wholegrains, oils and meat and poultry, as well as cooking methods like stir-frying. The second part of the book is packed with 80 easy, everyday recipes that anyone can make and adapt in order to take a healthier path, now and forever.
Mary Berry Everyday
by Mary Berry is being released this month in the UK and comes to the US in June. Mary says, 'Everyday cooking is about sharing your love of food with family and friends. With this book I hope that you will feel encouraged to create new favourites, making everyday meals into something extra-special.' Add a little Mary magic to your cooking with 120 brand-new recipes from the inspiring new BBC series. It includes delicious family suppers, tempting food for sharing and plenty of sweet treats, all made with everyday ingredients and a clever twist.
The Nut Butter Cookbook: Over 70 Recipes that Put the 'Nut' in Nutrition
by Pip Murray will show you not only how to make your own nut butters, but how to use them in breakfasts, snacks, savoury dishes, dessert and bakes, and smoothies. The book is being released in Australia this month and previously was released in the U.K. in December. With recipes including Bakewell Tart Waffles, Nut Butter Slaw, Peanut Butter and Cacao Protein Balls, Almond Butter Matcha Smoothie, and Baked Peanut Butter and Raspberry Cheesecake, this is the ultimate cookbook for people looking to give a healthy, protein-fueled boost to their diet. I'm a huge fan of nut butters and look forward to cooking up some of these dishes.
Kenko Kitchen
by Kate Bradley shares the blogger's passion for simple, tasty and healthy whole foods with the rest of the world and to inspire other young people to cook healthily by delivering over 100 vegan, gluten-free, refined sugar and diary free recipes. This title is the paperback release of Kate's
2015 cookbook
. Kate is dedicated to making plant-based eating easy, delicious and achievable in people's every day, busy lives by holding cooking classes in Melbourne.
Belgium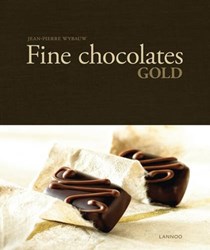 Fine Chocolates: Gold
by Jean-Pierre Wybauw expresses in clear, concise language how to create and shape your own chocolates. How do you make ganache? How can you extend the shelf life of fine chocolates? He also takes a closer look at the different flavourings you can use and combine. Various mouth-watering and original praline recipes are described in detail. The interesting background information and superb photographs will invite anyone to indulge in this sweetness. This book is another must for the kitchens of professional chocolatiers, experienced amateur cooks and chocolate lovers.