Cooking with words
January 14, 2017 by Jenny
An article entitled Dreams of Cooking Behind Barbed Wire passed through my newsfeed earlier this week. The subject of the article broke my heart while reminding me that hope, food and love of family – even when manufactured through memories – is incredibly powerful.
The photo to the left taken by the Sydney Jewish Museum is of a 56-page cookbook laced together with barbed wire and memories and was compiled by the women of Ravensbruck. The contributors of this formidable piece of history were the starving inmates of Germany's largest female concentration camp during World War II. Sharing their stories and writing down their recipes helped the women hold on to themselves, deal with their hunger and gave them strength. These memories of the life that was left behind sustained their spirits.
The cookbook is housed at the Sydney Jewish Museum and is one of six known fantasy cookbooks written by Holocaust prisoners. Edith Peer, the creator of this particular book, was forced to work in an office which enabled her to steal pencil and paper. Stealing these materials, writing down these recipes and keeping the book hidden was very risky. The Sydney Museum's head curator, Roslyn Sugarman, states it beautifully, "This tiny book is an act of resistance to maintain a sense of hope and humanity."
This piece sent me on a journey of learning as much as I could about these strong women who "cooked with words" and strengthened their resolve to keep home and family in their hearts. My search lead me to "Yehudit's Recipe Book" a young Hungarian woman who with her friends kept the faith by sharing fantasy meals and writing down recipes. There are more stories out there – more voices that must be heard.
Today, I'm sharing a few titles below that may be of interest. The first two I have ordered and were recommended by friends. These stories are powerful reminders of what hate can do but also of what hope, love and strength can endure.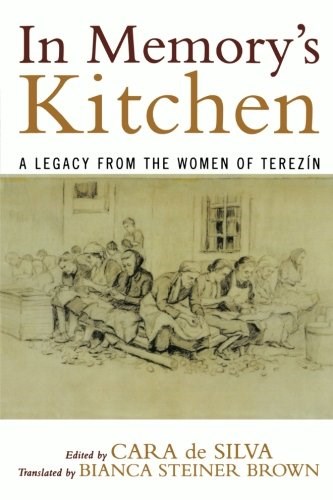 In Memory's Kitchen: A Legacy from the Women of Terezin by Cara Desilva shares the stories of the brave women who defied their captors by preserving their heritage. Despite the horrid conditions the prisoners' endured in the camps – cultural, intellectual, and artistic life did exist within its hellish walls. The handwritten cookbooks are proof that the Nazis could not break the spirit of the Jewish people.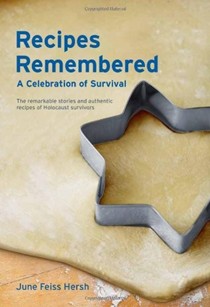 Recipes Remembered: A Celebration of Survival: The Remarkable Stories and Authentic Recipes of Holocaust Survivors
by June Feiss Hersh gives voice to the remarkable stories and cherished recipes of the Holocaust community. The first professionally written kosher cookbook of its kind is a moving compilation of food memories, stories about food and families, and recipes from Holocaust survivors from Poland, Austria, Germany, Hungary, Czechoslovakia, Romania, Russia, Ukraine, and Greece.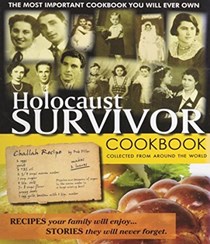 Holocaust Survivor Cookbook: Collected From Around the World
by Joanne Caras and her follow up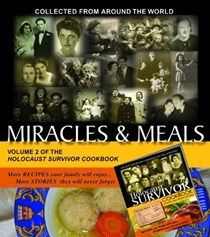 Miracles & Meals Volume 2 of the Holocaust Survivor Cookbook (The Holocaust Survivor Cookbook)
is a collection of recipes from survivors but more importantly these books contain the stories of the strength and resilience of these women. I've read both books and passed them on to others. I felt keeping these titles on my shelf was not as important as sharing these stories.