Author interview with Kristin Donnelly
August 26, 2016 by Jane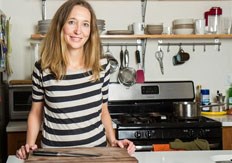 Food & Wine-editor-turned-freelance-writer Kristin Donnelly calls her blog Eat Better Drink Better because that's what she aims to do most days. By better, Kristin isn't referring to some unattainable, lofty goal, but rather she means tastier, often healthier and more sustainable cooking. Kristin continues to write and develop recipes for Food & Wine as well as publications like Every Day with Rachael Ray, Prevention, Women's Health, Epicurious and Today.com. She has just published her first cookbook, Modern Potluck.( Enter our contest for your chance to win a copy of the book). Kristin answered EYB's questions about Modern Potluck:
How did you come up with the idea for this book?
I came up with it when my daughter was a year-and-a-half old and I realized I barely had a social life. Going out to eat had become too expensive (with needing to hire a sitter and all) and hosting dinner parties had become too cumbersome. I realized the solution to my problem was the potluck. I could make a dish and get a whole meal in return while hanging out with friends. Traditional potluck food, however, was in serious need of an update. So I came up with the idea to create recipes for potlucks that were more in line with the way many of us eat (or aspire to eat). That is to say, more vegetables; more global ingredients; lighter, brighter flavors.
When hosting a potluck do you believe in a free-for-all or do you make sure the dishes being brought by guests are well balanced (so you don't end up with three pasta salads!)?
In an ideal world, things are balanced. I went to a potluck recently, however, that was a free-for-all. Yes, there were three or four tomato salads, but it is the season!
With so many different dietary restrictions these days when cooking for a crowd – gluten-free, dairy-free, allergies, vegan, vegetarian, etc – how were you able to take all those into account with your recipes?
With each recipe, I started with an idea of something I wanted to do. For example, an oven-fried chicken that could be serve cold. My first goal was to make it delicious. Then, I tested a version with flour and another gluten-free version with rice flour and realized they both were tasty, so I give readers the choice. That's how it worked-I started with the goal of making something delicious. If it fit into a restricted diet (or could be easily adapted), even better.
What is the recipe that you are most often asked for when you take the dish to a potluck?
I don't have a specific recipe, but I tend to make very good grain salads and people always want the recipe afterwards.
What tips about transportation do you have in the book?
I think it's important that people think about temperature of food, so if a dish should be served cold, or needs to stay chilled for as long as possible for safety reasons, I advise people transport dishes in a cooler. If they're hot and meant to be serve hot, I talk about how wrapping casserole dishes in newspaper and blankets insulates them quite well. One particularly challenging dish is deviled eggs. I like to put all of the halved egg whites in a container and the filling in a resealable plastic bag. Then I snip the corner off the bag and pipe in the filling.
Have you ever had any disasters when transporting food to a potluck?
I once made a caviar tart from Gourmet magazine and didn't realize how much lumpfish roe bled off its color. It turned the eggs an unappealing gray color.
What are your etiquette rules for taking food to a potluck (like don't turn up expecting oven space without checking first with the host)?
If you need to do anything to prep your dish, whether reheat it, transfer to a platter, have serving tongs, you should ask the host first. Also, I think guests should try their best to take their serving bowls or platters home.
What do you think the rules on leftovers should be at a potluck – do they go home with the cooks or are they left for the host?
I think it's case by case, honestly. Since it's nice for guests to take home their bowls or platters, sometimes it's easiest for them to take home their leftovers as well. If a host thinks there's going to be a tremendous amount of food, it's not a bad idea to have take-out containers or plastic bags on hand some people can easily take home food.