The Homestead Kitchen – Eve & Eivin Kilcher
December 13, 2016 by Jenny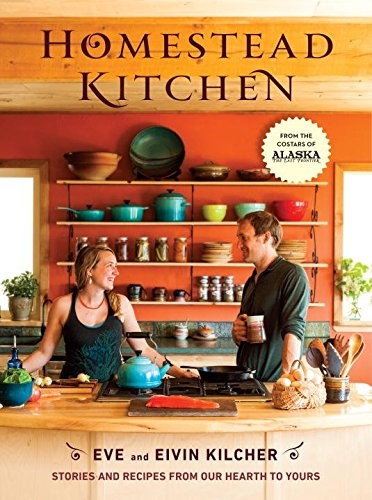 Homestead Kitchen: Stories and Recipes from Our Hearth to Yours, the debut title from Eve and Eivin Kilcher, the charming young couple who star on the reality show, Alaska The Last Frontier is a wonderful read. I enjoy watching the show as Alaska fascinates me – it has always been somewhere I've wanted to visit. I think it all started with Northern Exposure which made Alaskan living seem romantic – I'm always one to yearn to live anywhere else than where I'm currently living.
Homestead Kitchen starts with a foreword written by Jewel, the singer, who is a cousin to the Kilchers. The recipes utilize fresh produce that is grown on their land and proteins that they have caught themselves. Stunning photographs of the Alaskan landscape, the Kilcher family, their garden and lifestyle fill the book. It's like an episode of their show but more intimiate and with recipes!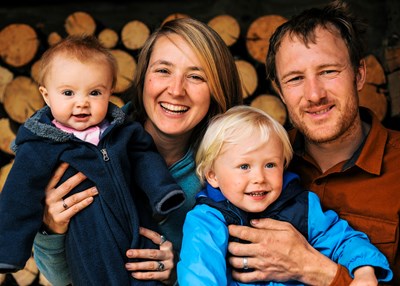 The recipes are approachable and if you are unable to obtain venison or mountain goat – substitute what protein you can in those types of recipes (there are not many that require wild game). There is a heavy focus on vegetables and seafood while being innovative using what the land has provided. Eve's beehives and the couples closeness to nature are enviable; trips to the outhouse not so enviable. The last frontier isn't ready for me, nor am I for it – I will be content reading this book and watching the Kilchers from the comfort of my couch steps away from indoor plumbing for now.
Thanks to the Kilchers and Pam Krauss Books/Avery we are sharing two recipes from the title today. Be sure to head over to our contest page to enter the giveaway for this book.
Beet Salad Serves 8
8 cups beets cut in 1-inch cubes or halved if small
¼ cup toasted sesame oil
2 tablespoons olive oil
Juice of ½ lemon
1 tablespoon champagne vinegar
1 teaspoon tamari
2 teaspoons maple syrup
1 garlic clove, minced
¼ teaspoon ground ginger
1/3 cup pine nuts or walnuts, lightly toasted
2 tablespoons chopped fresh herbs, such as parsley or basil (optional)
Place a steamer basket in the bottom of a large saucepan. Fill the pan to just below the steamer with cool water and bring to a simmer over medium heat. Place the beets in the basket, cover, and steam until soft when pierced with a knife, 10 to 12 minutes. Drain the beets and spread on a baking sheet to cool. Transfer the beets to a medium ceramic bowl.
In a jar, combine the sesame oil, olive oil, lemon juice, vinegar, tamari, maple syrup, garlic, and ginger. Cover the jar and shake vigorously. Pour the vinaigrette over the cooled beets and gently toss until they are evenly coated. Sprinkle with the nuts and fresh herbs, if desired.
Peach Cobbler Serves 6
Peach Filling:
3 pounds peaches, pitted and cut into ½-inch slices
1 tablespoon fresh lemon juice
1 teaspoon vanilla extract
3 tablespoons honey
2 tablespoons organic all-purpose unbleached white flour
Topping:
½ cup organic all-purpose unbleached white flour
1¼ cups old-fashioned rolled oats
1 teaspoon ground cinnamon
½ teaspoon ground nutmeg
1 teaspoon ground ginger
½ cup packed dark brown sugar
½ cup (1 stick) salted butter, at room temperature
½ cup chopped pecans or walnuts
Preheat the oven to 350°F.
Make the filling: In a large bowl, toss together the peaches, lemon juice, vanilla, honey, and flour, coating the peaches thoroughly. Set aside for 10 minutes.
Make the topping: In a separate bowl, mix together all the topping ingredients to form a crumbly mixture. You may need to get your fingers in there to break up the butter chunks.
Pour the filling into a 10-inch cast-iron skillet or a 9-inch ceramic pie plate.
Sprinkle the crumbled topping evenly over the peach mixture, covering it completely. Place a baking sheet under the pie to catch any drips during the cooking process. Bake for 35 to 40 minutes, or until the top is golden brown and the juices along the edges are bubbling. Let cool a little before serving.
Recipe Note: Of course this goes beautifully with fresh cream-which, thanks to our Homestead milk cows, we're lucky enough to have on hand nearly all the time.
Reprinted from Homestead Kitchen by arrangement with Pam Krauss Books/ Avery, a member of Penguin Group (USA) LLC, A Penguin Random House Company. Copyright © 2016, Eve and Eivin Kilcher