Cookbook Giveaway – Taste of Persia
December 6, 2016 by Jenny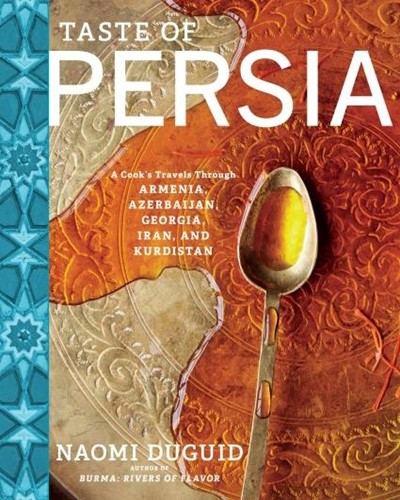 Taste of Persia: A Cook's Travels Through Armenia, Azerbaijan, Georgia, Iran, and Kurdistan by Naomi Duguid delivers another world to us by journaling her travels.
The countries that encompass the Persian region while a mix of centuries old religions, cultures, and politics, are connected by food traditions. The food shines with jeweled pomegranates, the golden hues leached from saffron, and the bountiful fresh herbs that all add life and vibrancy to the meals of this region.
I, for one, am grateful to Naomi Duguid, who for decades has been unearthing fascinating recipes and haunting tales from those areas of the world where most of us have not yet traveled. Taste of Persia contains 125 recipes, blanketed with narrative and photographs of the people and landscapes that bring this far-away world closer to the reader. To read more about this title and try two recipes, please see our review and recipe post.
We are pleased to offer three copies of Taste of Persia to our EYB Members in the U.S. One of the entry options is to answer the following question in the comments section of this blog post:
Do you have any of Naomi Duguid's books in your collection? If so, which ones?
Please note that you must be logged into the Rafflecopter contest before posting or your entry won't be counted. If you are not already a Member, you can join at no cost. The contest ends January 6th, 2017.
Be sure to check your email spam folders for email notifications or check back on this post on the 6th for the names of the winners.