Food52 A New Way to Dinner
November 3, 2016 by Jenny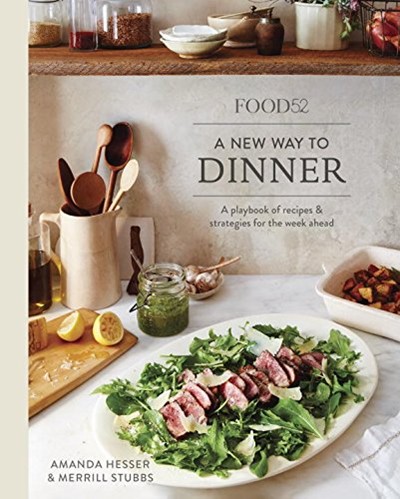 Food52: A New Way to Dinner: A Playbook of Recipes and Strategies for the Week Ahead by Amanda Hesser and Merrill Stubbs is a playbook of recipes and strategies for planning menus for the week ahead.
Food52 titles have always held a spot on my shelves – I have them all. Originally, I bought the first title because I had friends who had contributed recipes. After cooking from the book – I knew Food52 titles contained great recipes that worked. Food52 Genius Recipes is a favorite go-to in my collection. All the best recipes in one book – it's a no-brainer.
Food52: A New Way to Dinner tackles the age-old question: "What's for dinner?" With game plans, shopping lists and recipes for a week's worth of seasonal dinners, this book is a winner. Even those of us who love to cook have days when we find inspiration has abandoned us. When we don't have a plan and our only goal is to get a healthy, home cooked meal on the table, this title will come to the rescue.
Recipes for Chicken Cutlets with Charmoula and Preserved Lemons, Grilled Shrimp with Arugula and Garlic Scape Pesto and Overnight Roast Pork ensure everyone will be happy once meal time rolls around. Plenty of options for dessert as well: Plum Tart with a variation for Peach, Coconut Dream Bars, and Brown Sugar Pound Cake with Crème Fraîche Whipped Cream (which is to die for).
Be sure to enter our contest for a chance to win a copy of this book. In the meantime, thanks to the author and Ten Speed Publishing we are happy to share two recipes for you to try now.
Chewy Vanilla Spice Cookies with Chocolate Chunks
(Vegan, Too!) (Amanda's Fall)
Merrill and I had a cookie bake-off in 2015 where each of us was tasked with creating a holiday cookie that incorporated vanilla. I wanted a cookie that merged the benefits of a chewy chocolate chip cookie with the fragrance of a holiday spice cookie. I began by using a chocolate chip cookie base that's made with vegetable oil rather than butter-inspired by Ovenly's vegan chocolate chip cookie. I infused this base with vanilla by grinding up a whole vanilla bean with the sugar; I increased the chocolate (because I wanted to win) and chopped it so there would be a mix of shavings and chunks; and I gave it a little holiday oomph with cinnamon and ground chile.
Merrill went in another direction, blending chocolate and almond flour into her dough and larding it with plump dried cherries. We handed out twenty-eight thousand of them around the city from our Holiday Cookie Truck. The public voted on social media. And vote they did. If you'd like to bake the winning cookie, turn to page 252, but if you're more of an underdog type, then settle in here.
MAKES 20 COOKIES
2 cups (250g) all-purpose flour
1 teaspoon baking powder
3⁄4 teaspoon baking soda
1⁄2 teaspoon salt
1 teaspoon ground cinnamon (preferably Saigon)
1⁄4 rounded teaspoon ground chile (preferably piment d'Espelette)
6 ounces (170g) dark chocolate, chopped into 1⁄4-inch (6mm) chunks; reserve any shavings
1 vanilla bean, cut crosswise into 6 pieces
1⁄2 cup (100g) sugar
1⁄2 cup (110g) firmly packed dark brown sugar
1⁄2 cup plus 1 tablespoon (135ml) canola oil
1⁄4 cup plus 1 tablespoon (75ml) water
Flaky sea salt, such as Maldon, for sprinkling
1. In a large bowl, whisk together the flour, baking powder, baking soda, salt, cinnamon, and chile. Fold the chocolate chunks (and all the shavings on your cutting board) into the flour mixture. Look at that-you've barely started the recipe and you're already done with half of the ingredients!
2. In a blender, combine the vanilla bean and sugar and blend until the vanilla is reduced to flecks in the sugar. In a separate large bowl, whisk the vanilla sugar and brown sugar with the canola oil and water until you have a smoothish liquid.
3. Sprinkle the dry ingredients onto the sugar mixture and fold together with a rubber spatula until just combined.
4. Cover the bowl with plastic wrap. Refrigerate the dough for at least 12 hours and up to 24 hours. As Ovenly says, do not skip this step!
5. The day of: Heat the oven to 350°F (175°C). Line a rimmed baking sheet with parchment paper. Scoop the dough into 2-inch (5cm) mounds, placing them on the prepared baking sheet and flattening them slightly with your hands. If your chocolate chunks are big, you may also need to press the dough together with your fingers. Sprinkle the dough with flaky salt and slide the baking sheets into the freezer for 10 minutes.
6. Bake for 6 minutes, then rotate the baking sheet 180 degrees and continue baking until the edges are beginning to toast, about 6 minutes more. Let cool on the baking sheet for 5 minutes, then transfer to a rack to cool completely. You can bake off the rest of the dough now, or do it in a single batch when you want to serve them. Store the cookies in an airtight container for up to a week.
Merrill on Spice: "If you consort with spiceaphobes, just leave out the chile; there's still plenty of zip from the Saigon cinnamon. And they make great ice cream sandwiches-try them with cinnamon ice cream to double down on the spice."
Slow-Cooked Pork Tacos (Merrill's Winter)
These tacos were inspired by a recipe I came across in Fine Cooking for chili con carne. I decided to make them with pork shoulder instead of beef, and I reduced the liquid and axed the beans to make more of a thick stew. Then, another thought: Wouldn't this be good wrapped in tortillas? And I might as well make some quick-pickled onions while I was at it. At this point it looked nothing like the original, but all recipes come from somewhere, right? Like most slow-cooked dishes, this is even better after a day or two.
Spice: The taco filling calls for several types of chiles and chili powders. In a pinch, you can leave out what you don't have, but if you stock up on all of the ingredients you'll be rewarded with complex layers of flavor and heat. Feel free to adjust the amounts to match your tolerance for spice. Use 1 serrano instead of 2 and only 1 teaspoon of ground chipotle if you're feeling gun-shy.
SERVES 4, WITH LEFTOVER PORK FOR OTHER DINNERS AND LUNCHES
4 teaspoons cumin seeds
2 teaspoons coriander seeds
4 teaspoons ground ancho chile
2 teaspoons ground chipotle
1 teaspoon dried oregano
3 to 4 tablespoons vegetable oil
4 pounds (1.8kg) boneless pork shoulder, cut into 3⁄4-inch (2cm) cubes
Kosher salt
2 yellow onions, diced
2 poblano chiles, seeded and finely chopped
2 serrano chiles, seeded and finely chopped
4 large garlic cloves, minced
3 cups (710ml) homemade or low-sodium chicken stock
2 cups (480g) canned chopped tomatoes, with their juices (preferably Pomi)
4 large limes
12 to 16 small corn tortillas
2 avocados
1⁄2 bunch cilantro, washed and dried
Sour cream, for serving
Pickled onions, for serving
1. Toast the cumin and coriander seeds in a small pan for a minute or two over medium heat, shaking the pan, until fragrant. (Be careful not to scorch them.) Finely grind the spices using a spice grinder or a mortar and pestle. Stir in both ground chiles and the oregano and set aside.
2. Warm 1 tablespoon of oil in a large heavy pot or Dutch oven over medium-high heat. Season the pork with salt. Working in batches so you don't crowd the meat, cook the pork until well browned on all sides, about 4 minutes total (add more oil as needed). Transfer the browned pork to a clean plate.
3. Lower the heat to medium-low and add another tablespoon of oil, the onions, chiles, and a few pinches of salt. Cook until softened, about 5 minutes. Add the garlic and cook for 1 minute more. Stir in the spice mixture and cook for another minute.
4. Return the pork with any juices to the pot, along with the chicken stock and tomatoes. The pork should be covered in liquid; if it's not, add a little water. Squeeze in the juice of 1 lime and add 1 tablespoon of salt. Bring the liquid to a boil, then turn down the heat, cover the pot, and simmer very gently for 1 hour.
5. Uncover the pot and continue to cook until the pork is tender and the sauce thickens, 30 to 60 minutes. Taste and adjust the seasoning. Let the pork cool and store in the pot in the fridge for up to 5 days.
6. The day of: Heat the oven to 300°F (150°C). Wrap the tortillas tightly in aluminum foil and warm in the oven for 5 to 10 minutes. Gently reheat the pork over medium heat for about 10 minutes and squeeze in some more lime juice. Peel, pit, and slice the avocados and cut 2 limes into wedges. Set out the pork with the avocados, lime wedges, a heap of cilantro, a small bowl of sour cream, and the pickled onions. Let everyone assemble their own tacos at the table.