The London Cookbook – Aleksadra Crapanzano
October 19, 2016 by Jenny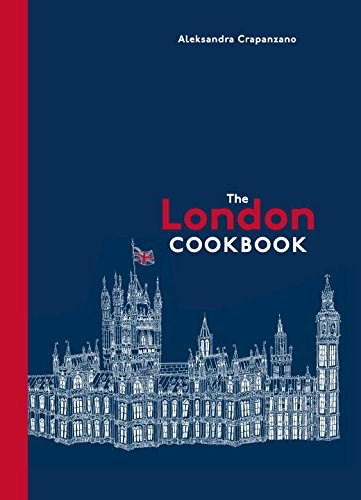 London is on my ever-growing list of cities where I'd love to live or at least spend additional time. Fifteen years ago, we visited London on our honeymoon and I remember being surprised at how incredible the food was. I had heard the rumors – bland, simple and the words black pudding were mentioned. Thankfully, London's stodgy reputation in regards to its cuisine is no more.
The London Cookbook: Recipes from the Restaurants, Cafes, and Hole-in-the-Wall Gems of a Modern City came to life when author, Aleksandra Crapanzano, who frequented the famous Books for Cooks store (isn't that where all good things happen – a cookbook store?) where she would learned which meal was not to be missed or that Yotam was almost out of tahini cookies, and more food gossip. Leaving the store, jotting notes in her nearly-filled notebook was when the spark for this book took flame. Recently, she wrote an interesting piece for Food52 sharing more details – be sure to check out her article.
In The London Cookbook, the London restaurant experience is documented with photographs, profiles of major players and almost 120 recipes, The chapters are organized by types of dishes: Light Fare; Soups; Pasta Rice and Grains; Vegetarian; Seafood; Fowl; Meat; Desserts; Chilled Desserts and ending with Cocktails (as all good things should end). Each of these chapters share recipes from various restaurants: Ottolenghi's Mung & Haricot Verts; Caravan's Corn & Chorizo Fritters with Smoked Paprika Crème Fraîche and The River Cafe's Risotto di Peperoni, for example.
There is so much to love about this book, Aleksandra's vast knowledge of the chefs and the restaurants of London, the gorgeous photographs taken by Sang An and the recipes that are approachable to the home cook. She states that she could have easily written a 600 page tome because she had acquired so much research. Perhaps there will be The London Cookbook, Volume II in her future, I hope so.
Be sure to enter our giveaway for a chance to win one of five copies of The London Cookbook. Meanwhile, courtesy of the author and Ten Speed Press, we are pleased to share two recipes you can try now.
FISH AND CHIPS Serves 5
They are indisputable. A fact of British life. That, perhaps, is the most important thing you need to know about fish and chips. So essential to the happiness of Brits, fish and chips was one of the only foods not rationed during World War II. Perhaps Churchill was a devotee, or perhaps he simply knew that ravaged families needed foods that offered not only comfort, but a sense of national continuity. I wonder if he knew that Jewish refugees from Spain and Portugal, in flight from the Inquisition, first introduced fried fish to England in the early sixteenth century.
Since the days of Charles Dickens and his chips with "reluctant drops of oil," there has been both much evolution and none at all. Many a chipper or chippy, as fish and chip houses are called, still serve roughly the same recipe you might have found one or two hundred years ago. But then there are chefs like Tom, who have elevated the art and craft of fish and chips while preserving the beloved tradition to a T. To my mind, his version is the best in London. And while chips aren't as skinny as their French cousins, fries or frites, they are nearly as irresistible, doubly so, with this tartar sauce. Oh, and on the subject of origins, tartar sauce has nothing to do with the Tartars, save for the French predilection for adopting exotic names for their sauces, including sauce tartare. Too bad, as it would have made for a good story.
Here are a few pointers about heat and timing, as expertise in deep-frying isn't a given. If the oil isn't hot enough, your fish and chips will be soggy instead of crispy. Be patient in waiting for the oil to heat to the required temperature and work in batches so as not to overcrowd the fryer and lower the temperature of the oil. I suggest making the tartar sauce first and refrigerating it until needed. Then prepare the batter. And finally, heat the oil and set to frying, first the potatoes and then the fish.
TARTAR SAUCE
4 egg yolks
1 teaspoon English mustard
½ teaspoon fine sea salt
¼ teaspoon freshly ground black pepper
¼ teaspoon freshly ground white pepper
1 tablespoon white wine vinegar
2 teaspoons freshly squeezed lemon juice
3 cups canola oil
2 tablespoons ice water, if needed
1 tablespoon chopped gherkins
1 tablespoons capers, rinsed
2 large shallots, minced
2 tablespoons chopped flat-leaf parsley
FISH AND CHIPS
1½ cups self-rising flour
2 tablespoons cornstarch
¾ teaspoon fine sea salt
½ teaspoon sugar
½ cup beer, preferably lager
½ cup sparkling water
2 pounds potatoes, such as russets or Maris Pipers, peeled
Oil for frying, such as canola, safflower, or grapseseed
5 pieces cod fillets, roughly 5 ounces each
Malt vinegar, for serving
To make the tartar sauce, whisk together the egg yolks, mustard, salt, and pepper in a bowl until pale. Whisk in the vinegar and lemon juice. While whisking constantly, drizzle in the oil to form a mayonnaise-like emulsion. Only add the ice water as needed to loosen the consistency if too thick. Fold in the gherkins, capers, and shallots. Fold in the parsley just before serving.
To make the batter for the fish, combine the flour, cornstarch, salt, and sugar in a bowl. Make a well in the center of the flour mixture, then pour in the beer and sparkling water and whisk to combine. Set aside for 10 minutes, then whisk again until smooth. Set aside to rest for 15 to 20 minutes longer and then whisk again. There should be no lumps!
To make the chips. Wash the peeled potatoes and cut them into ½-inch wide batons. Rinse the potatoes under cold running water to remove excess starch.
Parboil the potatoes in abundantly salted boiling water until just short of tender. Drain and transfer immediately to a bath of ice-water.
Line a plate with paper-towels and place next to the stove. Heat the oil in a deep-fryer or high-sided saucepan to 280˚F. Working in batches, drain the potatoes and plunge them into the hot oil to blanch for 2 minutes. Remove with a spider spoon and drain on paper towels. Increase the heat of the oil to 360˚F, then plunge the chips back into the oil for 4 to 5 minutes longer, until golden brown and crispy. Remove immediately to drain on paper towels and sprinkle with sea salt.
To make the fish, line a plate with paper towels and set next to the stove. Using the same saucepan or fryer as you used to the make the chips, bring the oil to 360˚F. Working in batches, dip the fish into the batter and, holding each piece up by its tail end, let the excess drip off. Gently place the fish into the hot oil and fry for about 8 minutes, until golden and crispy. Work quickly because the beer batter is best used as soon as it's ready. Transfer to drain on the paper-towel lined plate while you finish frying the remaining fish.
Serve the fish and chips immediately with the tartar sauce and malt vinegar.
APPLE AND CALVADOS CAKE
Serves 6 portions, which are always generous
2 cups sugar
3 eggs
1 1⁄2 cups vegetable oil
1⁄4 cup Calvados
3 1⁄4 cups all-purpose flour
2 teaspoons ground cinnamon
1 teaspoon baking soda
Pinch of salt
Pinch of ground cloves
3 or 4 baking apples, peeled and chopped, preferably Bramley or Granny Smith
1 cup walnuts, chopped
Crème fraîche, for serving
When Fergus sent me this recipe, he wrote me this note at the top of the page: "A very fine cake. What is not fine with a little Calvados!" How right he is, on both counts. I'm mad for this cake. The Calvados seems to ambulate in the background, like a haunting. The chopped apples and walnuts provide texture. The oil would keep it moist for days, were it not certain to be devoured within hours. The cinnamon offers comfort, the clove intrigue. The whole is like a perfectly conceived short story, with a dollop of crème fraîche as the final punctuation mark.
Preheat the oven to 350°F.
Butter a 9-inch spring form pan or a 10-inch cake pan.
Whisk the sugar and eggs together either by hand, in a stand mixer, or with electric beaters. Add the vegetable oil as you would to make mayonnaise – in a thin stream as you continue to whisk until emulsified.
Add the Calvados, while continuing to whisk. Add the flour, cinnamon, baking soda, salt, and cloves and whisk to incorporate.
Fold in the apples and walnuts. Pour the batter into the prepared pan and smooth the top.
Bake for 90 minutes, until a sharp knife inserted in the center of the cake comes out clean. Serve at room temperature with a generous bowl of crème fraîche.
"Reprinted with permission from The London Cookbook by Aleksandra Crapanzano, copyright© 2016. Photography by Sang An. Published by Ten Speed Press, an imprint of Random HouseLLC."