The Great New Zealand Baking Book
September 24, 2016 by Jenny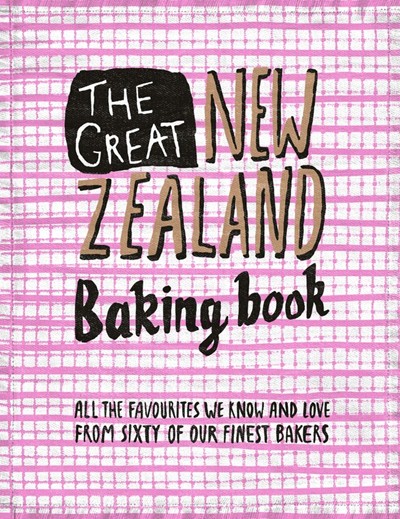 What is it about baking books from the UK, New Zealand and Australia that make us covet them? I credit this fascination partly on the Great British Bake Off show which delivered baking from the UK to the world and now has us all in a snit about its future.
When the opportunity arose to review, The Great New Zealand Baking Book, I jumped at it. The physical book itself is just fun – pink checkered cover with an a super stylish spine that sets out a few of the recipe names from the book.
Sixty of New Zealand's finest bakers share their favourite bakes and desserts with over 165 recipes. Pictures accompany almost every bake and a handy "The Cook's Companion" welcomes bakers with "close-enough conversions". Thank goodness for digital scales so we can be exact. Basic puff pastry and other doughs are shared in the first pages before the bakers' recipes begin filling the pages with crave-worthy cakes, tarts and more.
The classics are covered such as Lamingtons, Hot Cross Buns and Croissants. There are also plenty of exciting flavour combinations such as Saffron Créme Caramel, Tamarillo Clafoutis, and Afghan Yoyos, a delicious chocolate/caramel sandwich cookie that I haven't seen before in a baking book. Savoury bakes include an Asparagus, Mint & Feta Bread, a luscious Savoury Breakfast Tart, and Chicken Leek & Mushroom Pie. Recipes for crepes, fritters and the like are included although they are technically not bakes, but "close-enough".
I wanted to challenge myself and bake something new so I chose the Chocolate Roulade recipe which consists of three components – the cake, mousse filling and chocolate ganache topping. I have made swiss roll type cakes in the past – simple sponge cakes and whipped cream fillings, relatively easy. A roulade, however, is a flourless cake that is very light and somewhat delicate.
Suited up with my apron and armed with my scale, my first step was to determine what size pan I owned that equalled a "sponge roll pan" – after searching New Zealand sponge roll pans – I found a rough measurement and went with a quarter sheet pan. My next step was getting over being angry with myself for not following the first rule of baking – read the recipe a day ahead of time. I had skimmed the recipe a day before and bought the ingredients. The day of the recipe, I read that it is best to make the cake a day or two ahead of time. Nevertheless, I forged on.
The cake was done in relatively short order and I covered it in plastic as directed and waited an hour. I made the mousse and refrigerated as directed (that should have been done the day before as well). After the allotted time, I flipped the cake with success. It was very delicate and the power of reading the recipe in advance really hit home (I knew this cake really needed to rest overnight). Ignoring the voice inside my head that told me to wait, I filled the roulade with the filling – rolled it up and placed it in the fridge to set before making the ganache (it was much too delicate to try to cover in ganache at that point).
I did follow the instructions for the ganache precisely and while it thickened it never became "butter-like". After roughly thirty minutes of allowing the cake to set and the ganache to thicken, I covered the roulade in the chocolate. The result was exactly as in the photograph of the cookbook and the flavour was deeply rich and decadent. A small slice would be more than enough for anyone, except my son who is a chocolate fiend. Next time, I will be more prepared which will result in less anxiety – but the finished roulade was still beautiful.
Pros: Delicious showstopper cake. Cons: No measurements for the baking tin and this baker's lack of planning ahead. The Great New Zealand Baking Book is a keeper – fun and teeming with recipes that are approachable by any level baker who reads the recipes in advance.
Special thanks to Thom & Co. for sharing the Chocolate Roulade recipe with our members.
Chocolate Roulade
Recipe by Ruth Pretty from Ruth Pretty Catering
Serves: 8-10 – prep time: 1 hour, plus cooling & chilling
cook time: 17 mins – skill level: 2 (moderate)
Cake
135 G dark chocolate, preferably 70% cocoa solids (buttons, or tablet chopped coarsely)
35 Ml strong freshly brewed coffee
5 Eggs, separated
135 G caster sugar
Pinch of salt
Mousse
125 G dark chocolate, preferably 70% cocoa solids (buttons, or tablet chopped coarsely)
60 G full-fat cream cheese, coarsely chopped
70 G caster sugar
1 Egg yolk
300 Ml cream
Ganache
315 Ml cream
315 G dark chocolate, preferably 70% cocoa solids (buttons, or tablet coarsely chopped)
50 G butter
Method
Make the cake and mousse one or two days ahead, then make the ganache and assemble on the day you wish to serve.
To make cake: pre-heat oven to 180ºc. Line a sponge-roll tin with baking paper and grease the paper with spray oil or melted butter.
Place chocolate and coffee in a double boiler or a heatproof bowl, set over a pot of simmering water, and warm over a medium heat until chocolate begins to melt. Remove from the heat and stir until chocolate is completely liquid.
Place egg yolks in a bowl and whisk briefly, then gradually add sugar, continuing to whisk until the mixture is pale, fluffy and very thick. Add warm chocolate mixture and salt to egg yolk mixture and whisk until cool.
To a clean bowl, add egg whites and whisk until stiff peaks form. Carefully fold half the beaten whites into the chocolate mixture, and when almost combined add the remaining half and fold in. Pour mixture into prepared tin and spread evenly. Bake for 15-17 minutes, or until the cake springs back when gently touched in the centre.
Remove cake from oven and place on a wire rack. Cover with plastic wrap and let cool for 1 hour. Invert the cake, leaving the plastic wrap in place, and carefully peel away the baking paper.
To make mousse: place chocolate in a double boiler or a heatproof bowl, set over a pot of simmering water, and warm over a low heat. Stir chocolate until it is almost melted. Cool.
Whip cream until it forms soft peaks. Set aside.
Place cream cheese, sugar and egg yolk in the bowl of a food processor fitted with a metal blade, and process until mixture is smooth and sugar is dissolved. Pour chocolate through the feed tube of the food processor and process until mixture is just combined. Quickly transfer the chocolate mixture to a large bowl and gently fold in cream. Chill for at least 2 hours, or overnight, before using.
To make ganache: place cream and chocolate in a double boiler set over a low heat or a heatproof bowl set over a pot of simmering water, and let it sit for 1 minute. Stir gently until chocolate is half-melted. Remove from heat and continue to stir until chocolate is melted, fully amalgamated and smooth. You may need to return pot to heat to encourage melting of the chocolate. Add butter and stir until melted and ganache is smooth. Rest at room temperature for 15-20 minutes or until it sets to a soft butter-like consistency.
To assemble: spread cake with chocolate mousse. Carefully roll the cake up from one long side, lifting the plastic wrap to get it started. Place the roll, seam-side down, and chill for at least 1 hour, or overnight, before icing with ganache.
Place roulade on a serving tray and use a palette knife or table knife to spread chocolate ganache onto roulade. Do not apply water or heat to the spreader, as the ganache will become streaky and discoloured.
Photo of Chocolate Roulade by Jenny Hartin