Review of Heart and Soul in the Kitchen by Jacques Pépin
August 30, 2016 by Jenny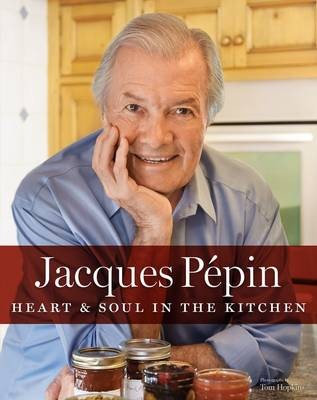 A realization occurred to me recently – if there is one chef that could compare to Julia Child, it would be Jacques Pépin. There are many celebrity chefs in today's reality saturated cooking media but very few names that are recognized worldwide. Jacques Pépin is an icon, known and loved internationally.
While Heart & Soul in the Kitchen came out last year, I thought it would be a good idea to cover it now in correlation with his new line of products at Sur la Table. I've been cooking from this book since it was released last year. Pépin has a way of transforming a simplistic round of Camembert into an elegant dish or magically making Cannellini Bean Dip look regal. His artistry knows no limitations on either end of the spectrum as he can share a recipe for Sautéed Shad Roe with Shallots and then a few pages later, simple Fried Potatoes.
Pépin is from a time where we took extra care with food presentation, when people had more formal dinner parties. I think we are circling back to that way of life as the art of the dinner party is making a resurgence and even the simple act of a weeknight meal is done with more flair. The recipes in Heart & Soul can help add a spark of style to your table. For instance Cucumber "Vases" are so quick and simple – yet placing this salad in front of your guests as a starter will amaze them; as will the Black Bread and Butter Lattice, a stunning presentation for serving buttered bread.
There are plenty of photos of the chef, his family, and his dishes, but we are also gifted with his beautiful artwork sprinkled throughout the book. Heart & Soul does feel like a more personal cookbook as there are dishes that he prepares for quiet dinners with his wife, recipes for smaller gatherings of family or friends and recipes geared for larger crowds.
Spinach-Stuffed Pork Loin Chops; Kale, Sausage, Rib and Lima Bean Stew; and Fillet of Sole Riviera with Pico de Gallo are a few examples of the recipes you will find. Over the course of the last year, I have made the Broiled Maple Sweet Potatoes, Quick Pickled Red Onions and Radishes, and Fusilli in Spicy Garlic Tomato Sauce to name a few. Pépin's recipes are straightforward and easily approachable. His status as a legendary French chef should not intimidate anyone from buying and using his books.

On Sunday I made the Corn Soufflé and Grilled Chicken Tenders with Chimichurri for purposes of this review. Both dishes were delicious and easy to pull together. I had never made a savory soufflé before and the corn soufflé was incredibly flavorful and a breeze to throw together in the blender. The chimichurri was wonderful and my only complaint is that the tenders took much longer to cook to doneness than his suggested two and half minutes total (my grill was at 400 degrees and two minutes wasn't going to cut it). I knew it would take more time but a new cook might be confused. Perhaps he was counting on some carry over cooking in the oven while keeping them warm?
As with all Jacques Pépin's books, they are must haves. If you are new to this chef, Heart & Soul is the book to buy. A perfect gift for new cooks and experienced cooks alike.
Photos for test recipes by Jenny Hartin. Jenny is an enthusiastic home cook who lives in Colorado, owns the website The Cookbook Junkies and runs the Facebook group also called The Cookbook Junkies. The Facebook group is a closed group of 30,000 cookbook fans – new members are welcome.
Grilled Chicken Tenders with Chimichurri

Serves 4
1¼ pounds chicken tenders (about 16)
½ teaspoon salt
1 tablespoon olive oil
Chimichurri sauce
½ cup coarsely chopped fresh cilantro
1/3 cup minced scallions
1 tablespoon chopped garlic
½ cup julienned radishes
1 teaspoon dried oregano, preferably Mexican
½ teaspoon hot pepper flakes
½ teaspoon salt
2 tablespoons fresh lime juice
⅓ cup olive oil
CHIMICHURRI SAUCE, originally from Argentina, is a finely chopped mixture of garlic, parsley, oil, and vinegar, usually served with beefsteak. In Mexico, it is made with cilantro and lime juice, and my version contains cilantro, scallions, radishes, and Mexican oregano. If chicken tenders are not available, cut up boneless, skinless chicken breasts for this recipe.
Preheat the oven to 140 degrees. Heat a grill to hot (or heat a nonstick skillet until very hot).
Put the tenders in a bowl, sprinkle with the salt and oil, and stir until well coated.
Arrange the chicken tenders on the hot grill (or in the hot skillet) and cook for about 1 ½ minutes. Turn and cook for 1 minute on the other side, until just cooked through. Transfer to a platter and keep warm in the oven while you prepare the sauce.
For the chimichurri sauce: Mix all the ingredients together in a bowl.
Serve the chicken coated with the sauce.
Excerpted from Heart & Soul in the Kitchen, © 2015 by Jacques Pépin. Reproduced by permission of Houghton Mifflin Harcourt. All rights reserved.