Review of Nadiya's Kitchen by Nadiya Hussain
August 23, 2016 by Jenny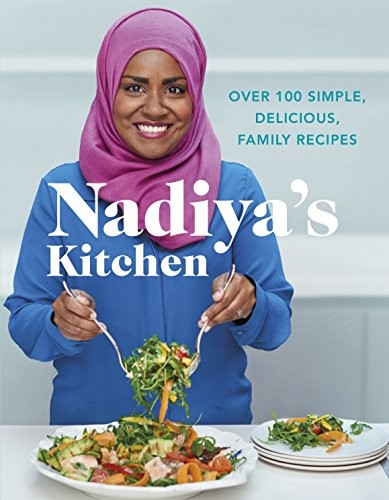 Nadiya Hussain, the latest winner to depart the Great British Bake Off train, has released her first cookbook aptly entitled Nadiya's Kitchen – Over 100 Simple and Delicious Family Recipes. Being the great cookbook sleuth that I am, I routinely google Bake Off contestants' names to determine any new releases. This might seem a little creepy, I don't want to track them down – I want to buy their books! I was thrilled to learn of Nadiya's book as well as a few other Bake Off alums recent releases (Martha Collison's Twist and Ruby Tandoh's Flavour).
Nadiya's Kitchen is a mix of sweet baking recipes as well as savory lunch and dinner dishes with a unique organization style: Lazy Sunday Morning, Sharing Lunch, A Little Bit of Something Sweet, Snacks & Small Plates, Who Stole the Biscuits from the Biscuit Jar, Teatime, Dessert for Dinner, Dinner Date, and Cosy Evenings & Midnight Feasts. At first, I was disappointed (for a brief moment) that the book wasn't just all baking but after digging deeper and trying some of the recipes – the disappointment was short lived. Nadiya demonstrates the same wonderful command of flavors and spices in her savory menu items as she does with baking.
The photographs are beautiful and I particularly appreciate the step-by-step picture tutorials. Breakfast Halwa Croissants for example brings 24 photographs depicting the folding and filling of the croissants. Nadiya's signature trademark of combining unique flavors is evident in her recipe collection: Spiced Biscotti with an Orange Syllabub Dip, Za'atar and Lemon Palmiers, Bubblegum Marshmallows and Peanut, Black Sesame and Ginger Brittle are all examples of her what made her a winner. In the Lazy Sunday chapter, I have marked Morning Blueberry Caraway Scones, Feta and Dill Savoury Muffins, and Scotch Pancakes with a Mixed Berry and Lemon Thyme Compote to make our breakfast offerings more exciting. A complete index of the recipes can be found at Eat Your Books.
For the purposes of this review, I tested two recipes: The Wellington Sausage Rolls and the Salted Mocha Macarons. The Wellington Rolls were made for a dinner party I threw and they disappeared. These rolls were so good – I'll be making variations on this theme for appetizers in the future. They were so easy to make – I prepared them the morning of the party – slipped them into the fridge and pulled them out and into the oven 20 minutes before the guests arrived.
The macarons took some time and it was my first attempt at making macarons here in the mountains. Mine weren't perfect but it was my own fault. They were gorgeous resting on the tray and I rushed them off and my big mistake was using a macaron silicon mat. They were delicious and I will be making them again soon along with other recipes from this wonderful book.
Nadiya's Kitchen is a lovely book that truly reflects her fun and unique style and the recipes are simple and quick to throw together. It's a keeper.
Photos for test recipes by Jenny Hartin. Jenny is an enthusiastic home cook who lives in Colorado, owns the website The Cookbook Junkies and runs the Facebook group also called The Cookbook Junkies. The Facebook group is a closed group of 30,000 cookbook fans – new members are welcome.
Wellington sausage rolls
Makes 25-30
The mushrooms mixed with the sausage make for a darker, meatier flavour. The layer of English mustard gives the sausage rolls a subtle heat once cooked. These are always a winner at kids' parties, and are even better when they end up in the packed lunch the next day. They freeze really well, so they can be popped in the oven as and when you need them.
30g unsalted butter
100g mushrooms, finely chopped
1 tablespoon Worcestershire sauce
1 tablespoon Tabasco, or less if you prefer, depending on your tolerance for heat
6 large beef sausages, taken out of the skins
a pinch of fine sea salt
freshly ground black pepper
plain flour, for dusting
450g puff pastry (shop bought, or you can make your own)
4 tablespoons wholegrain mustard
1 medium egg, beaten
sea salt flakes, to sprinkle
Prep: 20 minutes Cook: 25 minutes
Can be frozen before or after baking
Preheat the oven to 200°C/fan 180°C.
Put the butter and the mushrooms in a small frying pan over a medium heat, and cook the mushrooms until they are soft and any moisture has evaporated. Put them in a bowl and leave to cool completely.
Once the mushrooms have cooled, add the Worcestershire sauce, Tabasco, sausage meat, salt and pepper. Give everything a good mix by hand, and set aside.
Dust your surface with flour and roll the puff pastry out into a long wide rectangle approximately 25 x 35cm. Then cut down the middle lengthways to give you three long rectangles.
Brush the pastry rectangles with a generous layer of wholegrain mustard, making sure to leave a gap of 1cm along the long edges. Brush the exposed edges with the beaten egg. Down the centre of the pastry rectangles, lay out a generous line of sausage meat. Encase the filling with the pastry, making a seam joined with egg wash, underneath the roll.
Brush the three rolls in egg wash, and give them a light sprinkling of sea salt flakes. Cut each long roll into 8-10 pieces. Place the small rolls on a baking sheet and bake for 15-20 minutes, until golden on the outside, making sure the meat on the inside is cooked through.