Punch up your next gathering
July 1, 2016 by Darcie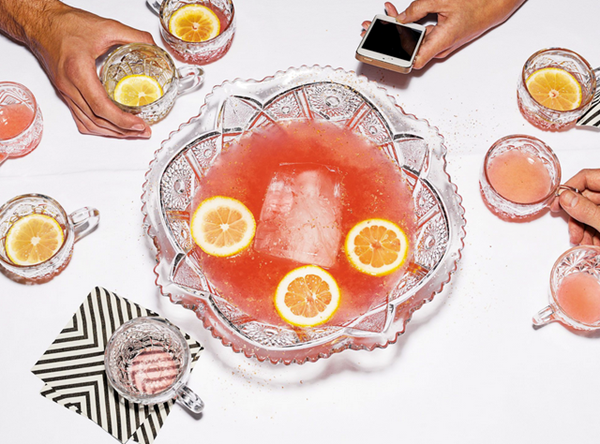 Do you have a punch bowl gathering dust in the back of your cupboard? Perhaps you only trot it out during the holidays, but you might find some new uses for it as punches enjoy a mini-revival among mixologists. The Wall Street Journal examines the renewed interest in punch as a go-to party beverage.
Instead of spending precious time behind the bar making cocktails, think about serving a bowl drink at your next get together. New York City bartender Colin Asare-Appiah says that in addition to being convenient, punch can inspire creativity. He subscribes to the old saying: "One of sour, two of sweet, three of strong, four of weak" to form the backbone of his punch recipes.
His favorite liquor in summer punches is gin because it doesn't dominate the other ingredients. Asare-Appiah also has a few tricks up his sleeve to wow guests. One of these tricks is what he calls a "true blue" punch that begins with Bombay Sapphire gin. To that he adds butterfly pea flower syrup, which has a blue tint that turns pink in the presence of an acid like lemon juice. "It's a lovely party trick," he says.
He also freezes herbs, edible flowers, and vegetables such as cucumber into ice blocks to add both visual interest and flavor to the drinks. Another favorite weapon in Asare-Appiah's arsenal is the venerable milk punch. He likes to use rum, citrus and spices in addition to milk. After straining out the curdled milk solids, he notes that the drink turns a "beautiful golden straw color" that can be a conversation starter.
Punches are wonderful for parties because they can usually be made ahead and offer almost infinite ways to customize the beverage to suit your guests and the occasion. Find inspiration for your punch bowl in the EYB Library, which contains almost 350 online recipes for punch with and without alcohol. Use one of these highly-rated recipes as a starting point:
Philadelphia Fish-House punch from Imbibe by David Wondrich
Artillery punch from The Joy of Mixology by Gary Regan
Milk punch from House Beautiful by Gabrielle Hamilton
Thieves' punch from The Washington Post
Touch of evil punch from Saveur Magazine by David Wondrich (pictured top)
Retro fruit punch from A Free Range Life Website by Annabel Langbein