Mark Bittman departs Purple Carrot after less than a year
May 11, 2016 by Darcie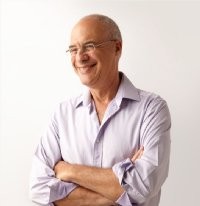 Mark Bittman made waves last year when he made two big announcements: first, that he was stepping down from his position at The NY Times, and then a few months later, that he was joining forces with vegan meal-kit delivery service Purple Carrot. Now, less than a year after he started, he is no longer working for the company.
He is retaining an ownership stake in Purple Carrot, but he's not an employee. In a phone conversation with Tom Philpott of Mother Jones, he was circumspect about his departure: "I wish the company nothing but the best," he said. "I did everything I could do to help [with its recent West Coast expansion], and now I'm ready for something new." Bittman told Philpott that he's still deciding what to do next.
The future for meal-kit delivery services is unclear. Venture capital firms have invested boatloads of cash into several startups like Purple Carrot, which sets itself apart by delivery vegan meals. Brita Rosenheim, founder of a consulting firm focused on food-related tech companies, reports that nearly half a billion dollars were invested in meal-kit companies in 2015. But few – if any – of these companies have turned a profit so far.