February 2016 cookbook roundup
February 24, 2016 by Jane
Every month Jane and Fiona wade through hundreds of cookbooks, selecting and reviewing all the best new releases of U.S., Canada, U.K., Ireland, Australia, and New Zealand cookbooks. The only thing left for you to do is to add them to your Bookshelf.
February brings an extra day along with a veritable hodge-podge of cookery books with no clear theme emerging. The title of one of the books in the roundup sums up this month's offerings rather well: Recipes from Many Kitchens. Many of the books are from first-time authors, although one established institution (Cook's Country) also makes an appearance.

USA
My Kitchen in Rome by Rachel Roddy: When Roddy visited Rome in 2005 she never intended to stay. But then she happened upon the neighborhood of Testaccio, the wedge-shaped quarter of Rome that centers around the old slaughterhouse and the bustling food market, and fell in love. My Kitchen in Rome charts a year in Rachel's small Italian kitchen, shopping, cooking, eating, and writing.
Koreatown by Deuki Hong and Matt Rodbard: Koreatowns around the country – from L.A. to New York City, from Atlanta to Chicago – are synonymous with mealtime feasts and late-night chef hangouts. Deuki Hong and Matt Rodbard show us why with stories, interviews, and recipes for everything from beloved Korean barbecue favorites like bulgogi and kalbi to the lesser-known but deeply satisfying stews, soups, noodles, salads, drinks, and the many kimchis of the Korean American table.
Cook It In Cast Iron by Cook's Country Magazine: The cast-iron skillet is a sturdy, versatile, traditional kitchen workhorse that 85% of us own but far fewer of us reach for daily. In this new cookbook, the editors of Cook's Country will show you everything you need to know about cast-iron cookware and the many (and often surprising) dishes you can cook and bake in this multitasker of a pan.
One Dough, Ten Breads by Sarah Black: In her new cookbook, baking instructor Sarah Black shows us that with just a few ingredients and one's own two hands, even a novice baker is well on the way to making artisan-style breads. Black starts with the simplest "plain white" dough, then makes small changes to ingredients, proportions, and shapes to take the reader through ten "foundation" breads, from baguettes to ciabatta to whole-wheat pain de campagne to sourdough.
Maple Syrup by Casey Elsass: The latest in the Short Stack series, in which New England native Elsass schools us on the art and magic of this precious ingredient. The recipes range from traditional to whimsical, reviving old family recipes (like the ultimate custard-like French toast) while pushing the sweetener into new territory (as with miso-maple chicken wings). Volumes can be bought individually or by subscription. Clicking on the Buy Book link will take you to the Short Stack website.
The Six O'Clock Scramble Meal Planner by Aviva Goldfarb: Everyone wants to eat healthier, but pulling together a healthy meal at the end of a long day can become a daunting task. As a busy mother of two, author Aviva Goldfarb understands this struggler and offers a solution: Plan several easy, healthy meals in advance and grocery shop once a week with a list. The book includes weekly menu plans complete with main dishes and sides, organized by season and by week, plus a grocery list.

Protein Ninja by Terry Hope Romero: Athletes, vegans, and everyday home cooks often search for protein-rich snacks and meals, but find themselves disappointed when directed to bland powder supplements. Award-winning vegan chef Terry Hope Romero comes to the rescue with a cookbook that features ingredients from supermarket-friendly staples to cutting-edge superfoods and an arsenal of gluten- and soy-free options.
Cravings by Chrissy Teigen: One doesn't usually connect the modelling profession with joyful eating, but Chrissy Teigen shows us that we should rethink our ideas about super models. She has been collecting, cooking, and Instagramming her favorite recipes for years, and has collected them all in a new cookbook. The recipes range from breakfast all day to husband John Legend's famous fried chicken with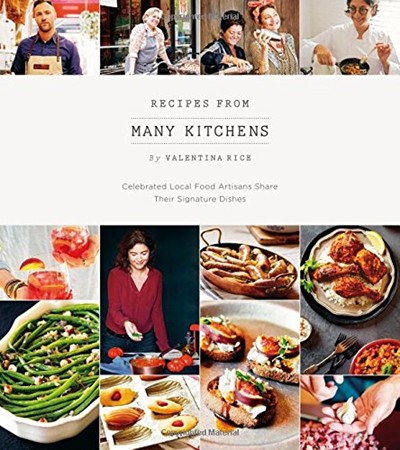 spicy honey butter to her mom's Thai classics.
Recipes From Many Kitchens by Valentina Rice: Rice has scoured the country to find the most talented producers making the most innovative food, resulting in a unique collection of recipes from renowned small-batch artisans (hipster alert). Learn to make the fluffiest of scones from a master baker or the creamiest of croquetas from Spanish aristocracy.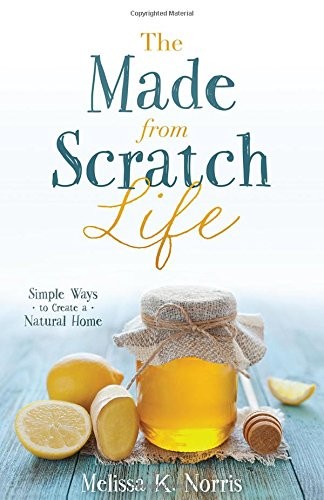 The Made-from-Scratch Life: Simple Ways to Create a Natural Home by Melissa K. Norris: Blogger and homesteader Melissa Norris provides with practical and easy methods to help you cook from scratch, garden, and preserve your own food. In addition to advice on planning, planting, and harvesting healthy foods, you'll find information on troubleshooting common gardening problems.
CANADA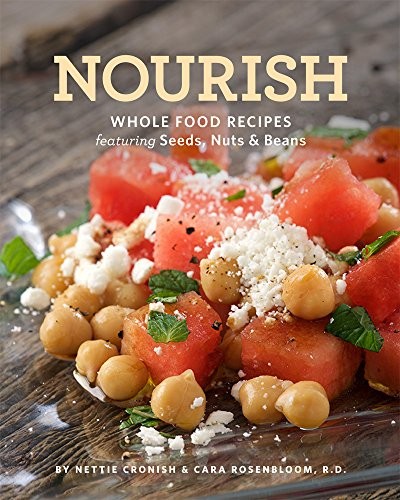 Nourish: Whole Food Recipes Featuring Seeds, Nuts and Beans by Nettie Cronish and Cara Rosenblum: The authors begin with the premise that eating healthily and well isn't about a pinch of calcium here and dose of Vitamin C there, it's about eating whole foods that are rich in nutrients. They posit that no type of food has more readily accessible nourishment than whole, unprocessed foods that are close to nature, and focus the book on legumes like beans, lentils, nuts and seeds.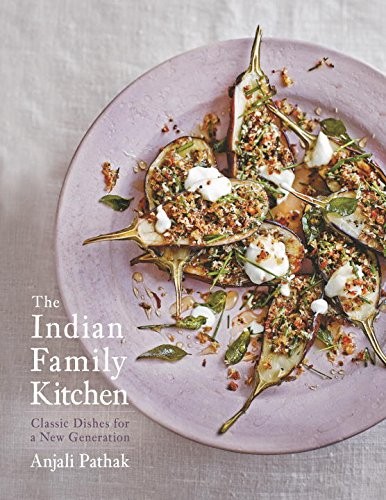 The Indian Family Kitchen by Anjali Pathak: The granddaughter of the family that brought Patak's sauces and chutneys to households around the world provides classic recipes she has refined over the years. She also shows you how to coax flavor out of your favorite foods by adding Indian spices you should always have on hand.
UK
Breakfast Love by David Bez: Breakfast Love contains more than 160 bowls for healthy, speedy breakfast ideas. Each bowl is made up of a base of grains, two seasonal fruit and vegetables, some protein, a delicious dressing, yogurt or milk, and an optional topping. There are sweet and savory ideas for everyone from vegans to carnivores.
Amazing Malaysian by Norman Musa: Malaysian food contains vibrant, healthy dishes with dazzling flavours and textures. This guide cooking Malaysian food at home features supermarket ingredients so you don't have to hunt for exotic items. Try an authentic satay, an aromatic curry, a laksa, or simply the perfect fluffy coconut rice.
The Book of Latin American Cooking by Elisabeth Lambert Ortiz: First published in 1969 and written by one of the first 'scholar cooks', The Book of Latin American Cooking is regarded as a prototype of the genre. You can read an excerpt from the book, and enter our contest for your chance to win a copy of the book (contest is open to Members worldwide).

Good + Simple by Melissa Hemsley and Jasmine Hemsley: Sisters Jasmine and Melissa Hemsley share their principles of healthy home cooking built around gut health, whole foods and affordable ingredients. Recipes range from reworked classics and prepare ahead dishes to breads, desserts and bakes.
Cake: The short, surprising history of our favourite bakes by Alysa Levine: What does cake mean for different people? How have we come to have such a huge variety of cakes? And what can they tell us about the family, and women's roles in particular? These are questions that home baker Alysa Levine asked herself as she became interested in the history of food, and she has written a book with the (sometimes surprising) answers.

ITSU 20 minute suppers by Julian Metcalf and Blanche Vaughan: The authors of the bestselling itsu: the cookbook provide simple, nutritious, easy-to-follow recipes, all of which can be made within 20 minutes, all using ingredients readily available at mini-markets. The low-calorie recipes contain many 'superfood' ingredients so they don't skimp on nutrition.

Clean Cakes by Henrietta Inman: This book is aimed at those who, for health or lifestyle reasons, want to eliminate gluten, dairy or refined sugar from their diet but still wants to satisfy their sweet tooth. The first section shows how to stock your Clean Cakes larder, as well as including foundation recipes before moving on to recipes for everything from brownies to layer cakes to tarts and more.
Afternoon Tea at Home by Will Torrent: Everything you need to pull off the perfect tea party can be found inside this book. Chef Torrent showcases his no-nonsense approach to the key techniques involved in patisserie, baking, chocolate work and savoury dishes ideally suited to tea parties. There are also six guest recipes from top restaurants and hotels, including The Ritz, The Dorchester, Brown's Hotel, The Berkeley, Les Manoir aux Quat'Saisons and Harrods.

AUSTRALIA & NEW ZEALAND
Maggie Beer's Autumn Harvest Recipes by Maggie Beer: The final chapter from Maggie's Harvest to be released as a small book. As with the previous volumes, Autumn Harvest highlights Maggie's philosophy of using the freshest and best seasonal produce available in the Barossa Valley, South Australia, and treating it simply, allowing the natural flavours to speak for themselves.
Julia and Libby's Wholefood Kitchen by Julia Matthews and Libby Matthews: Five years ago, these sisters decided to make a change. Feeling tired and rundown, they ditched highly-processed, sugar-laden products and turned to wholefoods – foods that are closest to their natural state. Now in their first cookbook they share their favourite recipes and tips for how to keep healthy and feel great.
Country Calendar Homestead Baking by Allyson Gofton: The iconic Country Calendar television series celebrates its 50th year with food-writing personality Allyson Gofton taking to the road to visit New Zealand's high-country and rura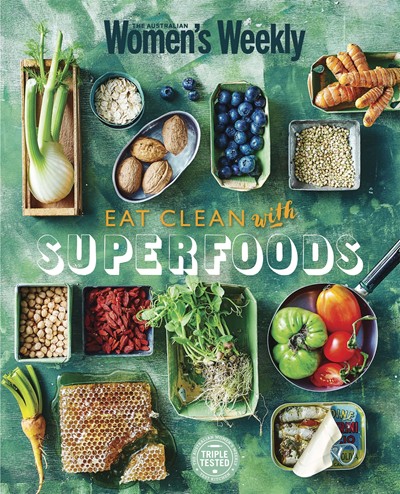 l homesteads. She brings together stories, recipes and baking secrets together in a new book based on programmes from the series.
Dessert Bar
Eat Clean with Superfoods