Taco's golden age
January 24, 2016 by Darcie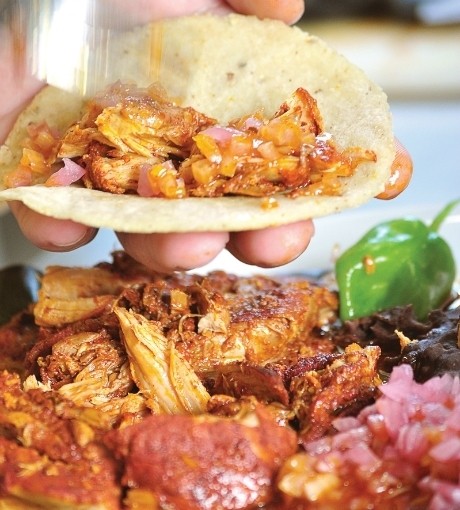 We are living in a golden age for the taco, say the editors at Chowhound. What started as a cheap street food can now "be high or low, cheap and ubiquitous, or rare and pricey." Tacos range from greasy fast food concoctions to ultra-luxe versions at restaurants like Pujol, chef Enrique Olvera's high-end modern Mexican restaurant.
So what exactly is a taco? It depends on who you ask. "'Taco' is a word with many meanings in Mexico: It's a wooden hammer and a slang expression for getting drunk, among a score of others. The late 19th century saw the first mention of tacos as the food we know today – what one dictionary defines as 'tortilla de maiz rellena de carne picada, queso, etc., que se toma como refrigerio' ('a corn tortilla stuffed with ground beef, cheese, etc., which is taken as a snack')."
Long popular as a street food in Mexico, tacos made their first U.S. appearance around 1920 and slowly continued to gain acceptance, morphing along the way into the various forms we eat today. The article provides context for the many types of Mexican taco styles, like Tacos a la Parrilla or al Carbón, hailing from Northern Mexico and usually filled with beef; and Tacos al Pastor, popular around Mexico City and mainly featuring pork. Chowhound's definitions originate in Tacopedia by Deborah Holtz and Juan Carlos Mena. You can try 15 recipes from that cookbook, including the Cochinita pibil tacos pictured above.