Best "back of the box" recipes
January 21, 2016 by Darcie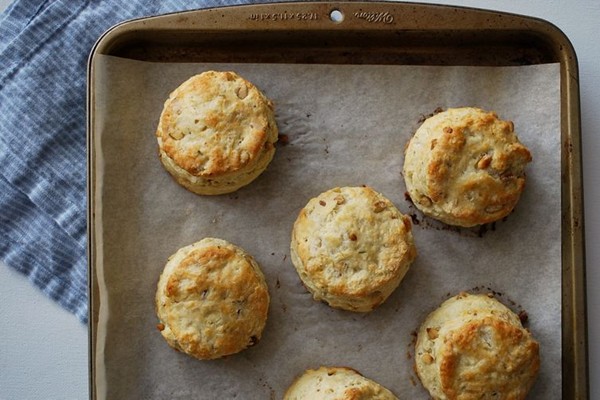 Between the millions of recipes available in cookbooks and online, it's a wonder that food companies continue to put recipes on cans and boxes. But check any can of condensed milk, bag of chocolate chips, or box of pasta, and you are likely to find a recipe or two. Indexed blog Food52 takes a look at the best of these "back of the box" recipes.
Baking ingredients are prime sources to find these gems. There isn't much other relevant information to put on a bag of flour, so why not include recipes for foods both savory and sweet? The Parmesan and pine nut biscuits pictured above were adapted from a recipe on the back of a King Arthur flour bag. Pasta boxes are likewise blank canvases for inventive recipes like Spaghetti with fantasy sauce, adapted from a recipe found on the back of a De Cecco box.
Breakfast cereal boxes are filled with games and puzzles, but they usually manage to squeeze in a recipe on the side panel. Cereal can be used in a variety of ways: in muffins, as breading for baked or fried goods, or as the base for treats like Scotcheroos. These elevate the Rice Krispies treat to new heights by adding peanut butter, butterscotch chips, and chocolate chips to create one of my favorite childhood goodies.
Favorites of this genre have been compiled and put into cookbooks like The Best Recipes from the Backs of Boxes, Bottles, Cans and Jars by Ceil Dyer. What are your favorite back of the box recipes?