What to drink at your Halloween party
October 25, 2015 by Darcie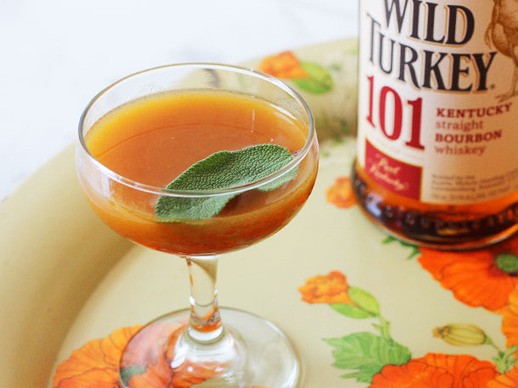 Next weekend Halloween parties will feature all manner of spooky treats: graveyard cakes, cookies that are shaped like witches' hats, even appetizers that look like dismembered body parts. Indexed blog Serious Eats has ideas for great cocktails to go accompany those foods.
As one might expect, plenty of the drinks contain pumpkin or spice flavors (or both). While pumpkin puree might be difficult to incorporate into a cocktail, the site notes that "pumpkin butter works great, concentrating the flavor in smooth form and adding a touch of spice." Serious Eats recommends the Turkey and sage cocktail (pictured top), which pairs the pumpkin butter with bourbon and lemon. A sweeter option is the Pumpkin bourbon cider milkshake, and you can view over 30 other pumpkin cocktails in the EYB Library.
If you would rather stay pumpkin-free in your cocktails, there are other wonderful options. The Pom pomme's rich color is bewitching, and the description is likewise tantalizing: "a sparkling celebration of fall fruit, starring pomegranate (the pom) and apple (the pomme). A dry hard cider is the perfect autumnal stand-in for bubbly, and Laird's Apple Brandy lends another layer of rich flavor." Another apple drink that will appeal to those who would rather have a beer than a cocktail is the Candy apple, which couples brown apple with hard apple cider. If none of these are striking your fancy, the EYB Library contains more cocktails crafted just for Halloween.