An apple a day
September 25, 2015 by Darcie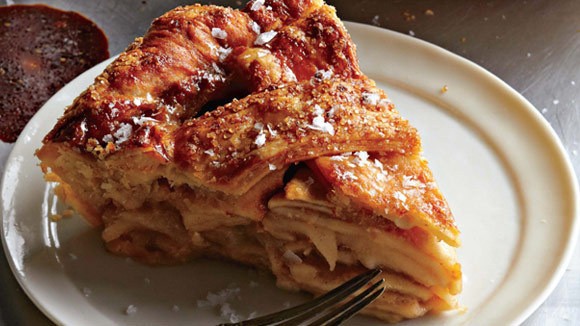 Apple season is underway in much of the Northern Hemisphere. There are over 7,000 named varieties of the fruit – probably more than any other fruit we eat. The variety in flavor is also quite diverse, as The Splendid Table found out in an interview with "fruit connoisseur" David Karp, a contributor to The New York Times and Saveur. Karp sampled 44 varieties of apples, describing his favorites.
After ordering apples from across North America, he enlisted friends to help him eat and rate each variety. The flavor profiles of the apples were all over the place, as he notes: "The group favorite was the Freyberg, which was light green in color, with a distinct flavor of licorice and a complex, lingering aftertaste. My personal favorite was the Pitmaston Pineapple, an old English Russet variety, that is small with matte, brownish gold skin, dense flesh and a rich flavor that did indeed hint at pineapple." Other apple varieties were described as "spicy" and one had a flavor that was reminiscent of banana.
While supermarkets only carry a few varieties, most people can find a farmers' market within a short drive that will carry other apples, usually regional favorites. There are several online sources too. Once you've found the apple with the flavor you want, you may wonder how to best use it. Apples are at home in everything from appetizers to desserts, and one resource, The Apple Lover's Cookbook, is loaded with excellent advice. This highly rated book lists flavor profiles for 59 apples, and tells you which varieties work best in particular recipes.
The EYB Library will also help you make the most of your apples with nearly as many recipes as there are apple varieties. Try one of these highly rated apple recipes:

Green apple, cheese, and chard oven omelet from The Splendid Table's How to Eat Supper
Apple-pork ragu with pappardelle from Girl in the Kitchen
Salted caramel apple pie from The Four & Twenty Blackbirds Pie Book (pictured top)
Béatrix's red kuri soup from Around My French Table
Baked apples with oat crumble from Huckleberry