The evolution of Irish soda bread
March 17, 2015 by Darcie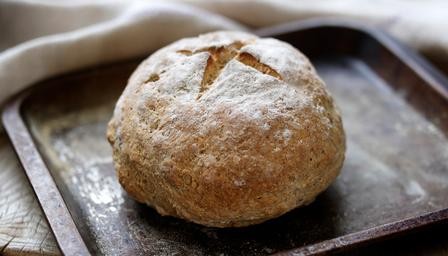 A few food items are synonymous with St. Patrick's Day: green beer, corned beef, potatoes, and Irish soda bread. Sadly, St. Patrick himself never got to enjoy most of these. As American Food Roots explains, the history of these "traditional" Irish foods is mostly "embedded in the soil of the American side of the Atlantic, not in Ireland."
Just as tomato sauce is associated with Italian food even though tomatoes weren't part of Italian cuisine until fairly recently, so too the foods most associated with the Irish weren't anything that St. Patrick, born in 387 A.D, would recognize. Potatoes didn't reach Ireland until the 17th century, and baking soda wasn't even invented until the mid 1800s.
So how is it that these foods came to be synonymous with Irish culture? It turns out that soda bread, "a relatively new addition to the Irish diet, has a history closely connected to the events of the 19th century." Prior to the invention of baking soda, most Irish households lacked an oven and did not bake bread at home.
This continued throughout the 1800s, when "most of Ireland's agricultural products were exported and used to fill British coffers, not to feed the local population." The Irish turned to a recent import, potatoes, for most of their sustenance. When the potato crop failed for several years in the mid-1800s, the Irish population suffered greatly. Over 1 million people starved and twice that amount left the country, many of them coming to America, where they encountered many new things, among them baking soda.
Perhaps the emigrants, "writing letters to family back home, shared these recipes and news of the leavening agent. Baking soda was available in Ireland by the latter part of the 1840s. The new leavening not only popularized quick breads, it made producing bread in the very basic Irish kitchens possible." It also worked well with the soft wheat flour most commonly available.
You can check out the complete story, and find out how soda bread recipes have evolved, at American Food Roots, which has been nominated for Best Culinary Website in the IACP Awards. American Food Roots consistently features well-researched and fascinating stories.
Photo of Irish soda bread from BBC Food by James Martin