Roots and Sprouts and Fire
March 17, 2015 by Susie
It's March! and that means fresh starts and kitchen adventures and maybe a break from the routine. It's the smell of dirt and the fresh air.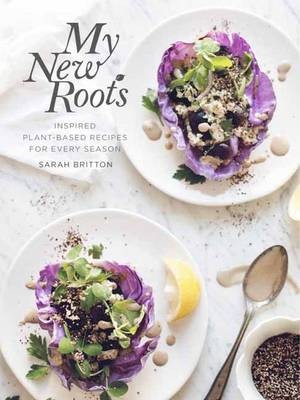 Blogger Sarah Britton has My New Roots, full of seed butters and sprouts and bright-colored salads. Meanwhile, the Sprouted Kitchen's Sara & Hugh Forte are back with a second opus, Bowl + Spoon, focusing on single-bowl meals. Don't forget Sara's entire Sprouted Kitchen blog can be added to your Bookshelf.
Then there's the meat books – a little earlier than the usual Memorial Day extravaganza, but you can almost smell the grill smoke emanating from them. There's Franklin Barbecue (after Aaron Franklin's Texas restaurant) and Oklahoman camp cook Kent Rollins' A Taste of Cowboy. Both will make you test your outdoor-cooking skills – once the snow has finally left the ground.
And then of course there's The Wild Diet, by Abel James, last seen in advance galley form in my Men in T-shirts post. His book is out now, leading me to inevitably ask: Are "Mustard-roasted chicken legs with Peach Salad" wild? Are "Pulled Pork Sliders" wild? Are pancakes wild?
To be truthful, the wildest part of these books is what each reader brings in their imagination. But that's probably true of most books and most cooks. What wakes you up as a cook, in spring?