The fruit, the whole fruit, and nothing but the fruit
March 12, 2015 by Darcie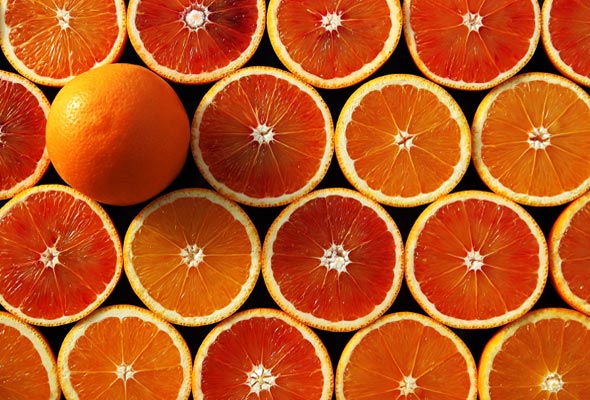 Citrus brightens up many savory and sweet recipes. Usually the recipes call for the zest or the juice (sometimes both), and cooks are instructed to scrupulously avoid the bitter white pith. But using the whole fruit can be a revelation, says Sam Worley of Epicurious (via Yahoo! Food).
When properly prepared, whole oranges, lemons and limes can add complex bittersweet flavors to a dish. Worley notes well-known recipes that provide a framework for how to tame the bitterness of the pith, like orange marmalade and lemon shaker pie.
The most common way to remove bitterness involves boiling the fruit (usually sliced) in water or simple syrup. Worley has developed what he calls the "lazy man's" method: bring a 1:1 water:sugar mixture to a boil, pour it over sliced citrus, and let it sit at room temperature for a day or two. He provides suggestions on how to use the prepared fruit, such as placing lemon slices on blueberry muffins during their last few minutes of baking, using them as decoration on a cake, or even cutting the fruit into pieces and using it in the frosting.
One thing Worley didn't mention is another whole-fruit application that doesn't involve sugar: preserved lemons. The EYB Library features several recipes to help you make those at home, too.
Photo for Blood orange marmalade from indexed blog Leite's Culinaria by Christine Ferber