Citrus brightens dreary winter days
December 29, 2014 by Darcie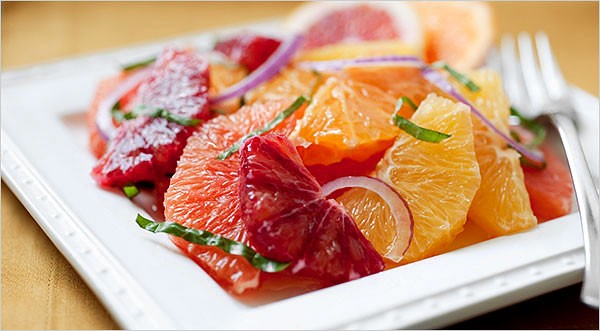 Winter's doldrums can settle in after the hustle and bustle of the holidays. Lucky for us the bright and vibrant flavors of citrus start arriving to give us a much-needed jolt of sunny color to our wintry meals. Different citrus varieties come into season at different times, and Food Republic has a handy citrus guide to know when to expect your favorite fruits (at least in Northern climes).
Texas-bred Ruby Red grapefruit starts us out by arriving in late October and continuing through April. Ruby Red grapefruits are sweeter and juicier than other varieties.
Next up are the closely related clementines and tangerines, which also begin arriving in October. Ever wonder what are the defining characteristics between these two fruits? According to Food Republic, "The big difference is sweetness – the tangerine has less – and seeds. The tangerine has more seeds. Many more." Clementines, a cross between a mandarin and a sweet orange, have a very short season which typically peaks around the holidays, giving them the nickname of "Christmas orange."
Cara cara, navel, and blood oranges follow in December. Cara cara oranges (a type of navel orange) are popular for their pink flesh and sweet flavor, with less acidity than a regular navel orange. Blood oranges are so named for their crimson color and vary in sweetness depending on their variety and the season. Because of their vivid color, they are frequently used in cocktails.
Seville sour oranges, commonly used to make marmalade, also appear in December but are not as easy to find. Another interesting tidbit about the tart Seville is that it is "a key ingredient in the orange-flavored liqueur Triple Sec."
Sweet juicing oranges like Valencia don't hit their peak until January, and you have to wait even longer for white grapefruits to be in season. Those tart beauties don't arrive until April.
What's your favorite winter citrus fruit?
Photo of Winter citrus salad with honey dressing from The Minimalist at The New York Times by Mark Bittman