Tom Colicchio on refrigeration
December 6, 2014 by Darcie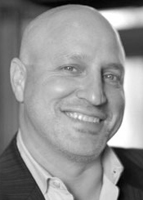 As part of its 85 Years/85 Ideas series, Bloomberg Businessweek enlisted chef Tom Colicchio of Craft restaurant and Top Chef fame to expound on the concept of refrigeration. Refrigeration technology isn't even a century old, but it has completely transformed the way we think about food, say Colicchio.
Certain food courses were invented partially because there was no commercial refrigeration. "The idea of an intermezzo course, some sorbet between dishes at a nice restaurant, exists because the fish would be so rank, the chef would have to get the smell out of your mouth." Refrigeration solved this problem but created others, in Colicchio's view.
As we moved away from the icebox and into the era of refrigerators, we were able to eat food from much farther away. Even though we appreciate the convenience, Colicchio argues that it has had a downside. While the farm-to-table trend is an attempt to address this, Colicchio thinks that it doesn't solve it. "Everything starts on a farm and ends on a table. What happens in between is what's crucial; refrigeration and the convenience of having any food when we wanted it stripped the idea of eating seasonally." He notes that in New York City, one study found up to 80% of the food is mislabeled – including allegedly "local" items that are anything but.
Colicchio believes that chefs need to take the lead in relying less on refrigeration and moving produce more quickly from the source to the plate. Of course this is going to cost more, and not everyone will be excited by the concept. Says Colicchio, "You've also got to get the markets to come along to the idea. But too often, we're preaching to the converted."
What's your take on Coliccio's views? Do you think we are too reliant on refrigeration?