A beef between countries
November 18, 2014 by Darcie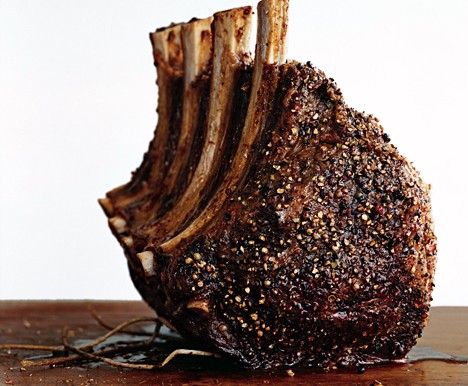 An outspoken French butcher is making waves in his home country by suggesting that English beef is superior to French beef. In a new documentary, Yves-Marie Le Bourdonnec, a well-known French butcher, insists that grass-fed British beef is the best in the world. "We have lost the notion in France of what a good steak is. In fact, we simply don't know what it is any more," he declares. "The best rearers in the world are the British."
Le Bourdonnec is no stranger to controversy. He is notorious for turning down famouse chefs who want to buy his meat, instead selling choice cuts "artistically hung as if they were Yves Saint Laurent garments" at his shops in France. He posits that the breeds of cattle developed in France (Blondes d'Aquitaine, Limousins and Charolaises) are tough, "athletic" animals, bred not for eating but rather for milking or pulling plows. On the other hand, he says, British breeds like Aberdeen Angus, Galloway, Hereford and Longhorn, when properly fed, have better marbling and therefore superior texture and flavour.
Needless to say, this proclamation has not been well received in France. The French butchers' federation went so far as to expel him from the organization, calling le Bourdonnec a shill for the British beef industry. The union also questions the motives behind the documentary itself.
I've never eaten either French or British beef, but since I spent a good part of my childhood on our family cattle farm, I hold a strong opinion about what constitutes quality beef. I am inclined to agree with le Bourdonnec's assessment of the breeding stock–our family preferred the taste of Hereford/Angus cross-bred cattle. What do you think of the claims?
Photo of Salt and pepper crusted rib roast from Gourmet Magazine