Dorie's "behind the kitchen door" desserts
October 28, 2014 by Susie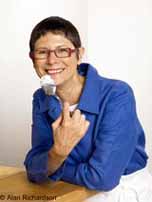 Dorie Greenspan, part-time Parisian and patron saint of American home bakers, is out with her 11th cookbook, Baking Chez Moi (Houghton Mifflin Harcourt), in stores now. (You can enter our contest for your chance to win a copy.) We're delighted to announce that we've indexed all of Dorie's recipes – eleven cookbooks, newspaper and magazine articles, and posts from her blog, In the Kitchen and On the Road with Dorie. In total there are nearly 2,500 recipes, with 703 online recipe links and 7 videos.
In Baking Chez Moi, Dorie shares surprisingly simple recipes from her own Paris kitchen and those of good friends. We spoke recently about the book, how the culture of baking differs in her two favorite countries, and the madness of macarons.
——————————————————————————————
On Baking Chez Moi:
It's been 40 years since my first trip to Paris, when I first put my foot down and said this is where I belong. The first thing I ate in Paris was a strawberry tartlet. I was as interested in pastry as a child could be, but from that first step and that first taste it was love, and I tried to go back as often as I could. I've now been a Paris part-timer for 20 years. This book was my opportunity to share what I've loved over all these years about French baking. So lucky because I have an apartment in Paris, a Paris life, and Paris friends. So I was actually able to collect and test and share recipes from friends, what they make at home, for their families and friends. For me, it opened another world.
On attitudes toward baking, French and American:
The French are not home bakers the way Americans are – not wild, crazy, passionate, "I'll give my weekend up to one fabulous desesrt." French home baking is very simple, very homey, but I think it's kind of stylish – chic the way French fashion is chic. Often the sweets are simple as they could be, with just one little touch, one little ingredient – maybe it will be something like a chocolate tart where it's just ganache, cream and chocolate, poured into a crust – which a Frenchwoman would never bake herself. So it's sleek and beautiful and dark and shiny on top, on a beautiful dessert plate. It might have beautiful berries, or a storebought cookie.
When I asked my friends to share their recipes, time after time they would say. "Oh, they're too simple." They were traditional, or regional, or the way Grandma made it…they don't have a huge repertory of desserts. A French home cook might have 8 things she makes. Shop desserts are for fancy – for company. I have one friend who bakes as well as she cooks, and she'll always have a homemade dessert. But for most of my other friends, baking's really for family. So these really were behind the kitchen door recipes – French people don't usually let you into their kitchen.
On writing for an American audience while in a kitchen in Paris:
I consider myself the "baking evangelist" (I've tried this in France – it doesn't work!). I want everybody to bake. I try to eliminate all the excuses you might have for not going into the kitchen and baking. So I bring my American ingredients there. I bring my own flour – King Arthur, Hecker's, Gold Medal, Pillsbury. French flour is milled finer than ours- it's not quite Wondra-like, but it's fine, and I think the protein level is lower. Everything seems more tender. I travel with a 5 pound sack of flour, and if I know I'm going to be baking a lot I make my husband take a 5-pound sack.
I also take baking powder and sugar – but my sugar was once confiscated at the airport because apparently sugar is used in bomb-making!
Also, the sizes are different. Everything for baking in French supermarket would get me through just one day. Two-pound bags of flour…and little bottles of vanilla – just enough for one recipe. Storage space is at a premium in Paris.
Are there any French ingredients you used that are difficult to find here?
Not really. Maybe lavender buds, or rose extract (France has been in rose fever for 10 years or more, and it shows no signs of dying). Fleur de sel, perhaps…but I can't think of another ingredient; I really made an effort to make the ingredients as gettable as possible without compromising the deliciousness of a recipe.
Some favorite recipes from the book:
Here's the pear tart – oh wait, here's the cherry crumb tart. And one of my favorites is not baking as we know it but…Laurent's slow-roasted spiced pineapple. Laurent works at the salon next to Isabel who cuts my hair. Isabel loves to eat, Laurent loves to cook. Laurent made this pineapple, and when I asked about it, he said "Oh you know, it's just a pineapple and some jam, some cognac…" How much? "…and just some orange juice if you have it. I put in 18 spices because I wanted to see what it would taste like…" This kind of epitomizes the French style in home baking – not precise, not fussy. It takes advantage of what you might have – it's more of a template or idea than a recipe. Like the canistrelli recipe – you just use a fork and your fingers. You use what you have.
There's really not many recipes in the book that aren't simple. Though there is the gingerbread bûche de Noël….making praline, making cake but rolling it (which isn't difficult, but when you make a rolled cake, you always feel like wow! hey! look what I did.) The frosting is egg white and marshmallow, and you need a candy thermometer. So that's project baking.
On French vs. American attitudes toward diet:
I have never, in all the years that I've been invited to dinner in France, been asked if I have a food allergy, if there is something I don't eat, or something if I don't like. The expectation is I will clean my plate. And I've never served a dessert or been served a dessert where someone has said, "I can't," or "I shouldn't." I've never been in the company of French people who have said "I feel so guilty." Everything's changing, for sure, but eating is still considered a pleasure; being at a table with friends, one of life's great pleasures, to be savored, to be enjoyed.
In general, the French don't snack, the portions are much smaller. And there's a rule about seconds. It's very polite to ask for seconds for anything that's homemade. It's not polite to take seconds of anything that's storebought. So when the cheese comes along, you take what you want because you know you won't get a second chance.
On the rigors of recipe testing and proofing:
I'm totally neurotic – I never make a recipe and say 'Done.' Sometimes it's not done because I always second-check, to be triple sure. Sometimes it doesn't work the way I wanted to, so it gets tested until it does. Sometimes it's because I think 'Oh! this recipe would be good with cardamom.' My books would be twice as long if I let all my fantasies turn into written recipes!
So many questions come up – not just will it taste good, does it work, but the practical considerations…Do you have to use the savarin pan for gateau savoie? Can you use a mini-muffin tray instead of financier molds? I'm always telling Rux [Rux Martin, Dorie's editor] I want one more read.
I'm a spontaneous cook and baker – I might change the menu 4:00 in the afternoon. And when it doesn't work out, it's horrible. So I never want that to happen to anyone who's using my recipe.
On the macaron phenomenon:
This is my 11th book. In Paris Sweets (2002), I wrote "No one should make macarons." Then one home baker after another in the U.S. started making them. There are more cooking classes for home bakers in Paris than there have ever been, and there are macaron classes. There are silicone mats for macarons…there are more younger people doing things their parents wouldn't.
When I was writing Baking from My Home to Yours (2006), I decided not to do them then either. And then, when I wrote Around My French Table (2010), Rux said, "Now?" And no. But with this book – a French book, a baking book – I thought "This is crazy. People who have never baked before are saying "I'll make macarons!" So I made a recipe, slightly different from this one for I did for the L.A. Times. I tested it 13 times. I was so afraid. I was making notes – "Some leave the oven door open, some leave it not open. Some people stick a spoon in the oven door, some people use parchment paper…" The only thing I didn't do was bake the macarons standing on my head.
You can see from the recipe – "A Word on Egg Whites", "A Word on Almond Flour", "A Word on Measuring", "A Word on Timing" – just how nervous I was!
On simplicity and complexity in baking:
I don't think anyone who wants to roll fondant and pipe roses will be very happy with my book. It's very much a book to be used during the week and on weekends. I think anything you do in baking, the more simple it is, the more important it is to use really great ingredients, and to make each element count, and to do it well. There's something to be learned in even the simplest recipe. I know I learned working on these recipes. I think the chocolate shards on the cover cake [is] the most brilliant idea I've seen in years, and it's so simple. But even for aspirational bakers, there's a lot here.
My audience might not be the candy flower maker, who I have the most admiration for…but this book for peole who love baking or want to learn to bake, and who want to bake as I do, for family and friends.
On baking and childhood, and "high" vs "low":
There's a cake in the book called Moka Dupont. When I got my proof pages Bernard Collet (who was the one who told me about Moka Dupont, which he had as a child) came over and looked at it. He said, "I would call it "Haute Moka Dupont" or "Moka Dupont Revisité. Mine never looks like that. You didn't cover the edges. We always cover the edges and take a fork and make a squiggle line. And you served it with ice cream!" And I was using the wrong cookies!
It's an icebox cake, but it was made a particular way, it was the carrying on of a tradition. It's a kid thing – you can taste the sugar in the filling, but the espresso taste is there for grownups – a mix of high and low.
That mix of high and low – the use of storebought and homemade – the expensive butter to make the cake, but you fill it with Nutella – for me it's the fun of pastry. There's really no good reason for eating dessert. (I tried to make it a food group, but I failed!) We eat dessert for the sheer pleasure of it. We bake because we love baking and sharing with other people. No matter what cake, sweet, tart, there's a little bit of capturing childhood with it. Dessert is a special treat, a pleasure, a reward, a gift of some kind. No matter how sophisticated the dessert, I like to think it brings back that childish joy in having a sweet.
What's next?
Cookies! My son Joshua had a retail business, cookies with my recipes – it was called 'Beurre and Sel.' It's closed now, but the recipes will live on – the cookie book will have them. We made them in these rings – but I converted them to make at home without the rings, but just as beautiful and just as precise. We're looking at Fall 2016.