Be it ever so humble
October 18, 2014 by Darcie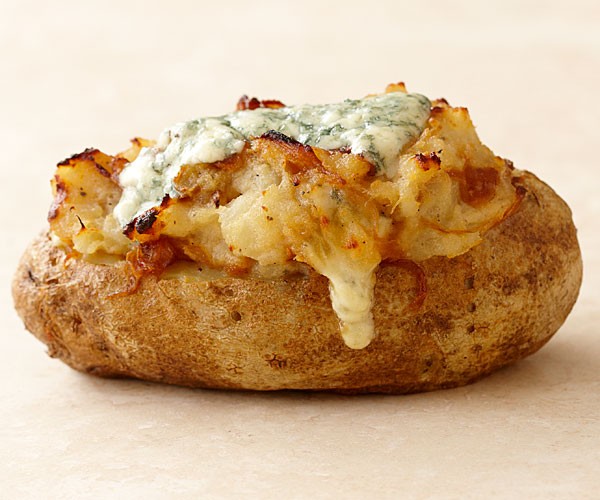 Over at the NY Times, Sam Sifton is waxing poetic about baked potatoes. Steaming hot russets with crisp skins loaded with traditional toppings like sour cream and chives, or more avant-garde combinations like blue cheese and rosemary, are delicious as a side dish. Appropriately topped, baked potatoes can be a complete meal and they're perfect for cool weather cooking.
Baked potatoes could hardly be easier to make, and you can have them as plain or as fancy as you have the time and inclination. The Times article has links to two different recipes, one with cauliflower and Parmesan and the other featuring crab, jalapeño and mint. You have options in how to make them, too: split and topped as soon as they emerge from the oven, or a more decadent "twice-baked" version. Even if you bake them just once, you have the choice of using the oven or a crockpot (or even the microwave; just don't tell the purists).
The EYB Library is stuffed with baked potato recipes. Here are a few of the most popular:
What's your favorite way to enjoy a baked potato?
Photo of Twice-baked potatoes with caramelized onion and blue cheese from Fine Cooking Magazine