Megan Gordon shares her delight in breakfast
January 15, 2014 by Jane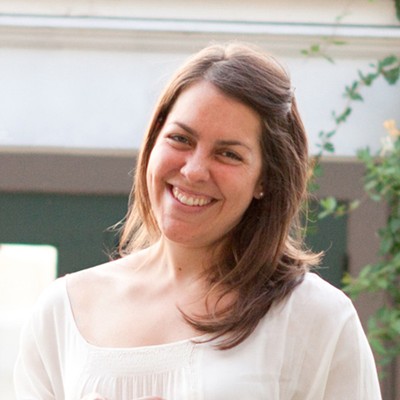 Megan Gordon is a Seattle-based blogger and a cookbook author -and an ex-English teacher. Her blog, A Sweet Spoonful, emphasizes natural/whole foods, seasonal ingredients, and whole grains.
Her new cookbook, Whole-Grain Mornings: New Breakfast Recipes to Span the Seasons, narrows the focus just a bit to concentrate on breakfasts. And we're delighted to be able to give three copies away to EYB members – just post a comment on the giveaway blog.
We sat down with Megan to discuss why this particular focus (and why millet isn't just for birds):
How would you describe your cooking style?
I didn't grow up in a household of sophisticated cooks. My mom was a relatively simple home cook who somehow managed to balance a busy work life outside of the house with the impetus to have a home-cooked meal on the table each night for dinner. There was a lot of baked chicken, spaghetti and casseroles for dinner and cereal or toast for breakfast.
In my late teens I became a vegetarian and remained so for almost fifteen years – all through my twenties and early thirties. At this time, I really started to cook for myself out of necessity, experimenting with seasonal vegetables and more whole-grains. I was a marathon runner and have always been physically active, so my body craved food that was fresh, simple and approachable (I didn't have hours to spend in the kitchen) and this is largely how I cook today.
While I do eat meat nowadays, I'm lousy at cooking it so we tend to rely on lots of seasonal vegetables, good cheese, whole grains, eggs and beans. I bake with whole-grain flours and natural sugars, but have never been one to deny myself of much – I love whole-fat dairy, cheese, chocolate, nuts and the occasional slice (or two) of bacon. It's all about balance, and about an approach to creating meals that feel very do-able and interesting versus recipes with a daunting ingredient list and unfamiliar, overwhelming techniques.
Why a Breakfast Book?
Oh, I've always loved breakfast! And I feel that many, many people share this sentiment but it's a meal that often gets the short end of the stick because so many of us are rushing out the door on weekdays and don't have much time to do any cooking beyond grabbing a granola bar from the cupboard. Breakfast foods also get shoved into a quick category (i.e.: you have your muffins, your cereal, your pancakes, and your eggs), but there are so many other inspired ideas out there – seasonal ideas, really – and timesaving ways to prepare meals in advance so that you can eat well on a hectic Wednesday in much the same way you would on a slow Sunday.
I wanted to give people a new way to breakfast that reflects how we do it around our home in Seattle – lots of whole grains, natural sugars, seasonal fruits, nuts, lots of savory options and ways to treat yourself.
You mention a seasonal organization; why did you choose to do so for Whole-Grain Mornings?
I realize so many cookbooks are doing this these days but I felt it was an important move with this cookbook because I truly do believe that we eat morning meals seasonally. Just think: do you eat the same kind of breakfasts on a cold day in February as you do a warm, dewy July morning? Probably not. We eat a great deal of warm cereal, fresh breads and baked goods in the colder months whereas I rely on yogurt, granola and fresh fruit in the summer. So I wanted this book to be a resource that readers would feel inspired to return to again and again, as the seasons changed and our moods and cravings followed.
What's your favorite grain to cook or bake with?
I really love millet; most of my friends are pretty tired of hearing about it, actually. Millet is an underappreciated lesser-known gluten-free grain. It's small and yellow (looks a bit like birdseed) and has a mild corn flavor – I like to toss it raw into baked goods for a little added crunch or cook it up like a pilaf or porridge. There are a few great recipes using millet in the book – from Cheesy Chive Millet Grits to Nutty Millet Breakfast Cookies.
How do you suggest incorporating more whole grains into someone' diet?
Changes and new routines are much more feasible if you make things easy on yourself. Cook a pot of hearty grains on Sunday night that you can eat throughout the week – tossing them into salads, soups, or reheating them for porridge. Make your own granola that you can bag up in individual servings to grab-and-go on busy weekdays, and try incorporating a whole grain flour into your next favorite baking recipes; whole-wheat flour is an easy go-to although I love spelt and barley flour for newer bakers, too.
What are your three go-to breakfast dishes or recipes?
More and more, my body craves protein in the morning so a piece of toast with a few slices of avocado and a fried egg is pretty heavenly, regardless of the season. We also do quick baked eggs or scrambles with leftover grains folded in. I love to make hearty whole-grain muffins in the cooler months, and in warmer months, muesli and granola with yogurt sustain me.
What advice do you have for new cooks or those interested in getting into cooking?
Baby steps! Don't try and learn or do it all at once – otherwise we all set ourselves up for failure. I tend to be a real go-getter with new hobbies or projects and I see myself gearing up for it and diving in wholeheartedly and then getting overwhelmed. This doesn't have to happen with cooking. Choose one recipe or ingredient that you want to learn or become more familiar with at a time (i.e. this week I'm going to learn more about barley and how to cook it) and before you know it, in a few months time, you'll likely be glancing away from the cookbooks and striking out on your own every once in awhile.
Photo by Sam Schick