Embrace the ebb and flow of seasons with Annabel Langbein
September 19, 2014 by Darcie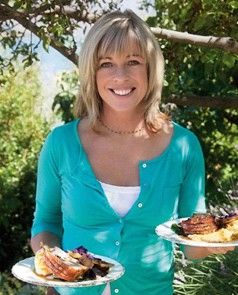 Popular author Annabel Langbein follows the rhythms of her New Zealand garden in her latest cookbook, Through the Seasons. EYB members in Australia and New Zealand can enter our contest for a chance to win one of three copies of the book. And check out our events calendar for Annabel's book tour of New Zealand. She celebrates the timeless cycle of growing, harvesting, cooking, and sharing food by highlighting fresh ingredients from every season in simple, delicious recipes. We asked Annabel to discuss her cookbook and its companion television series, and to describe her food philosophy.
——————————————————
This is your 21st cookbook. What's new and different about this book?
This book follows the rhythm of the seasons in my garden, and is a partner to my third TV series of the same name (screening 7pm Saturday nights on TV One). Being my 21st book, it felt like a coming of age when I was making it. I put layers and layers into it, drawing on all the knowledge I have about plants and gardening as well as my interest in sustainability, then transferring that to the plate. The recipes are fresh and seasonal and draw on influences from my travels all over the globe with a mix of Mediterranean and Asian flavours. Also, subconsciously I ended up making a lot of vegetarian food. The book mirrors the way we eat at home and I think it's just the way we eat now – it's much lighter.
Why did you decide to theme this book "Through the Seasons"?
Living in Wanaka there is such a dramatic sense of seasonality – but though the winters are cold and bare there is still an amazing amount to eat in the garden. Being there and seeing the ebb and flow of seasons makes you far more aware of how things grow and what is ready when, and I wanted to show people how to work with that, and help people to cook more resourcefully and more sustainably.
What's your food philosophy?
For me it is about the way food connects us to nature and the environment, to our own and other cultures and the world around us, to family and friends as well as to our own creativity. In my own life I have found that cooking is a way to feel grounded, and bringing people together around the table is such a great way to have fun and create a sense of belonging.
What is it about your recipes that makes people so passionate about your books?
I want people to have a great experience when they cook with me, so they can discover how easy it is to have fun in the kitchen and feel empowered, rather than being daunted or finding it a chore. So I spend a lot of time thinking how to make the process easier, and more straightforward, working out any pitfalls as well as shortcuts with the aim of making recipes that taste really good and are usually pretty healthy, but are a snap to put together.
What are your favourite recipes in this book?
They are all favourites, and things I love to make – whether something humble and honest and so inexpensive like the bulgur and lentil kofte, or the freshest tuna nicose salad, or a buttery, crisp honey mille-feuille packed with blueberries, it's food that works for all sorts of different occasions as well as different seasons. Throughout the book I have included "Through the Seasons" recipes, with suggestions for substitutions depending on the season. They're a really useful toolkit of recipes that you can make with whatever fresh produce you have at hand.
You have sold more than two million books, won numerous international awards and produced and starred in your own television show. What has been your proudest moment?
There have been lots of exciting moments, but I think one of the highlights would have to be getting a letter from some refugees to tell me that they had been so inspired by the show that they were making gardens and cooking the food in the refugee camp. Being useful, relevant and helping to create change – these are things that make my spirit soar.
This new book is accompanied by a 13-part TV series. How is the process of making TV different from making a book?
We shoot hours and hours of TV to get to 22 minutes of a finished programme – it's so layered and there are so many things to consider, especially the light. When you make a recipe for a book, you think about it, write it down, get the ingredients and then run it though its paces in the kitchen to get down to a formula that is easy to follow and hopefully bulletproof. Take it onto the screen and you need to shoot it from different angles and show the different stages from different angles and make sure that you don't have a greasy mark on your shirt. There are so many people all doing different jobs – sound, light, camera… But it's such fun!
What made you decide to write cookery books?
My mother was a home sciences graduate, so some of my earliest memories are of perching on a stool in the kitchen, watching her cook and waiting to be given the beater to lick. I was a bit of a hippy in my youth. I left home at 16 and spent at few years living off the land, cooking over an open fire, trapping possums in the Ureweras and jumping out of helicopters to recover live deer. And all the time I was cooking from the Julia Child recipe book my mother had given me when I was 14.
In my 20s I realised food was where I wanted to build my future but I wasn't sure where to start, so I wrote to Julia Child, asking for advice. When she wrote back I sold up the film catering business I had established and headed for New York to study culinary anthropology and nutrition. It got me thinking about how food is a constant thread that brings people together and wondering how I could share my skills and knowledge to empower others. I began my writing career with a fortnightly food column in a national magazine, then decided to create a book of some of my columns. Instead of taking the project to an established publisher, I designed, edited, published and distributed it myself, leading to the creation of my multi-media company Annabel Langbein Media. Twenty-one books later, the rest is history!
How can people find out more?
To find out about my book and TV series visit my website or follow me on Facebook. To see videos from the series subscribe to my YouTube Channel.