One True Recipe . . . or a Rainbow Mosaic?
May 6, 2014 by Susie
Sometimes people ask me, "What's your favorite food?" which is ridiculously hard to answer, of course, as any EYB member knows. If we didn't love all kinds of food, we wouldn't have all kinds of cookbooks, and if we didn't have all kinds of cookbooks, we wouldn't need to know what's in them; ergo, we wouldn't be here.
Once you succeed in thinking of one of your favorite foods – say, carrot cake or roast cauliflower or bouillabaisse or veal saltimbocca or fried chicken (all favorites of mine) – you find yourself with another problem. What version? If you really love a particular dish, chances are you've tried it many different times and many different ways.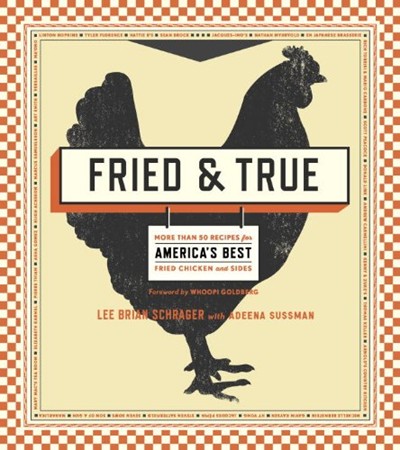 That's what I was thinking when I opened a package this morning and found Fried and True: More than 50 Recipes for Ameica's Best Fried Chicken and Sides. In the days before I really cooked, I used to go hunting for the best fried chicken in Manhattan on the weekends (the best were at Pink Tea Cup in the West Village, and Sylvia's in Harlem, but I neer had a bad one).
Later, when I felt comfortable enough as a cook not to be frightened of deep-frying, I started hunting for the best fried chicken recipe. Since I only make fried chicken once a year (on or about July 4th), this took a while. I mostly use the one in The New Best Recipe, although it can use a litle tweaking (I find it benefits from an oven step, after the initial fry). The point is, though, I have a recipe that basically works, so I'll probably stick with it. Fried and True may have many more versions I'd like, but what are the chances that I'll methodically test them all?
On the other hand, every time I see a roasted brussels sprout recipe, I feel compelled to try it. Some of them are bacony, some are nutty, some are vinegary – I tried a cheesy one just last week. I love them all! How can you choose? I suppose that explains the success of books like Fifty Shades of Kale, or Sheila Lukins' Ten, which offers "ten perfect recipes" for several favorite foods. Great idea, yet somehow I find I never use the book – even though it's indexed.
Different approaches for different dishes I guess. Unles I'm testing, I only make one version of pad thai, wontons, carrot cake, royal icing, chard tart. But I'm willing to re-invent the wheel any number of times for pork ribs, roast chicken, coconut macaroons, and any number of other favorites. In another couple decades, will I have settled down so much that I'll have tried-and-true versions for 90% of my repertoire? I doubt it – even if I'm not still a cookbook reviewer then.
How about you? One version or many? Tried-and-true or an ever-changing odyssey?