Cookbook giveaway – Joy of Kosher
October 20, 2013 by Lindsay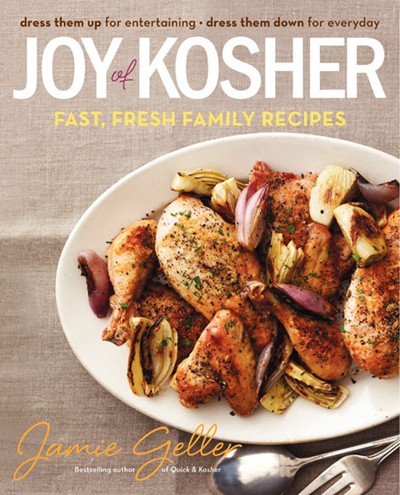 Jamie Geller has created an entire media microcosm around cooking fast and delicious Kosher food. She's authored the Quick & Kosher Cookbook series (including Quick & Kosher: Recipes from the Bride Who Knew Nothing) and is co- founder of the Kosher Media Network, which recently launched the Joy of Kosher with Jamie Geller Magazine and companion website JoyofKosher.com, a social network for foodies. The New York Times has called her "the Rachael Ray of Jewish Cooking.

To give you a taste of Jamie's cooking, we're delighted to offer 10 free copies of her just published cookbook, the Joy of Kosher: Fast, fresh, family recipes. There are more than 200 recipes, with versions suitable for entertaining and the second for family members.
Here are 6 of Jamie's favorite recipes from the book:
Crystal Clear Chicken Soup with Julienned Vegetables and Angel Hair (Dress It Down: Chicken Noodle Alphabet Soup)
Garlic Honey Brisket (Dress It Down: Honey Brisket Pita Pockets)
Miso-Glazed Salmon (Dress It Up: Avocado-Stuffed Miso-Glazed Salmon)
Butternut Squash Mac 'n' Cheese (Dress It Down: Mac 'n' Cheese Muffin Cups)
Gooey Chocolate Cherry Cake (Dress It Up: Red Wine Chocolate Cherry Heart Cake)

And talk about challah! (Ten Variations)
To win one of the cookbooks, just post a comment below answering the question:
Which of these 6 recipes sound especially tempting, and why?
Additional rules are:
Please make certain you have signed in to the EYB website (you don't have to be a paid member). This ensures that we have your email address and can get in contact with you.
The giveaway will expire in 4 weeks on November 17, 2013.
This contest is now closed. The 10 winners, selected by random number generator, are annieski, pgarcia, jaxmiller, krobbins426, Gunnygoo, chawkins, Md309, Softa, vinochic and sailor.