Literary cookbooks for kids
January 8, 2013 by Susie
The other day, I had a rare spare moment in the afternoon, after practicing piano with my 6-year-old. She'd been especially coöperative, and I didn't have to start dinner yet. So I cast my eyes about for a book and my eyes fell on Fairy Tale Feasts.
We'd received the book years ago, before she was born and when my son was little, and I'd forgotten about it. But now Zoe's at the age when she's voracious for stories, and sometimes I have to make them up on the spot. Usually they're about animals, but I was at such a loss last week that I actually started one like this: "Once upon a time, there was a little piece of dental floss…"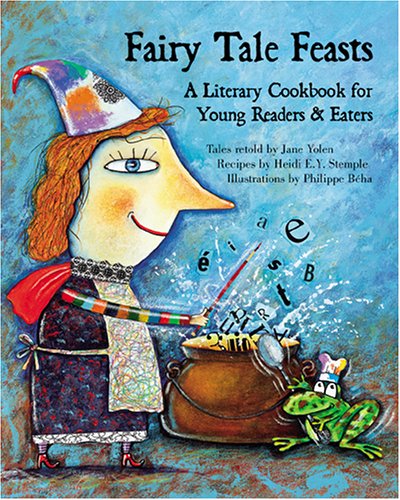 Anyway, Fairy Tale Feasts showed up in the nick of time, and soon we were leafing through Rapunzel (rampion from the witches' garden), Snow White (poisoned apple!), Cinderella (pumpkin!), and Diamonds and Toads (French toast – it's complicated).
I realized that while there are plenty of cookbooks that try to win kids over through their sense of play (pancakes with chocolate chip faces, celery stick boats etc.) there aren't so many which try to win kids over through their sense of story. But I love these books, because the truth is that food really is mythic and magical to kids – as you know if your son has ever sworn he'll fall over and die if he has to eat those beans.
Along similar lines is Roald Dahl's Revolting Recipes, which unapologetically riffs on some of Dahl's wackiest literary creations: Hair Toffee to Make Hair Grow on Bald Men, Mosquitoes' Toes and Wampfish Roes Most Delicately Fried, Hot Frogs, and Lickable Wallpaper.
These recipes may not ever make it to the table. But they're certainly brimming with food for thought.