Ron Suhanosky
January 9, 2012 by Susie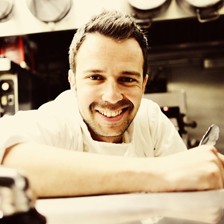 Our guest cookbook author this month is Ron Suhanosky, author of Pasta Sfoglia and, most recently, The Italian Table. Suhanosky, currently the chef at Nonna's Table on the
Upper Eastside, shared his thoughts about writing cookbooks. I was interested to learn what he considers the most difficult part of the process–scaling down to 4-6 servings per recipe! I've often thought it's almost two completely different species of cooking (cooking for a small family vs cooking for service), and often a weak point in cookbooks originating from restaurants. It's good to hear of a chef taking that requirement so seriously.
What is your favorite part of writing a cookbook?
My favorite part of writing a cookbook is coming up with the concept and making it unique as well as user friendly. I feel that if you are a chef and you write a cookbook, you need to make sure that your recipes are accessible to the reader. And when I say accessible, I mean that the ingredients need to be easy to obtain and the dish needs to be easy to execute.
…and your least favorite part?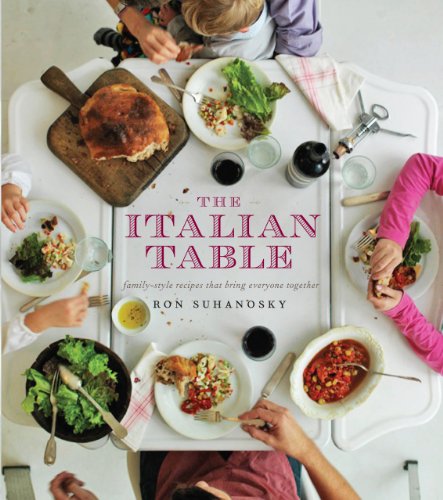 My least favorite part is breaking my recipes down to the 4-6 portion size. Its a nightmare for a chef to break recipes down that small.
What was the first cookbook you ever owned?
The first cookbook that was officially mine was The Professional Chef from the Culinary Institute of America (where I graduated from in 1992)
What cookbook do you give to a favorite friend or family member who's just learning to cook?
The best cookbook you could give a friend who wants to learn more about cooking is The Silver Palate. It's fun, easy and recipes can be executed well (this is a general cookbook) if you are asking for an Italian cookbook, my choice would be The Splendid Table from Lynne Rosetto Kasper. Its a classic and a must have.
What would be your desert-island cookbook?
My choice for a cookbook that I would want to have with me on a desert island would be The Silver Spoon (the Italian version) This would keep me interested in cooking and busy learning Italian at the same time 😉
What do you consider to be your all-time best recipe, or one that is always identified as yours?
My all time favorite recipe that I am identified by is my Spaghetti with Strawberries, balsamic, tomato that is in my first cookbook Pasta Sfoglia. I love this dish. Every time I make it and eat it I am surprised by how delicious it is! I have a following for this dish and people have come to me only at the time of year that strawberries are in season to have me cook this dish for them.
What was your favorite childhood food, and why?
There were a few favorites but one that sticks out is creamed corn with crushed friselles that my gram would make for me after school.
Who first taught you to cook?
My great-grandmother took me under her wing and had me in the kitchen all the time.
How do you find time, as a chef, to write cookbooks as well as managing your executive responsibilities?!
Somehow this has worked out. I can't actually say how I have found time other then it just has worked out.
Are there any other cookbooks written by other restaurant chefs that you admire, and why?
I like all the books from Lidia Bastianich. She really reminds me of my great-grandmother (even the way she looks) and all of her recipes inspire me to stick to traditional Italian. She knows how to bring the Italian culture to the table.