Karen Solomon
July 28, 2011 by Susie
Karen Solomon talks about her love for 'The Jewish Home Cook Book'.
Karen is the author of Can It, Bottle It, Smoke It and Jam It, Pickle It, Cure It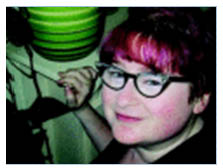 The only thing better than cookbooks is digging through a shelf of old cookbooks, and for these I am a happily-in-denial addict. Their torn covers of dated and often hilarious cover art, featuring food both appealing and not. Their cracked spines that open easily to well-loved recipes, but give an audible ache when stretched toward pages that have never seen the light of table.
An old cookbook's well-honed smell cannot be duplicated; it truly takes 30 or more years to properly cultivate. And, of course, the telltale signs that a real book has been shown real love: the stains. Pages dark from spilled oil, splattered with tomato seeds, and splashed with flecks of stuck flour or squash. Old cookbooks – call them vintage if you'd prefer to pay a premium for them – remind me of why I love the well-worn and familial world of cooking.
I have one volume in my collection that is my most prized – handed down from my mother, of course, and now so fragile, it's held together with a Ziploc bag. The Jewish Home Cook Book, published by the Ladies' Auxiliary of the Jewish Home for Aged of Worcester County, as it was published in 1956. Worcester, Massachusetts is the site of my New England ancestry, and this book made the move with us to Florida when I was six years old in the mid-1970's. For me, it provides that link to the "Old Country", the way immigrants coming to the "New World" carried with them seeds and starters.
Now out of print, Jewish Home is truly a family heirloom, as it holds the recipe for Mrs. Nathan Satter's Banana Bread, a recipe my mother is famous for, and yet I don't believe she's ever followed it exactly. She's always substituted chocolate chips for the nuts, and used canola oil instead of shortening. She cut the sugar by half, and she realized long ago that using frozen bananas rather than fresh yields a moister cake.
And in the evolving conversation of the recipe, I've made changes since I began making it in college. I've added more bananas, swapped out half of the all-purpose flour for white whole wheat, and added my homemade vanilla extract and more recently, my homemade cacao nibs for the chocolate. Mrs. Nathan Satter would hardly recognize her quick bread. But I can't help but think that she'd be happy that her recipe and the book that contains it continue to feed us.