The Great British Bake Off/Baking Show – Week 2 – Biscuit Week
September 24, 2022 by Jenny
During Cake Week, we said fare thee well to Will. This week find out how the biscuit (cookie) crumbled for the bakers.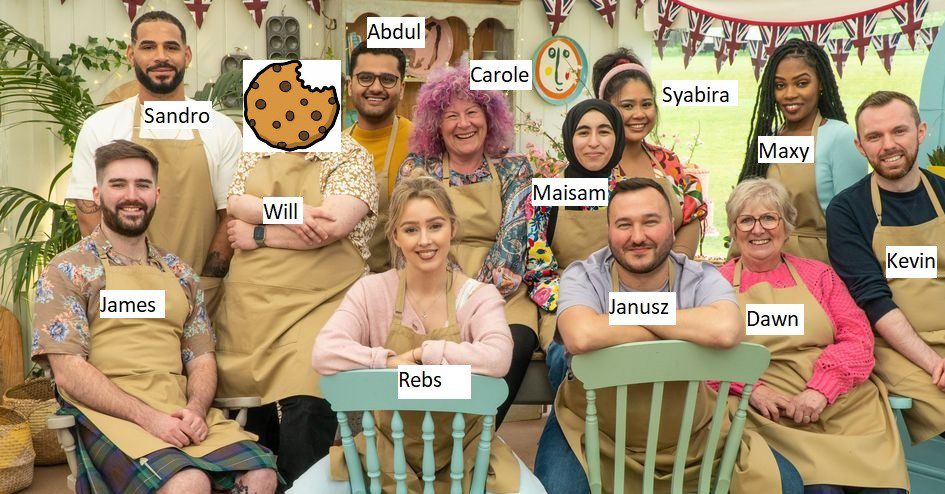 Signature: 18 decorative macarons in 2 hours and they must look like something else.
The makers made burgers (Carole and Sandro), watermelons (Janusz), daisies (Maxy), carrots (Maisam), yo-yos (Dawn) and several other designs. Dawn and Maxy received a coveted Hollywood handshake for their macarons. Overall the bakers received favorable feedback.
Darcie's $0.02: Several contestants said they weren't fans of biscuits (saying they usually just buy them in the store). Two hours isn't very long to make macarons – as Janusz says, "there are 87 things that can go wrong with macarons." It always surprises me that contestants often come up with the same concepts (two ice creams and two burgers). I was intrigued by Syabira's savory macarons, and wowed by James' piping of his "raccarons". I thought for sure he was going to get a handshake but alas.

Technical: Set by Prue – 12 Garibaldi biscuits in 1 hour and 45 minutes.
The Garibaldi biscuit was named after Giuseppe Garibaldi, an Italian general and leader of the struggle to unify the Kingdom of Italy. Garibaldi made a popular visit to South Shields in England in 1854.
Prue wanted chocolate with white chocolate feathering to "test their skills" with feathering.
Abdul and Syabira went a whole other direction with the feathering of the white chocolate on top of the cookie. They actually created white chocolate feathers which made me smile. This error landed them in last and second to last place. Sandro came in 3rd, James 2nd and Rebs 1st.
Darcie's $0.02: At first I thought they had raisins in them and I was set to dislike the challenge, but I was relieved to see it was currants. To the bakers who struggled with how brown to let the cookies get: you are my people. This challenge showed how easy it can be to go from the top to the bottom (Dawn) or vice-versa (Rebs).
Showstopper: a 3D biscuit mask that must stand upright in 4 hours.
I thought the bakers did an incredible job and most of them were works of art. Rebs had to remake her mask as it broke in the oven. Maisam finished early but was dinged that her mask was too simple. Carole had used lard in her ginger cookie recipe which ended up making the mask too soft and it cracked but it was deemed lovely. James brought in his love of horror films and created a scary masterpiece with brandysnaps and fortune cookies (filled with cliché lines from scary movies).
Darcie's $0.02: What a delightful challenge. I sympathized when the bakers talked about their hands shaking – it happens to me not only if I get nervous but when my hands get tired from a lot of piping. Abdul's mask was lovely in its composition and the flavors sounded great, although the color of the biscuits reminded me a bit of cat food.
Jane's translation service: Spanner = wrench. Knackered = exhausted
Results:
Maxy was star baker.
Maisam was sent home.