Meet this season's new GBBO contestants
September 6, 2022 by Jenny
The Great British Bake Off is scheduled to be back on UK screens on September 13th! Netflix has also confirmed that season 13 (labeled as collection 10) will be airing in North America on the Friday after each new UK episode as they have done the last two years.
To prepare for its return, we'd like to take a few minutes and introduce you to the newest contestants.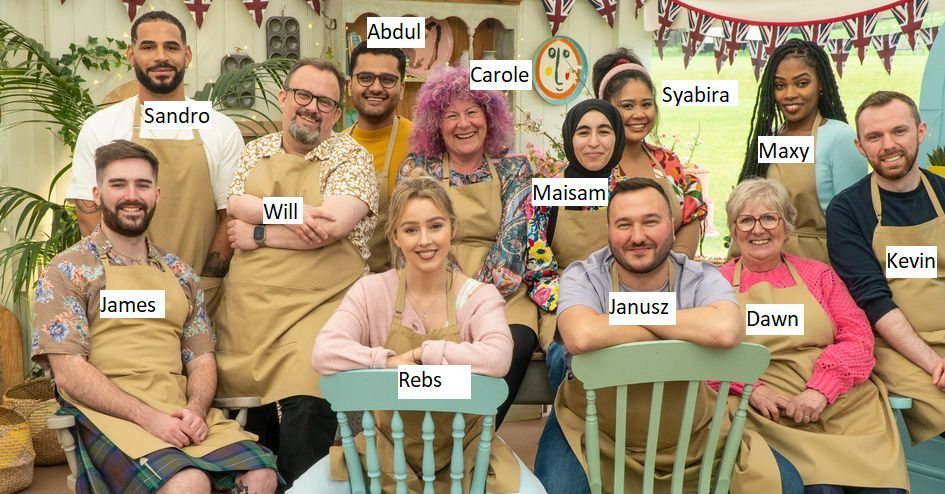 Abdul, 29
Background: Born in Saudi Arabia, lives in London and Cambridge. He is an electronics engineer. Applies precision thinking to the chemistry of bakes.
Baking: Began baking when he and his graduate colleagues baked for each other to enhance their daily coffee breaks.
Favorite flavours: Matcha.
Carole, 59
Background: Born West Country, Carole lives on a Dorset hillside with her husband, Michael. She is a local radio host called 'Compost Carole' where she shares her gardening know-how with listeners.
Baking: Began baking with a first birthday cake for her eldest granddaughter. Since then she has refined her skills via YouTube. She loves to bring the garden into her bakes.
Favorite flavours: fruity and punchy.
James, 33
Background: Grew up in the east-end of Glasgow and moved to England after university.
Favorite flavours: autumnal, mixed spice, apples and caramel.
Janusz, 33
Background: Grew up in Poland and moved to the UK 10 years ago. Lives on the SE coast with his boyfriend Simon.
Baking: Inspired to bake by his mother. His baking style is 'cartoon-like, colourful and camp' and loves working Polish ingredients into British staples.
Favorite flavours: ginger and chocolate.
Kevin, 33
Background: Musician and music teacher. Loves spending time with his wife and family.
Baking: He began baking when he was 17. He loves using seasonal ingredients and refining his technique.
Favorite flavours: fruits, herbs, nuts and spices.
Maxy, 29
Background: Born in Sweden. Studied fine art and has a Masters in Architecture.
Baking: She began baking five years ago, with the arrival of her first daughter, and uses her strong artistic skills to create beautifully decorated celebration cakes.
Favorite flavours: Scandinavian – cardamom and saffron buns and cinnamon rolls.
Dawn, 60
Background: Lives with her partner Trevor and is mother to three, step-mother to two, and gran/step- gran to four.
Baking: loves the challenge of an illusion cake, enjoys whacky and intricate designs that allow her to express her creative talent. She prides herself on her steady hand and attention to detail, especially when it comes to the delicate designs on her biscuits.
Favorite flavours: lemon, salted caramel and anything nutty.
Maisam, 18
Background: Originally from Libya, Maisam has lived in the UK since she was nine. She speaks five languages (English, Arabic, Amazigh, Spanish and Turkish) and is working on others. She has a strong creative streak and enjoys photography.
Baking: She started baking at age 13. Loves the science of baking.
Favorite flavours: Mediterranean – olives, dates and sesame seeds.
Sandro, 30
Background: Born in Angola, fled the Angolan war with his mum when he was two, settling in London. He is a boxer who also has a background in ballet and breakdance!
Baking: At the age of 21, his father passed away and he turned to baking as therapy. He runs virtual baking classes for autistic children.
Favorite flavours: Angolan – paprika paired with tangy cheese, sweet bakes with sticky dulce de leche.
Syabira, 32
Background: Malaysian-born and moved to the UK in 2013 to study for her PhD and is now happily settled in London with her boyfriend, Bradley.
Baking: Started baking in 2017 with a red velvet cake, which reminded her of the treats she shared with her friends back home.
Favorite flavours: Malaysian; chicken rendang cornish pasties are a particular favourite.
Rebs, 23
Background: spent her childhood in the countryside in Northern Ireland and loves everything to do with Irish culture – she can Irish dance and play the tin whistle. Works in the tech world.
Baking: At age 3, began baking with her mum. Recently has turned to baking as a way to unwind.
Favorite flavours: Middle Eastern ingredients as a nod to her boyfriend, Jack's Turkish family heritage.
Will, 45
Background: grew up just outside Bristol, before leaving for university in Liverpool. Now he lives in London with his wife and children.
Baking: His passion began when he was 2. His mum would give him her pastry trimmings to turn into little jam tarts. He is loves the technical side of baking and enjoys working with yeast but not in bread.
Favorite flavours: salted caramel and paprika – but not together.
Jane, Darcie and I will be back with recaps following the airing of the show on Netflix. Happy viewing – and baking!
I've updated the large post where I keep track of GBBO related cookbooks by contestants – they have been busy!