Food news antipasto
August 7, 2022 by Darcie
Have you seen any of the amazing photos of distant galaxies, nebulae, and stars coming from the newly launched James Webb Space Telescope? One of the recent images has a food connection: French scientist tweeted an image of what he described as a 'distant star' – only it wasn't a star at all, it was a photo of a thin slice of chorizo. It did look otherworldly, even if it wasn't Proxima Centauri. The scientist said the goal of the post was to educate people about fake news online, although it may have had the effect of making people hungry once they found out the real source of the image.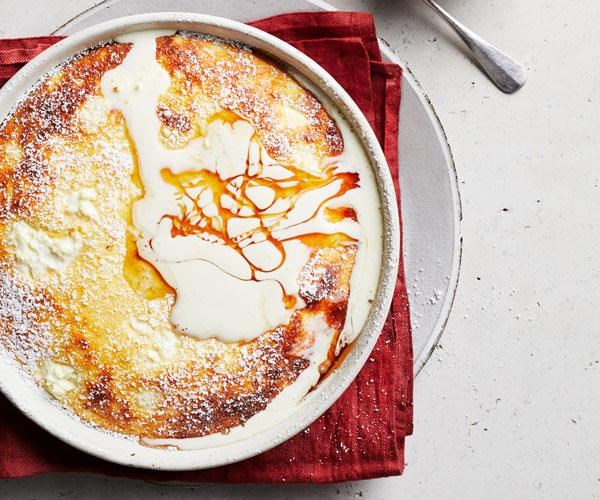 This week's recipe deep dive comes to us from Australian Gourmet Traveller, which provides 27 ideas for what to do with that big bag of polenta sitting in the cupboard. The options range from traditional sides to breakfast foods to desserts like the Honey, polenta and buttermilk-ricotta pudding pictured above.
Wine shopping can be a confusing affair, with a dizzying amount and variety of bottles from which to choose. Many of us rely on using shortcuts such as points ratings from magazines or wine clubs. The most well recognized of these systems was the brainchild of wine critic Robert Parker, who upended the wine industry by introducing a simple scale that ranged from 50 to 100 points, along with easy to understand descriptions. Punch Magazine's John McCarroll provides a profile of Parker and his influence on the wine industry. Parker is either revered or reviled, depending on who you talk to about the retired critic.
Last week we reported about the death of cookbook author Diana Kennedy, a staunch proponent of regional Mexican cooking. Like many outspoken and passionate food writers, Kennedy was a complicated figure, a "culinary lightning rod" as described by Evan Kleiman. Kleiman's article also includes a link to two interviews she did with people about Diana's life and enduring legacy.
It seems that almost every week brings another story of devastating effects wrought by weather events, and this week is no exception. Spain is warning that the recent heatwave is threatening the olive oil harvest with an expected yield reduction of between 25 and 30 percent if there is no temperature relief or rain in the next few weeks. In addition to the reduced yield, the quality of the remaining crop will also likely suffer, with some portion of it being labeled lampante, 'unfit for human consumption'. Italy's crop is likewise compromised.
On top of that depressing tidbit, there's more bad news out of Australia, where there is currently a nationwide egg shortage. After last year's COVID lockdowns egg producers reduced the size of their flocks and are having trouble meeting renewed demand this year. This has led restaurants to raise prices or reduce the number of eggs served in certain dishes.
Now to something more festive: are you a fan of the discount grocery chain Aldi? Are you also planning a wedding? Would you like to have an Aldi-themed wedding? If the answer to all of these questions is 'yes', then head over to Food & Wine, where they share a story about a wedding contest that Aldi is currently running. The winner will receive a wedding at the chain's U.S. model store in Batavia, Illinois, with up to 50 guests in attendance, and will feature a cocktail reception, a wedding cake baked with Aldi ingredients, a reception featuring Aldi foods, decorations and flowers, and the real prize: a year of free groceries provided in $5,000 worth of Aldi gift cards.