Good & Sweet: Quick Bites & Cookbook Giveaway
July 29, 2022 by Jenny
Enter our worldwide giveaway to win one of two copies of Good & Sweet: A New Way to Bake with Naturally Sweet Ingredients by Brian Levy.
Good & Sweet: A New Way to Bake with Naturally Sweet Ingredients by Brian Levy was just published this week. I have been waiting impatiently for its release. The wait was worth it.
Whether or not you are watching your sugar intake, these recipes deliver delicious results that will please everyone in the family. I have some bananas that are calling to be made into Double banana bread and my son has asked me to make a fruit dessert this weekend – with strawberries – so I am going to adapt one of the recipes here.
Early in his pastry career, Brian worked with the great Gina DePalma. Since that time, he has spent years experimenting in the kitchen to find the best recipe for desserts utilizing fruit, grains and other whole foods without relying on sweeteners and artificial ingredients. The result is a gorgeous book filled with exciting desserts that are made with natural ingredients.
Measurements are provided in weight and volume and the recipes are approachable for every level of baker. Each recipe shares serving size; dietary distinctions such as GF for gluten free, DF for dairy free; V for vegan; notation if the recipe is a no-bake; and total time needed to complete the dessert.
Mocha tartlets, Matcha banana custard pie; and Persimmon and spice Bundt cake with white chocolate ganache are just a sample of what is in store for us. You can check out the book's index for a full listing of recipes.
I particularly love that the author provides "fruit file" documentation for fruits covered in the book. This full page "file" provides genus; favorite baking varieties; sugar content; harvest season; how to tell if it is ripe and more. As well as the recipe, Brian gives helpful notes such as "if you're using unsalted peanut butter, add 1/4 teaspoon of salt" and so forth as well as tips to switch up the recipe with different flavors.
Brian has a number of events which we have listed on our calendar and there is one online recipe for you to try now: Rosemary-lemon shortbread.
You will want this amazing collection of recipes in your library. It will be included in my best books of 2022. Be sure to sign up for Brian's newsletter here and follow him on Instagram for more inspiration.
---
Brian took some time out of his busy schedule to answer a few questions for our Members.
Brian Levy is a pastry cook who previously worked at Michelin-starred Babbo, where he was mentored by James Beard Award-winning pastry chef Gina DePalma. He left to work the fields and kitchens of farms and inns in Europe and Martha's Vineyard, and then as a private chef. Outside of the kitchen, he also studied architecture at Yale. More details are in the first pages of the book's introduction.
Q: What first triggered your interest in baking? Do you remember your first baking memory?
Cooking shows combined with an inherent love of sweet things likely triggered my interest in baking. I was a latchkey kid, and I remember coming home from school at least a couple of times and microwaving mixtures of sugar and water (sometimes with salt and food coloring) to see what would happen. And my sister had an Easy Bake Oven in which I made some kind of improvised oatmeal cookies when I was probably 4. A couple of years after that, my sister and I were watching Julia Child on TV and were inspired to attempt puff pastry. I'm sure it wasn't good, but I like that it was ambitious.
Q: If you had to describe your baking style, what would it be?
I'd say my baking style is unfussy. Something I shared with my mentor Gina DePalma is the belief that taste is more important than looks in a dessert. Don't get me wrong; I like dishes to be pretty, but I'm not worried about pristine perfection, and I'd rather a cake look homey and inviting than sterile and intimidating.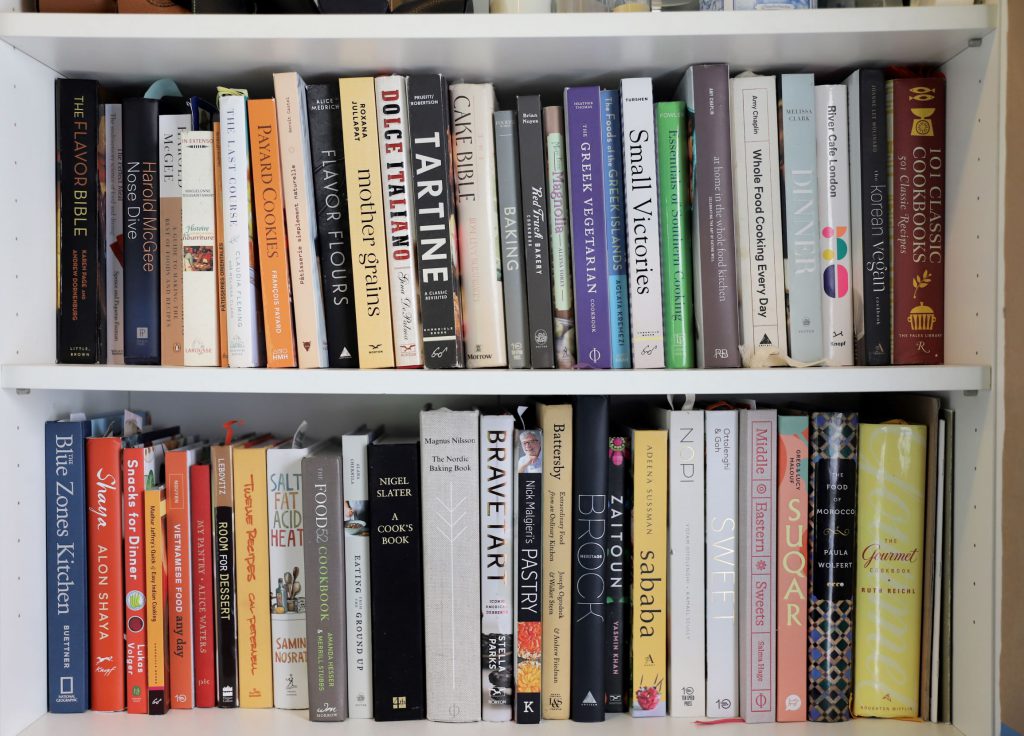 Q: Are you a cookbook collector? If so, tell us about your collection?
I've always had limited space, so I'd say I'm a very selective cookbook collector – photo above. I'm most drawn to baking books that focus on a particular region's traditions or a completely novel approach; books from chefs or restaurants I love, like the late Battersby; vegetarian and Greek recipe collections; and massive agglomerations like The Gourmet Cookbook.
My favorite cookbook authors are Amy Chaplin, Alice Medrich, Nick Malgieri, Madhur Jaffrey, Melissa Clark, Magnus Nilsson, Stella Parks, and Nigel Slater. I'm very thankful that Aglaia Kremezi's The Foods of the Greek Islands exists. And I can't forget Lukas Volger, Melissa Weller, Yossy Arefi and—duh—Rose Levy Beranbaum (no relation!).
Q: What is the best part of your job? Do you sometimes feel like working with food all day keeps you from wanting to get creative in the kitchen?
I'm lucky enough to have turned writing into my main occupation a couple of years ago, so for me when the chance comes to test ideas out in the kitchen—or to make a necessary meal—it feels like an active, meditative break from sitting and thinking. I think I keep myself feeling pretty creative in the kitchen mostly because I don't like shopping too often and I like figuring out how best to work with what I have on hand!
Q: What is your go to for a quick dinner – quick dessert?
My go-to quick dinner is either a socca (chickpea pancake) topped with roasted vegetables and yogurt or feta; or a really simple Greek chickpea stew (revithada). For dessert, you can't get much quicker than an affogato.
Q: Tell us about your cookbooks or any future projects you are working on?
It's hard to believe that Good & Sweet has just been released! I'm now working on writing and illustrating a (food-related) children's picture book, the idea for which came to me around the same time at Good & Sweet. I'm working on potential cookbook ideas, and I've begun to contribute to Serious Eats. Possibly with food themes as an anchor, I'd like to make time to work on memoir and short story writing.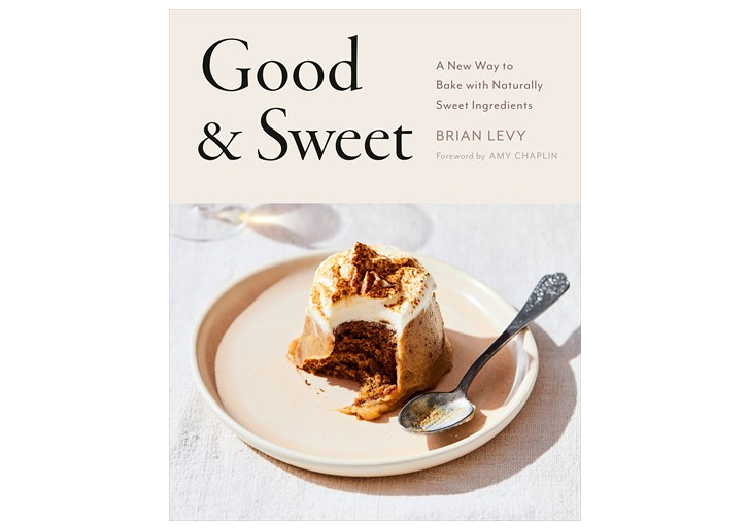 Special thanks to the publisher for providing two copies of this title in our promotion. Entry options include answering the following question in the comments section of this blog post.
Which recipe in the index would you like to try first?
Please note that you must be logged into the Rafflecopter contest before posting or your entry won't be counted. For more information on this process, please see our step-by-step help post. Once you log in and enter your member name you will be directed to the next entry option – the blog comment. After that, there are additional options that you can complete for more entries. Be sure to check your spam filters to receive our email notifications. Prizes can take up to 6 weeks to arrive from the publishers. If you are not already a Member, you can join at no cost. The contest ends at midnight on October 7th, 2022.
a Rafflecopter giveaway