Food news antipasto
July 3, 2022 by Darcie
This week UNESCO added borsch (aka borscht) to its list of endangered intangible cultural heritage, saying that the war "threatened" the cooking of borsch. Ukraine claims the soup as its national dish, and the country's Culture Minister Oleksandr Tkachenko said "Victory in the war for borsch is ours!" Many different varieties of borsch are served, but the most common prominently features red beets.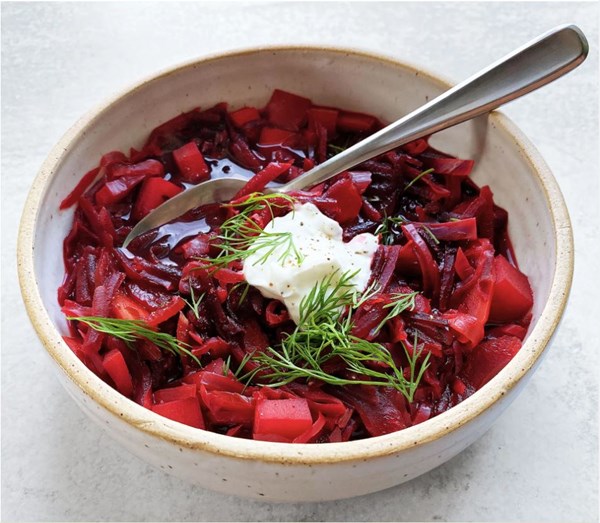 There is no such thing as bad pizza in my book, but some pizza is definitely better than others. If you find yourself eating pizza at an unfamiliar place and want to make sure you have 'less bad' pizza, Eater's Dayna Evans has a suggestion: order it well-done. Ordering your pizza well-done won't make people look at you funny the same way as ordering your steak that way, it is "for people who love a crisp crust and hate a floppy structure," writes Evans. She also recommends adding some crushed red pepper flakes to give punch to a lackluster slice.
Climate change is wreaking havoc on crops worldwide, but few commodities are as vulnerable to the effects of global warming as coffee beans. That's why a startup called Atomo just received $40 million from investors to work more on their 'beanless' coffee products. The company says not only are their drinks more sustainable than real coffee, they taste delicious to boot. For now they only have canned cold brew but are working to develop additional products.
Over the summer season, countless ears of corn will be thrown on grills and eaten with a generous dose of butter and salt. Chef and author Andy Baraghani has a suggestion to up your grilled corn game, and it involves dunking the corn into a hot brine. He grills his corn, bare, until all of the kernels are a toasty brown, saying that it adds a pleasant crunch and a smoky flavor that is the perfect contrast to the sweetness underneath. Dropping the cobs into a hot brine allows the seasoning to penetrate evenly, making each mouthful a burst of flavor.
On a related note, a recent study conducted in England took a look at how many BBQ items an average Brit could expect to eat in a lifetime. After surveying 2,000 people, the study concluded that most people host three and attend four cookouts per year. Over a lifetime, this means that the average Brit will consume "970 burgers, 794 hot dogs and 838 kebabs." The study also estimated how many foods would be leftover at a typical cookout, plus how many other items such as burger buns would be eaten.
Keeping with the summer theme (sorry Australian/New Zealand readers – bear with me), Felicity Cloake has a lovely treatise on how to make the perfect chilled cucumber soup. She really digs deep into the subject, pulling up recipes that date as far back as 1973 before coming up with a blend that is sure to please on a sweltering day.
For readers who are entering the depths of winter, chilled soup is probably the last thing they want to eat. Instead, thoughts turn to techniques such as roasting. That's just one of the ways Gourmet Traveller Magazine recommends cooking cauliflower, offering over three dozen ways to cook this cruciferous vegetable for winter – and beyond.
While on the hunt for food news in Australia, I could not seem to find much that wasn't gloomy. Fruit and vegetable shortages continue, and now another item is vanishing from store shelves. Woolworths recently confirmed a shortage of eggs, blaming 'production challenges' that are putting a squeeze on major retailers' ability to keep the product in stock.