Food news antipasto
May 15, 2022 by Darcie
Mario Batali's trial for sexual misconduct wrapped up this week in Boston, with a jury issuing a not guilty verdict. The charges stemmed after a woman accused Batali of forcibly kissing and groping her at a Boston bar in 2017. Batali still faces a civil trial in the matter, but he will not face any jail time. Will the former television host embark on a rehabilitation tour and attempt to regain his spot in the limelight? Eater's Amy McCarthy hopes no is the answer to that question.
Remember when we announced the contest for creating a pudding for the Queen's Platinum Jubilee? Over 5,000 people entered the competition, and four finalists recently went head-to-head to see whose pud would be the winner. Copywriter Jemma Melvin of Southport emerged victorious with her Lemon Swiss Roll & Amaretti Trifle. You can learn more about this dish, along with the other three finalists' entries, at the Platinum Pudding Competition website.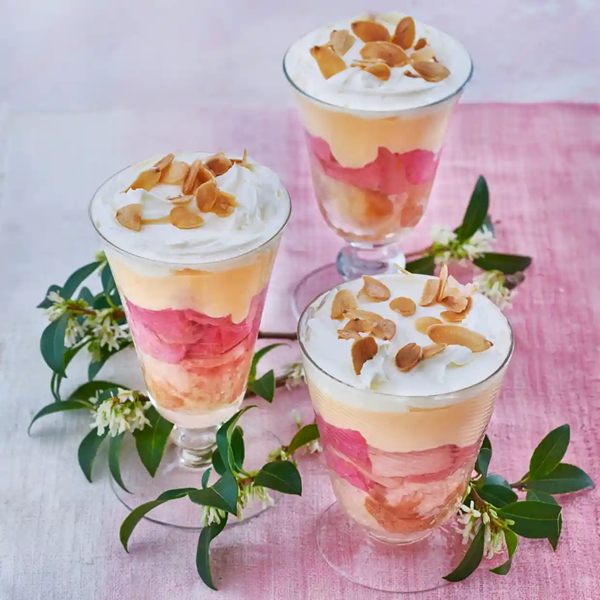 At age 89, Emily Meggett has never used a cookbook, but has spent her life feeding others, using centuries-old culinary traditions, on South Carolina's Edisto Island. As we learn in a recent New York Times article, at the behest of friends and former employers, Meggett is now sharing her insights on Gullah Geechee home cooking in a new cookbook, Gullah Geechee Home Cooking: Recipes from the Mother of Edisto Island. This cookbook includes not only delicious and accessible recipes, but also snippets of the Meggett family history on Edisto Island, which stretches back into the 19th century.
If you are a Francophile and a fan of Ina Garten, be sure to head over to her Instagram account. The Barefoot Contessa is currently hosting a virtual food tour of Paris. On her first major trip since Covid-19 kept her at her (very posh) Hamptons home, Ina is bubbling with enthusiasm, telling fans that her first stop was "a glass of rosé and some chips at Café de Flores," and promising that "For the next two weeks, I'll take you to some of my favorite places [in Paris]. Stay tuned."
We've written before about how fascinating it is to get a glimpse into celebrity pantries (Kim Kardashian's is an eye-opener), and now the latest TikTok craze goes even further. Apparently the latest fad involves watching people restock their refrigerators and pantries. The story focuses on one creator in particular, Kaeli McEwen, who is now making a living by posting videos of her decanting grocery items into stylish containers in her neat and tidy fridge and pantry. She currently has over 8 million followers who watch the videos.
Debates have raged for years on whether you need to store condiments in the refrigerator or not. Some people are aghast at those who keep things like mustard in the cupboard, while others are perplexed by the thought of taking up valuable fridge space for something that keeps well at room temperature. One item that most people do not refrigerate is hot sauce, but after reading this Epicurious article, you might change your mind about keeping this particular condiment at room temperature.
The Sydney Herald's Georgie Gordon discusses the latest cookbooks that deserve a spot on your bookshelf. You'll learn about the latest efforts by Stephanie Alexander, Georgina Hayden, Amber Guinness, Yotam Ottolenghi, Mandy Yin, and others.
You might know Adam Liaw as being the winner of the second season of MasterChef Australia or from his subsequent television experiences. Liaw is branching out from TV into the world of podcasting with a seven part series called How Taste Changed the World that explores how sweet, salty, sour, bitter and umami tastes have influenced humans. Along the way Liaw talks to culinary giants like Dan Barber, Fuchsia Dunlop and Yotam Ottolenghi.