Atsuko Ikeda – Author Quick Bites & Cookbook Set Giveaway
May 12, 2022 by Jenny
Enter our US/CA/UK giveaway to win one of two sets of the following three titles by Atsuko Ikeda: Otsumami: Japanese Small Bites & Appetizers; Atsuko's Japanese Kitchen: Home-Cooked Comfort Food Made Simple; and Sushi Made Simple: From Classic Wraps and Rolls to Modern Bowls and Burgers.

Many times, I have shared my love of Japanese cuisine and culture. When Atsuko Ikeda agreed to do a Quick Bites for our members and her publisher offered a giveaway of her three amazing titles, I was thrilled. We will begin with a little about each book.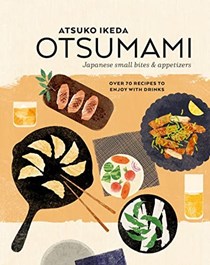 Released last month Otsumami: Japanese Small Bites & Appetizers is filled with lovely imagery and approachable recipes geared toward bringing friends together for drinks and nibbles. Atsuko shares seasonal party planning ideas, plating and serving ideas, sample menu plans and which drinks pair with particular food choices.
Recipes in Otsumami include cocktails, simple light bites, meat and poultry, fish and seafood, vegetarian bites and eggs and tofu. Sauces, dressings, pantry essentials, must have tools and more are also covered. The author even explains furoshiki, the art of cloth wrapping (which I have become a fan of over the last few years wrapping gifts in pretty tea towels and the like that can be reused). Many step-by-step photographs guide us in this elegant way to wrap gifts, our own lunch boxes and more. Take a look inside with our

.
---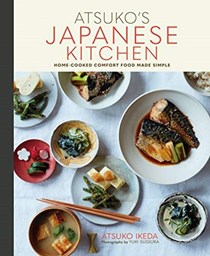 Atsuko's Japanese Kitchen: Home-Cooked Comfort Food Made Simple teaches us how to make the enigmatic and umami-rich comfort food of Japan, with over 60 recipes straight from the author's authentic yet modern Japanese kitchen. Here, the author covers regional dishes, secrets of Japanese cuisine, small dishes for sharing, soups & noodles, easy one-plate meals, special occasion meals, sides & dressing and even desserts. (I am obsessed with desserts from around the world.)
---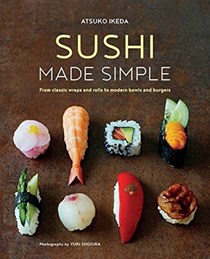 Sushi Made Simple: From Classic Wraps and Rolls to Modern Bowls and Burgers teaches the art of sushi with lovely illustrations and photography whether one is a novice or experienced sushi maker. From cutting vegetables and seafood, to knife tips, to the creation of sauces, this title shines a new light on what sushi means. Gorgeous plates of delectable seafood are shared and include all the classics (i.e., Poke bowls, tempura dishes, Spicy tuna California roll) but also innovative dishes such as: Sushi sandwiches (chicken karaage, Japanese fried chicken); Sushi burger (chicken teriyaki) with the buns being shaped out of rice; Christmas sushi and so much more.
With Atsuko's books, you are guaranteed a proper education into the cuisine of Japan.
---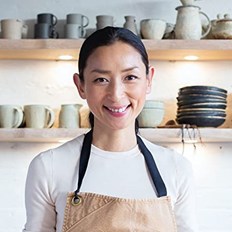 Atsuko Ikeda wears many culinary hats: she is a Japanese chef, teacher, food consultant and food photographer. She has been running her famous cooking classes at Atsuko's Kitchen in London and across England since 2008, offering hands-on workshops with practical tips and skill-building lessons on how to prepare Japanese food. An accomplished chef, classically trained in Shojin Ryori (Buddhist temple cuisine), she is known for mixing traditional recipes with fusion dishes inspired by her culinary travels – all beautifully presented with Japanese refined aesthetics. Otsumami: Japanese Small Bites & Appetizers: Over 70 Recipes to Enjoy with Drinks is her third cookbook with Ryland Peters & Small.
Q: What first triggered your interest in cooking? Can you share your first cooking memory with us?
I have always been interested in cooking and exploring new flavours since I was young. The first proper dish that I cooked on my own is omurice: fried rice topped with omelette. It was one of my favorite meals to order from a western style restaurant and I was eating it all the time, so it made me want to cook it on my own! It requires a simple cooking method of stir-frying the rice with some condiments, but when it comes to wrapping the rice in an omelette in the typical style, it needs a bit of practice. When I mastered the technique it was so satisfying!
Q: If you had to describe your cooking style, what would it be?
My cooking is focused on three things: Simple, delicious, and balanced.
Q: For our members who are new to Japanese cuisine, what dishes do you recommend they start with?
I would suggest they start with some familiar Japanese dishes that they have eaten before so they know how they taste. The recipes should be ones that may easily be recreated at home such as teriyaki, miso soup, or Japanese curry.
But first I would suggest mastering the cooking of perfect Japanese rice (by following my instructions!). This may be served with many simple meals, and is the best way to learn the fundamentals of Japanese cuisine.
Q: Are you a cookbook collector?
Yes, I buy cookbooks very often, and it is great to learn from others as I am also an author of cookbooks!
Cookbooks provide me not only with inspiration on how to cook or use the ingredients, but also the pleasure of learning cultural differences, and the authors' personal stories.
I am also trained in photography, so I always try to choose cookbooks that have beautiful photography and styling.
Q: What is the best part of your job? Do you sometimes feel like working with food all day keeps you from wanting to get creative in the kitchen?
In my cooking classes, the best part of my work is meeting with multicultural students and sharing culturally different culinary techniques. This way I discover new ideas from my students all the time. Most of my students are foodies and share their favorite foods and recipes, as well as recommendations for restaurants; this creates a little community during the classes.
Q: What is your go to for a quick dinner?
Udon, soba noodles, or onigiri rice balls!
Q: Tell us about your cookbooks or any future projects you are working on?
Otsumami is the Japanese term given to snacks and simple dishes, designed to be eaten alongside a drink. ("Tsumamu" means to grab something with your fingers or chopsticks so any foods that can be easily eaten this way came to be known as "otsumami.") They are common at izakaya (the japanese version of a Tapas bar) and at home parties in Japan—even if you are at home having a snack with a drink, you are still enjoying an otsumami!
The collection of recipes in my new book Otsumami: Japanese Small Bites & Appetizers will help readers surprise and impress their guests with perfect otsumami food! As for future projects one day I would like to do a series of recipe videos (in a cinematic way) to show how to cook simple Japanese recipes (this would be a long term project). It will be an almost therapeutic video that will connect you with food. As it is said "Food is medicine" in the Japanese philosophy, I would like to create it visually as well.
Special thanks to the publisher for providing two sets of Atsuko's books in our promotion. Entry options include answering the following question in the comments section of this blog post.
What is your favorite Japanese dish?
Please note that you must be logged into the Rafflecopter contest before posting or your entry won't be counted. For more information on this process, please see our step-by-step help post. Once you log in and enter your member name you will be directed to the next entry option – the blog comment. After that, there are additional options that you can complete for more entries. Be sure to check your spam filters to receive our email notifications. Prizes can take up to 6 weeks to arrive from the publishers. If you are not already a Member, you can join at no cost. The contest ends at midnight on July 12th, 2022.
a Rafflecopter giveaway