Fine Cooking's last issue
May 4, 2022 by Darcie
Even though I knew the end was coming (I wrote about Meredith Corp.'s acquisition of Fine Cooking in October 2020), it was still a sad day when I received a postcard in the mail a couple of weeks ago announcing that Fine Cooking Magazine was no longer going to be published. As the magazine continued to hit my mailbox for almost two years following the acquisition, I could pretend that DotDash Meredith (DotDash purchased Meredith in 2021) changed its mind and was keeping this premier publication.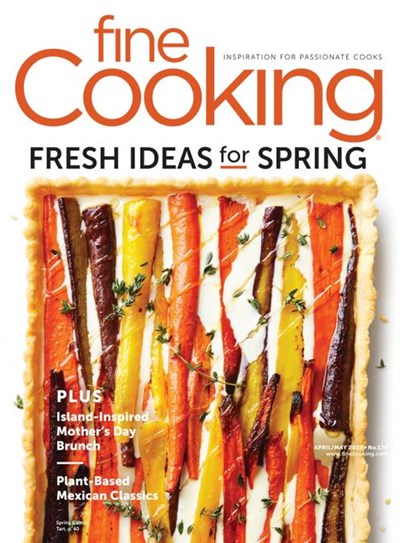 The longstanding plan to end Fine Cooking could not be stopped by my wishful thinking, however, and so I must bid farewell to one of my favorite magazines. With each announcement of a magazine that ceases print publication or folds altogether it gets harder to write about the demise, because it feels like a part of my life that I always assumed would be there is disappearing. Perhaps carriage aficionados felt the same way during the transition from horse and buggy to automobiles. Soon I might be be shaking my fist and yelling "You kids get off my lawn!"
I am thankful I had the foresight to purchase a DVD containing back issues of Fine Cooking from 1994 to 2017 so I will have my favorite recipes even if the website, which is currently operational, disappears (again). Now I only have to hope that the archive's format survives the next few iterations of Windows updates.
Speaking of the website, in a recent comment on a "Meet the New Fine Cooking.com" article (from the site's revamp in 2017), one reader noted that "…it appears Meredith has primarily been reusing old BH&G recipes. Every recipe I've googled has shown up as a recipe published in BH&G years ago." I have noticed that some recipes seemed to echo those from other publications, so I would not be surprised if recipes are shared among the magazines. They may even be contained in a master database accessed by the various websites. This is merely speculation – I have no insight into how DotDash Meredith organizes or stores the vast amounts of data it has acquired in recent years.
DotDash Meredith is offering Fine Cooking's current subscribers an automatic rollover to Food & Wine Magazine. If they do not wish to receive Food & Wine, subscribers can call 1-800-333-6569 to request a refund. I will give Food & Wine a whirl, but I know it will not be the same. RIP, Fine Cooking.