The James Beard Cookbook Awards are back – here are the nominees
April 27, 2022 by Darcie
After a one-year hiatus – due in part to the pandemic but also to controversy surrounding the lack of diversity in its awards programs – the James Beard Foundation has announced the nominees for its 2022 Media Awards, which includes cookbooks. This list covers 2021 and 2022, so only the best of the best books have made the cut. JBF made some changes to the categories: American Cooking is now US Foodways, Photography is now Visuals, and Health and Special Diet has been eliminated. This year there is also a new, separate Beverage category for books without recipes (in addition to one with recipes).
EYB Members will recognize almost every book on this list of nominees, which features many of our favorite authors including in the Baking category: Cheryl Day's Treasury of Southern Baking by Cheryl Day; Mooncakes and Milk Bread: Sweet and Savory Recipes Inspired by Chinese Bakeries by Kristina Cho; and Mother Grains: Recipes for the Grain Revolution by Roxana Jullapat.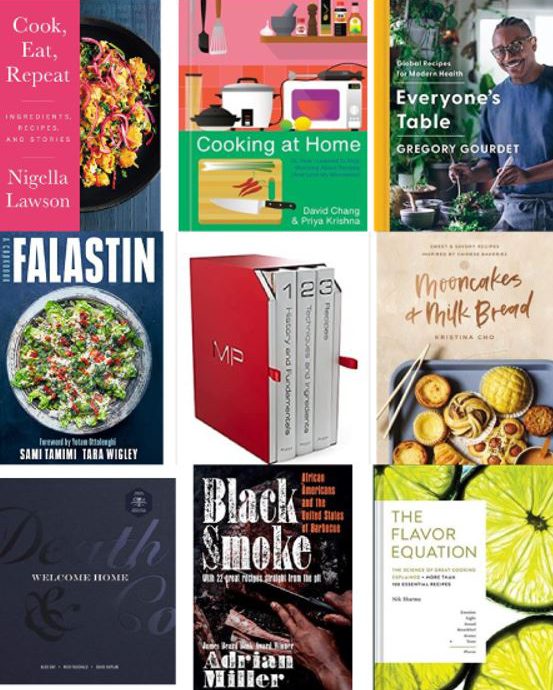 In General we have Cook, Eat, Repeat: Ingredients, Recipes and Stories by Nigella Lawson; Cooking at Home: Or, How I Learned to Stop Worrying About Recipes (And Love My Microwave) by David Chang and Priya Krishna; and Everyone's Table: Global Recipes for Modern Health by Gregory Gourdet with JJ Goode.
Other nominees of note include: Falastin: A Cookbook Sami Tamimi and Tara Wigley and Ripe Figs: Recipes and Stories from Turkey, Greece, and Cyprus by Yasmin Khan in the International category; The Flavor Equation: The Science of Great Cooking Explained + More Than 100 Essential Recipes by Nik Sharma in Reference, History and Scholarship; and Modernist Pizza by Nathan Myhrvold and Francisco Migoya along with Pasta: The Spirit and Craft of Italy's Greatest Food, with Recipes by Missy Robbins and Talia Baiocchi in Restaurant and Professional.
As you know, Jenny is on the James Beard Book Awards Committee and I was a judge this year. Along with Jane, we are headed to Chicago on June 11th for the awards ceremony! Tickets go on sale for the awards ceremony on May 5th.
See all of the outstanding books vying for honors in each category on our James Beard 2022 page. There you will also find links to previous years' nominees and winners.