April 2022 New Cookbook Review
April 27, 2022 by Jenny
Welcome to April! This month we have a wealth of new books to review and add to our wish lists. As usual during these COVID times some April books have moved on to May and beyond, so be sure to keep checking the 2022 preview post for updates.
You will note under the "Other titles of interest" section in the US, I have highlighted in bold a new series of books from "New Shoe Press". These titles are beginner/how to books from experienced chefs such as Claudine Pépin, Aliza Green as well as experts in other fields such as candy making and cookie decorating. I haven't seen these books yet – but wanted to be sure to point them out.
If you would like to order any of these titles (or preorder/order any other books or items) using our affiliate links below or BUY BOOK button on the book details page, earns Eat Your Books revenue as an Amazon Associate from qualifying purchases when using our links:
USA * Canada * UK * Australia * Book Depository
Please remember your local bookstores during this time – for preorders as well and your local restaurants. We need to do what we can to make sure these businesses stay afloat.
If there is an

available for a cookbook, look for the orange icon in the blurb. Clicking on that icon will take you directly to the preview. Lastly, if events are planned for particular books/authors, I have included a link. Be sure to check our Calendar frequently for new entries.
To jump to a particular country's listing, please click on the links below.
UNITED STATES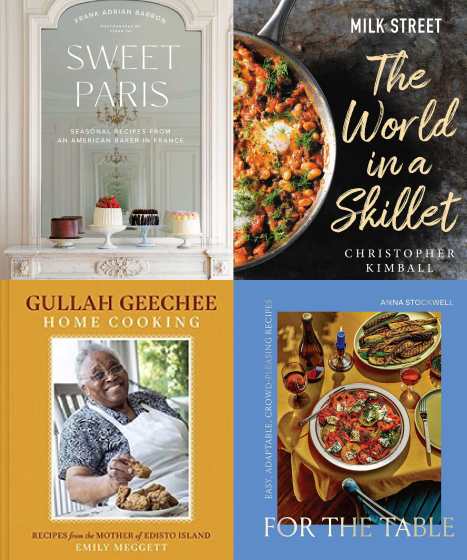 Sweet Paris: Seasonal Recipes from an American Baker in France by Frank Adrian Barron: This gorgeous book brings the timeless allure of Paris into our home kitchens. Not only is Sweet Paris filled with stunning photography and inspirational recipes, Frank shares Paris-insider information such as "treasure hunting at a Paris flea market" or "must-not-miss summer experiences in Paris". Imagery of the recipes as well as the city of Paris are plentiful and make us long for the city of lights and a Parisian dessert. The recipes are a brilliant mix of approachable for the novice baker: the Blood orange mini bundt cake or Raspberry caves (Hallongrotta) are relatively a cinch to pull off. And, there are "sure to impress" desserts: an elegant Ivoire Parisienne or Lemon meringue cake (Gâteau au citron). Frank also includes sections entitled "blooms in my basket" with seasonal floral details including edible flowers. This book has it all. Enter our worldwide giveaway to win a prize package for Sweet Paris.

 Events (fast approaching!)
Milk Street: The World in a Skillet by Christopher Kimball is what we expect from the wonderful team of Kimball and the Milk Street Kitchen. Global flavors and the convenience of whipping up these recipes in a skillet. Dishes are all done within an hour and some within 30 minutes. Japanese-style chicken meatballs, Vietnamese caramel pork and South Asian mashed potatoes are calling my name.

Gullah Geechee Home Cooking: Recipes from the Mother of Edisto Island by Emily Meggett is the first major Gullah Geechee cookbook from "the matriarch of Edisto Island". Meggett's Gullah food is rich and flavorful, though it is also often lighter and more seasonal than other types of Southern cooking. Heirloom rice, fresh-caught seafood, local game, and vegetables are key to her recipes for regional delicacies like fried oysters, collard greens, and stone-ground grits. This cookbook includes not only delicious and accessible recipes, but also snippets of the Meggett family history on Edisto Island, which stretches back into the 19th century.

For the Table: Easy, Adaptable, Crowd-Pleasing Recipes by Anna Stockwell is a cookbook for a new way of entertaining that's simpler, better, healthier, and more fun. Organized by season and full of helpful hosting advice, Stockwell provides accessible and modern menus; each is built around two large platters to pass around the table and includes suggestions for no-recipe side dishes. This book teaches you how to plan and prepare great-tasting and impressive-looking menus that are easy to pull off, as well as offering expert advice on toasts, prep-ahead strategies, and tips on handling guest lists and dietary restrictions.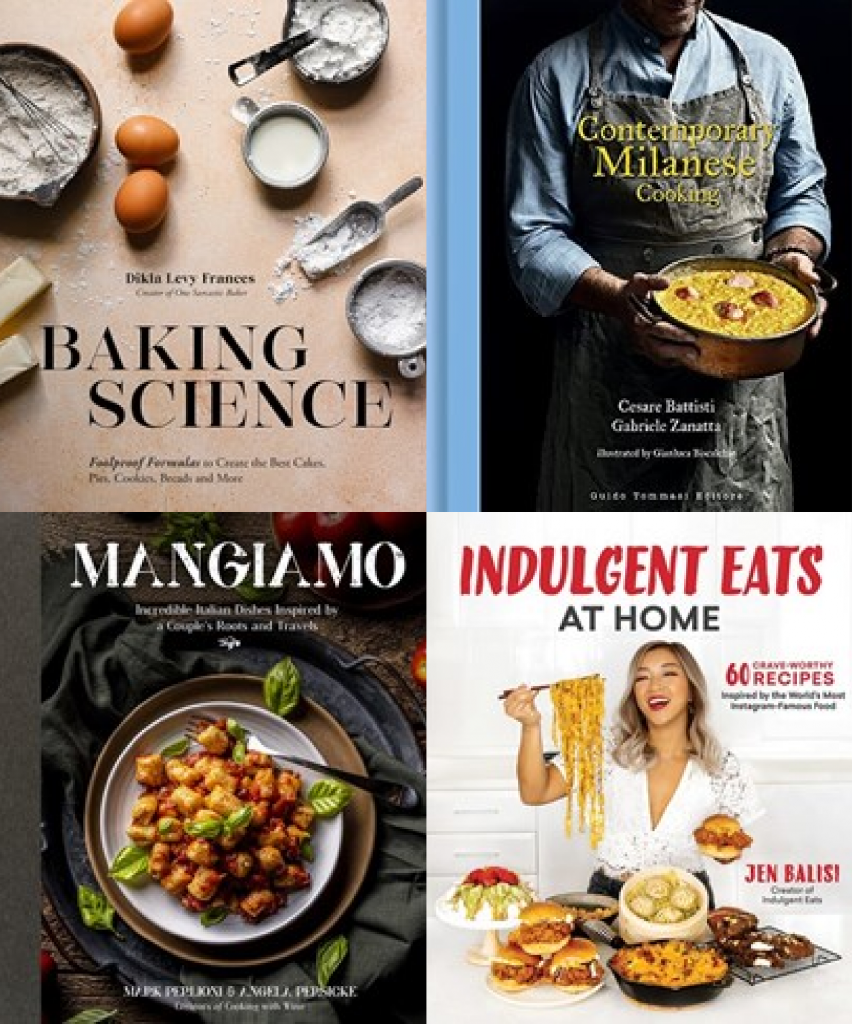 Indulgent Eats at Home: 60 Crave-Worthy Recipes Inspired by the World's Most Instagram-Famous Food by Jen Balisi is an over-the-top collection of recipes that unlocks a whole new world of awesome flavors inspired by Jen's travels around the globe. Every outrageously delicious recipe will have you cooking unique and mouthwatering meals while reading through the stories behind the food, featuring easy QR code access to Jen's Instagram posts highlighting the top restaurants and secret food stall gems that inspired each dish. Her favorite recipes even come with cookbook-exclusive video content, so you can follow along, step-by-step, as the food gets made in that signature #IndulgentEats drool-worthy style.

Baking Science: Foolproof Formulas to Create the Best Cakes, Pies, Cookies, Breads and More! by Dikla Levy Frances: Baking is essentially chemistry in the kitchen, and Dikla removes the mystery of that chemistry with her easy-to-understand breakdown of how baking works: what purpose each ingredient serves in a recipe, how they combine and interact together and most importantly, how to use the correct temperature and ingredients to get incredible results, every time. She pairs this instruction with easy to follow recipes that readers will use to take their baking to the next level.

Mangiamo: Incredible Italian Dishes Inspired by a Couple's Roots and Travels by Mark Perlioni and Angela Persicke: Follow Chef Mark's journey to rediscover his Italian roots with foundational recipes essential to classic Italian cooking, like pastas, risottos and sauces that level up into full meal showstoppers. Mark and his wife Angela have been cooking up Italian dishes in their home for years for their social media followers and now we can create these recipes in our kitchen.

Contemporary Milanese Cooking by Cesare Battisti and Gabriele Zanatta: The English version of Chef Battisti's cookbook has been released this month. I ordered this beautiful book and am quite smitten. From the lovely illustrations to the stunning photography, the delectable recipes and wealth of information (for example tutorials on wild herbs and plants; historical tidbits such as Mondeghili meatballs in literary works), to the straightforward recipes which include the in season months to make these dishes including the amount of time needed, it is a dream of an Italian cookbook. I have already procured everything needed to make the Chicken in anchovy and rosemary marinade and I've just had the book a day.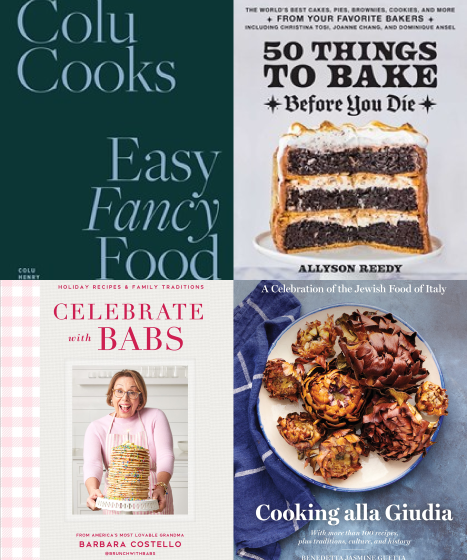 Celebrate with Babs: Holiday Recipes & Family Traditions by Barbara Costello, a grandmother of eight and a mother of four, who quickly became a viral sensation and Tik Tok's favorite grandma, has written her first cookbook. During the pandemic, when her daughter Liz Ariola was pregnant with her third child, Babs moved in to help out. Ariola wanted to break into Tik Tok and ended up recruiting her mother and Babs became a sensation. The book is seasonally organized with recipes for holidays and special occasions (birthdays, etc) and includes tips and hints for "traditions to make your own". For example, "make Easter bread with the entire family."
Cooking alla Giudia: A Celebration of the Jewish Food of Italy by Benedetta Jasmine Guetta is the ultimate tribute to the wonderfully rich, but still largely unknown, culinary heritage of the Jews of Italy. With recipes from Persian, Lebanese, Ashkenazic, and Libyan Jews, and kosher, vegan, vegetarian, and gluten-free options, author Benedetta Jasmin Guetta is on a mission to tell the story of how the Jews changed Italian food, to preserve the extraordinary recipes of the Jewish communities of Italy and make them vital and relevant today. Highlighted throughout the book are holiday meals with regional Italian specialties along with guides to the Italian cities with Jewish heritage. The book will show how to integrate the recipes into your everyday meals and holiday traditions, including indexes indicating which dishes are best for which holidays and which recipes are kosher.
Colu Cooks: Easy Fancy Food by Colu Henry shares 100 recipes and photographs with ideas and solutions to get you out of your weeknight routine, explore new ingredients and techniques, build your confidence, and have sophisticated dishes on the table in around 45 minutes. Colu begins with stocking your larder (pantry/fridge) and what she keeps near the stove to speed up cooking. I already want to make a load of these recipes including Coconut rice with pea shoots and citrusy cashews; Skillet chicken with wilted radicchio, anchovy and onion; and Skillet pork chops with vinegar and honey collards.

50 Things to Bake Before You Die: The World's Best Cakes, Pies, Brownies, Cookies, and More from Your Favorite Bakers, Including Christina Tosi, Joanne Chang, and Dominique Ansel by Allyson Reedy is the equivalent of having the best recipes from the world's best bakers. Daniel Boulud's Madeleines; Milk Jar Cookies' Chocolate pecan caramel cookie; and Christina Tosi's Birthday layer cake recipes are a few examples of what this lovely little gem holds.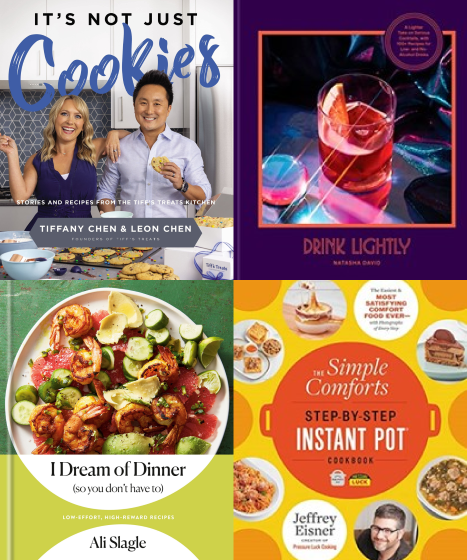 It's Not Just Cookies: Stories and Recipes from the Tiff's Treats Kitchen by Tiffany and Leon Chen: For current and future Tiff's Treats fans, here is the long-awaited story of how Tiffany and Leon Chen turned her batch of "sorry I stood you up" chocolate chip cookies into a million-dollar business. And for the first time ever, fans will have recipes for some of their favorite Tiff's Treats.
Drink Lightly: A Lighter Take on Serious Cocktails, with 100+ Recipes for Low- and No-Alcohol Drinks by Natasha David: Explore the lighter side of serious cocktails with 100 recipes for creative low and no-alcohol drinks from the craft cocktail veteran behind New York City's beloved Nitecap bar.
Drink Lightly presents a relaxed style of drinking that goes down easy but is soundly rooted in the technical precision of craft cocktails. Award-winning bartender Natasha David's approach to low-alcohol, aperitif-style drinks goes far beyond the formulaic–bitter liqueur plus soda–and takes full advantage of an incredible and vast array of low-proof spirits, liqueurs, and wines, along with flavorful fruit and herbal infusions. The result is a collection of creative, genre-pushing drinks that surprise and delight.

The Simple Comforts Step-by-Step Instant Pot Cookbook by Jeffrey Eisner: Fresh off of two #1 national bestsellers, Eisner is back with a crave-worthy collection of comfort recipes that make it feel like everything's all right in the world. You'll get his "Pressure Luck" spin on classics and brand-new creations.

I Dream of Dinner (So You Don't Have To): Low-Effort, High-Reward Recipes by Ali Slagle shares 150 ingenious recipes that make suppertime a snap every night, from the New York Times recipe columnist. These are quick but flavor-filled dishes that will satisfy everyone around the table. Recipes include Eggs with smoky scallion oil; BLT stir-fry (the T stands for tofu); Pasta with rosemary fried walnuts; and Black bean soup with lots of Fritos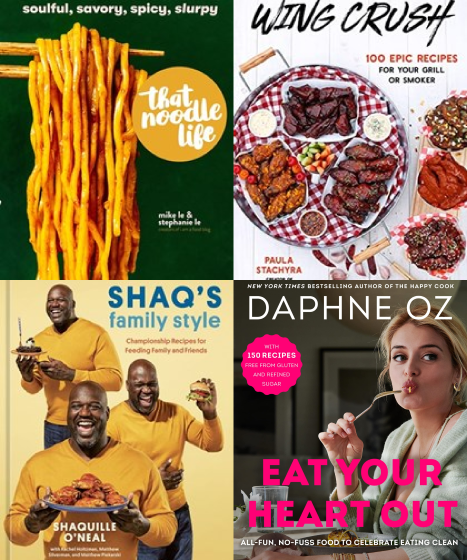 Shaq's Family Style: Championship Recipes for Feeding Family and Friends by Shaquille O'Neal: I was all set to be snarky about a cookbook from Shaq. When I think of him, his singing in the shower General commercials flood my thoughts. But I have to say, I am loving the recipes in this book – downhome comfort food reigns supreme. But there are also salads, salmon and healthier fare as well.

Eat Your Heart Out: All-Fun, No-Fuss Food to Celebrate Eating Clean by Daphne Oz is filled with useful tips and gorgeous photography to inspire health and happiness every day, Daphne shares the techniques she's used to get her mind, energy and body back on track after each pregnancy – without ever losing the joy of cooking, the fun of mealtime, and the stress-free pleasure of doing it intuitively.
Wing Crush: 100 Epic Recipes for Your Grill or Smoker by Paula Stachyra shares clear instructions and straightforward techniques for every grill and oven to guarantee perfectly cooked wings that you'll be tempted not to share. She shows you how to stuff your wings with jalapeno poppers and mac n' cheese, and how to crust them in everything from pretzels and Doritos to ramen and Cheez-Its. Feeling adventurous? Flip to the Wings Gone Wild chapter for over-the-top recipes like Chicken and waffle wings and French toast wings. With a slew of options for every palate and occasion, you'll never need to make the same wings twice but you're definitely going to want to!

That Noodle Life: Soulful, Savory, Spicy, Slurpy by Mike and Stephanie Le is a 75-recipe celebration of the myriad pleasures of noodles which goes way beyond spaghetti and ramen. Inspired by the noodle- and macaroni-crazed cuisines of Asia, Italy, and the American melting pot, they dish up high-impact, soulful, slurpable flavor with minimal fuss. Gorgeous full-color photographs of every dish enhance the lively and sophisticated spreads. Fried Shanghai noodles with pork belly and kale; Authentic beef Chow Fun with 2 kinds of soy sauce; and French onion mac and cheese are just a few examples of the recipes here.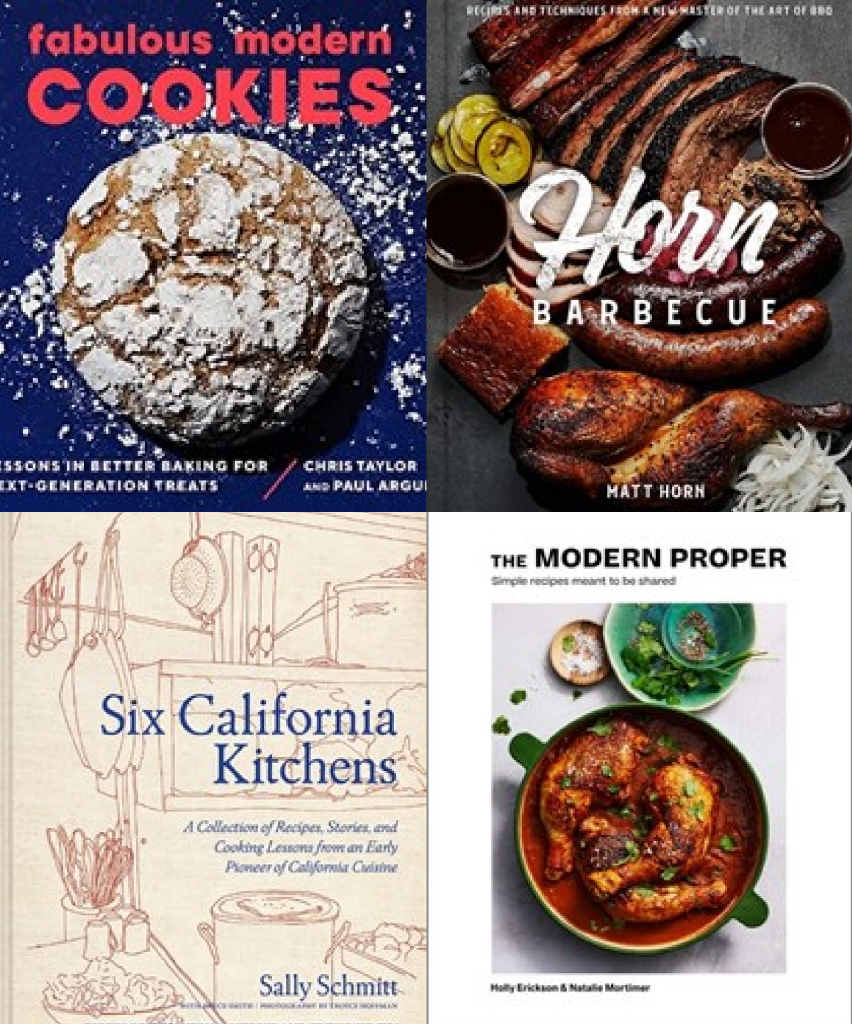 Fabulous Modern Cookies: Lessons in Better Baking for Next-Generation Treats by Paul Arguin and Chris Taylor (the authors of The New Pie) are now tackling cookies as only these two bakers can. Paul and Chris want to make sure your cookies are everything they should be – from proper placement of dough on cookie sheets to a plethora of "cookie byte" blocks of information throughout the book. Recipes include: Mango sunshine bars; Where's Waldorf? blondies (yes, Waldorf salad inspired); Moonstrucks (think a tiramisu sandwich cookie) and Next generation peanut butter cookies. The authors perfect the classics along with offering new cookie ideas that you'll wish you had thought of – this book has looked inside your cookie dreams and made them a reality. Events.
The Modern Proper: Simple Recipes Meant to Be Shared by Holly Erickson and Natalie Mortimer: The creators of the popular website The Modern Proper are all about that weeknight dinner, and now, they're showing you how to reinvent what proper means and be smarter with your time in the kitchen to create meals which will bring friends and family together at the table. Their debut cookbook will expand your "go-to" list and help you become a more intuitive, creative cook. Whether you're a novice or a pro, a busy parent or a workaholic, this book will arm you with tools, tricks, and shortcuts to get dinner on the table. Every ingredient is easy to find, plus you'll find plenty of swaps and options throughout. Each of the 100 recipes (some all-time fan favorites and many brand-new) includes prep time, cook time, and quick-reference tags
Six California Kitchens: A Collection of Recipes, Stories, and Cooking Lessons from a Pioneer of California Cuisine by Sally Schmitt is the quintessential California cookbook, with farm-to-table recipes and stories from Sally Schmitt, the pioneering female chef and original founder of The French Laundry. Sally Schmitt opened The French Laundry in Yountville in 1978 and designed her menus around local, seasonal ingredients – a novel concept at the time. In this beautiful book, Schmitt takes us through the six kitchens where she learned to cook, honed her skills, and spent her working life. Six California Kitchens weaves her remarkable story with 115 recipes that deliver simple, delicious dishes, plus evocative imagery, historic ephemera, and cooking wisdom
Horn Barbecue: Recipes and Techniques from a New Master of the Art of BBQ by Matt Horn: Matt's barbecue style, which he calls West Coast Barbecue, is original. Other barbecue cookbooks focus on one regional tradition, such as Texas or the Carolinas. Matt draws on both of those traditions – and recipes from them appear liberally in this book. He draws on other traditions as well and adds his own California-style spin to the mix, by working in lots of veggies and fruits and by featuring poultry and seafood.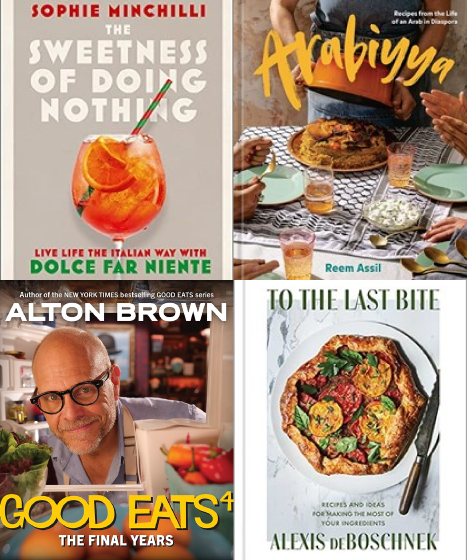 The Sweetness of Doing Nothing: Live Life the Italian Way with Dolce Far Niente by Sophie Minchilli explores the southern Italian philosophy of Dolce Far Niente to help you find pleasure in the everyday. This book is more about the Italian way of life than it is a cookbook but it is a lovely look at this beautiful country and its people.
Good Eats: The Final Years by Alton Brown is an all-new collection of must-have recipes and surprising food facts from Alton Brown, drawn from the return of the beloved Good Eats television series, including never-before aired material. Brown delivers 175 new recipes in this must-have piece of the Good Eats puzzle.

Events
Arabiyya: Recipes from the Life of an Arab in Diaspora by Reem Assil is a collection of 100 bright, bold recipes influenced by the vibrant flavors and convivial culture of the Arab world, filled with moving personal essays on food, family, and identity mixed with a pinch of California cool, from the chef and activist. This title includes a hefty bread chapter with loads of details, photographs and guidance and the desserts chapter made me swoon with recipes such as Pistachio birds' nests, Quince and cheese pastry rolls and Orange turmeric cake.
To the Last Bite: Recipes and Ideas for Making the Most of Your Ingredients by Alexis deBoschnek shares the author's lifetime of knowledge to ensure nothing in the kitchen goes to waste. Buy a whole chicken for Alexis's juicy, delicious Spatchcock paprika chicken with carrots and save the bones for a stock, which you can add to braised leeks with white wine and thyme. Her Greens skillet pie uses any herbs you haven't gotten around to in the crisper drawer. All the recipes in this book are designed to use the entire ingredient to save you money and cut back on food waste. Packed with stories and strategies to help you choose your ingredients wisely and use them well, this cookbook teaches you how to cook creatively, resourcefully, and, most importantly, deliciously. Events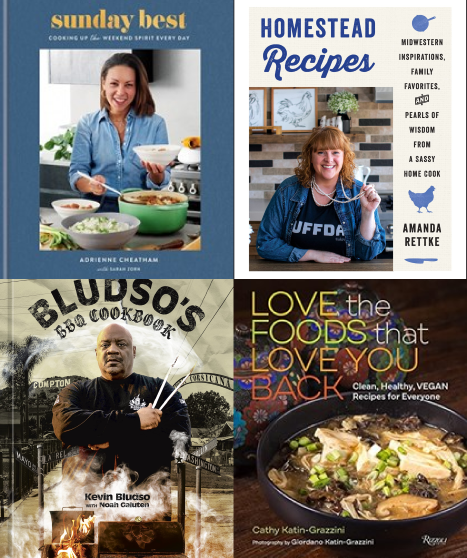 Homestead Recipes: Midwestern Inspirations, Family Favorites, and Pearls of Wisdom from a Sassy Home Cook by Amanda Rettke: From the author of Surprise-Inside Cakes and the hugely popular I Am Homesteader and I Am Baker blogs – a book filled with sass, charm, and 110 tried-and-true home-cooked favorite recipes that shine whether you're a megamart devotee or a garden-to-table enthusiast.
Bludso's BBQ Cookbook: A Family Affair in Smoke and Soul by Kevin Bludso A deep look at family, community, and Texas BBQ through 90 recipes and stories from the famous pitmaster and restaurateur behind Bludso's BBQ. Kevin Bludso was born and raised in Compton, California, by a Black Panther–supporting mother and a police officer father. To stay out of trouble, he spent his summers in Corsicana, Texas, where he was schooled on the art of barbecue and worked long, hot hours on the pits at his granny's legendary BBQ stand. In 2008, Kevin opened his own Bludso's BBQ, a small walk-up stand in the heart of Compton that has led to multiple locations in California, Texas, and even Australia.
Love the Foods That Love You Back: Clean, Healthy, Vegan Recipes for Everyone by Cathy Katin-Grazzini: Eye-opening, ethical cooking inspired by global cuisine and a return to whole, unprocessed foods can revitalize and revolutionize the way we eat. There is a better way to protect our health, the planet, and the creatures that share our world—one that is inspiring and delicious. This cookbook guides cooks through the delicious, nourishing power of plant-based foods to deliver fresh, flavorful meals, promote health, and reduce inflammation across 85 recipes without oil, salt, meat, dairy, or fat.
Sunday Best: Cooking Up the Weekend Spirit Every Day by Adrienne Cheatman: The author/chef spent her career cooking in some of the country's most prestigious restaurants, from Eric Ripert's Le Bernardin to Marcus Samuelsson's Red Rooster. She went on to become a finalist on Top Chef and founded a popular pop-up series, SundayBest, where she honed her signature style of cooking that combined her family's Southern roots and her own childhood food memories with her classical training in professional kitchens. The name of that series, and this book, were inspired by the special set of clothes that many in the Black community have reserved for church. During segregation, people would put on their "Sunday best" just to go into town as a way of demanding respect from those who didn't accept them as equal. This tradition and its meaning are at the core of Adrienne's debut book which shows how everyday moments should be appreciated, celebrated, and made special for those you love. While impressive and "sunday best" type recipes, these dishes are nothing that can be deemed overwhelming.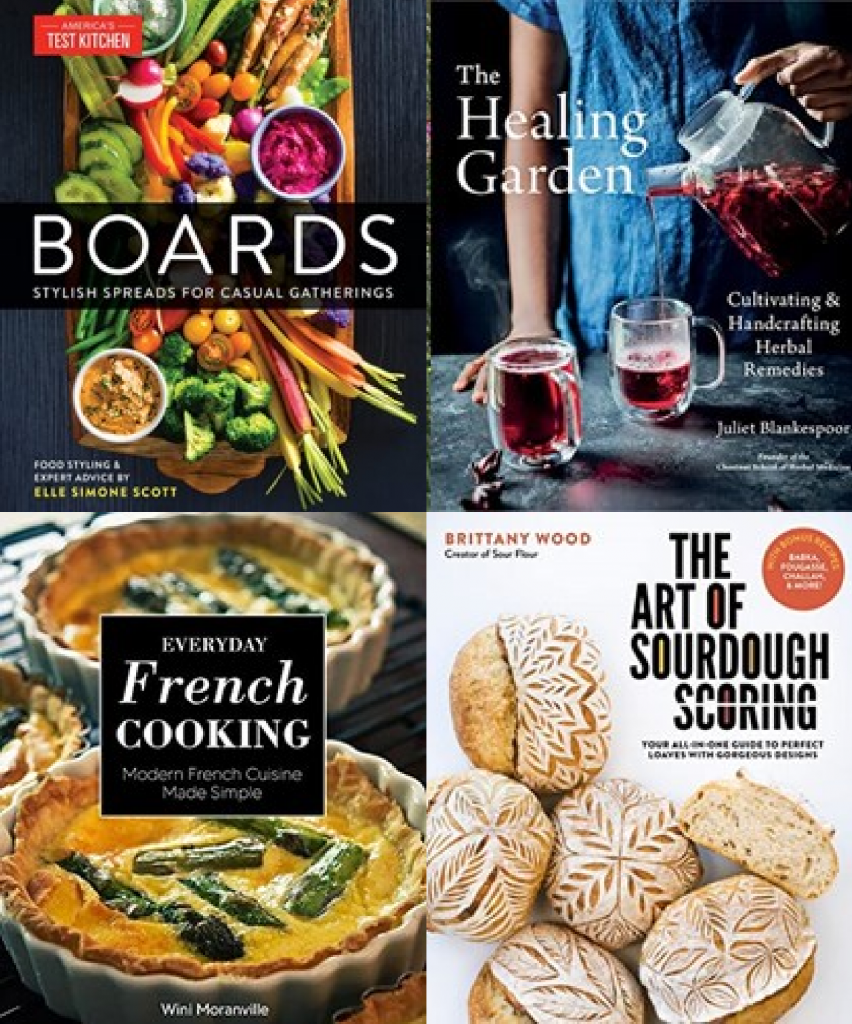 Everyday French Cooking: Modern French Cuisine Made Simple by Wini Moranville emphasizes easy technique, simple food, and speedy preparation of French cuisine without sacrificing taste. This title goes beyond a typical cookbook to include engaging anecdotes, local color, and keen insights about French home kitchens, as well as tips, tricks, and shortcuts to make French cooking accessible to any home cook. Dozens of beautiful finished-food photographs will further inspire you to cook fresh, vivid everyday French food any night of the week.

Boards: Stylish Spreads for Casual Gatherings by America's Test Kitchen: These days, a grazing board is so much more than just cheese and cured meat—it's an interactive and low-key yet elegant way of presenting food. Show off your effortless entertaining style with showstopping conversation-starting spreads that are sure to impress your guests but give you the flexibility to make or buy components as you choose. Guests can shake up their own popcorn with a Movie Night Board complete with individual paper bags and a variety of sprinkle-on flavorings (ranging from Garlic-Herb to ramen seasoning) plus a DIY soda fountain with seltzer and simple syrups. Or, create a low-lift Tapas Board by making their foolproof Spanish Tortilla and adding store-bought cheeses, olives, and tinned fish.

The Healing Garden: Cultivating and Handcrafting Herbal Remedies by Juliet Blankespoor: This is the ultimate reference for anyone looking to bring the beauty and therapeutic properties of plants into their garden, kitchen, and home apothecary. Both informative and accessible, it covers how to plan your garden (including container gardening for small spaces); essential information on seed propagation, soil quality, and holistic gardening practices; 30 detailed profiles of must-know plants (including growing information, medicinal properties, and how to use them); foundational principles of herbalism; step-by-step photographic tutorials for preparing botanical medicine and healing foods; and 70 recipes for teas, tinctures, oils, salves, syrups, and more. Packed with sumptuous photography, this book will appeal to home gardeners who want to branch out to culinary and medicinal herbs, home cooks and those interested in natural wellness, and novice and skillful herbalists alike.
The Art of Sourdough Scoring: Your All-In-One Guide to Perfect Loaves with Gorgeous Designs by Brittany Wood: Get ready to bake bread that looks as phenomenal as it tastes. From graphic artist and baker Brittany Wood comes a gorgeous and comprehensive guide to all things sourdough scoring. With lush full-page photography, step-by-step tutorials and expert tips, Brittany covers every skill you'll need to successfully create one-of-a-kind patterns on your loaves. Learn how the depth and timing of your cuts can affect the way your lines bake and burst, and never be disappointed by deflated dough again as Brittany's calm, encouraging voice guides you through a huge variety of dazzling designs.

Cook it Eat it Live it: The everyday joy of food in 43 varied, vibrant dishes by Jo Kenny: In this first publication from the blogger at Girl Eats World we will find a vibrant and varied collection of recipes inspired by both travel and family ties to the UK, Japan, Guyana, the Caribbean. These recipes satisfy appetites for light bites, indulgent dinners, fresh sides and delicious desserts. This book was available for USD 3.99 on Kindle (or free to read on Kindle Unlimited) and I had several credits so I purchased it. I am glad I did – the recipes are the type that my family loves. I love how the book is set up by country with "food diaries" along with recipes and dishes from those locales. Published in South Africa, the book is available in the US, CA, AU, and the UK at a great Kindle price.
Other titles of interest include:
CANADA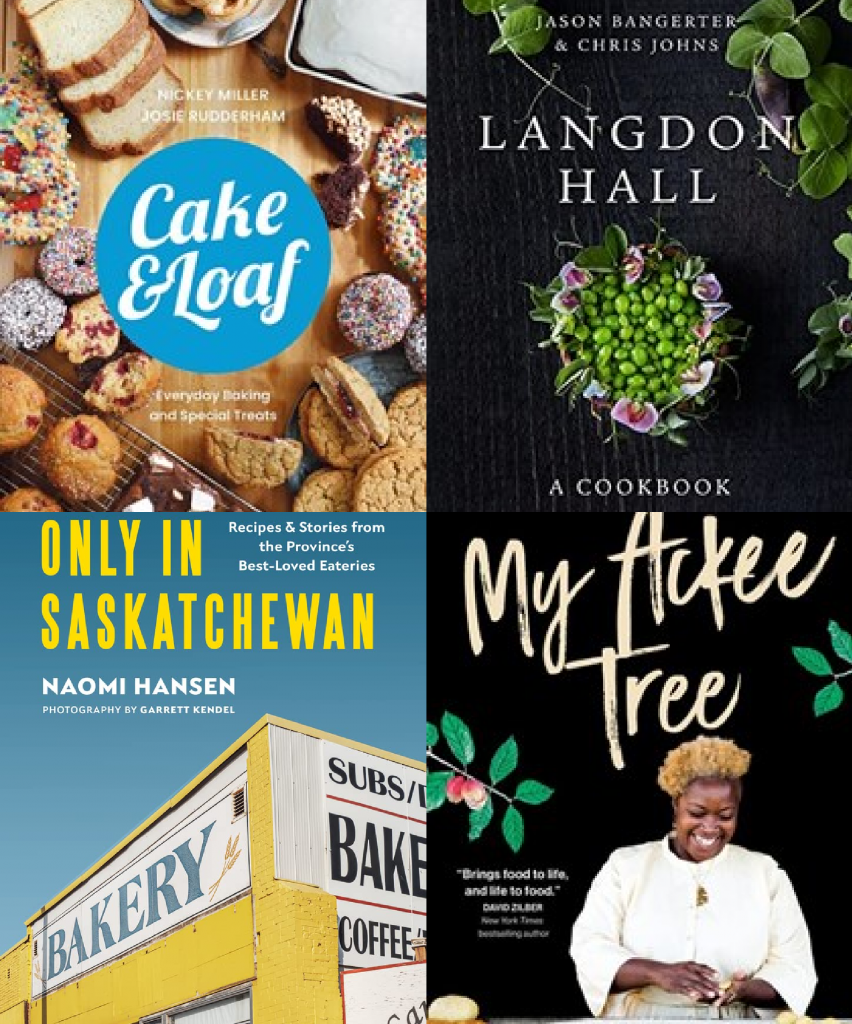 My Ackee Tree: A Chef's Memoir of Finding Home in the Kitchen by Suzanne Barr is a memoir about food, family, and the recipes that brought one woman home, just when she needed it the most.
Langdon Hall: A Cookbook by Jason Bangerter and Chris Johns is a stunning collection of seasonally inspired recipes with notes on techniques, wine pairings, and stories about ingredients, cooking, farmers, and purveyors. Featuring gorgeous food and location photography throughout, readers will be transported to the century-old luxury estate. Some of the dishes are ambitious and others are simpler and come together easily – all within the reach of the home cook.
Only in Saskatchewan: Recipes & Stories from the Province's Best-Loved Eaterie by Naomi Hansen features recipes and stories from Saskatchewan restaurants, bakeries, cafes and eateries. With a focus on locally produced food and the people behind it, Only in Saskatchewan tells the story of the province's rich and diverse culinary scene.
Cake & Loaf: Everyday Baking and Special Treats by Josie Rudderham and Nickey Miller shares the most popular bakery recipes from the Cake & Loaf shop and includes brand new creations just for the book. The book features over 85 recipes and variations to create your own sweets and treats at home, including morning baking (muffins, scones, doughnuts, and granolas), cookies, sandwich cookies, bars, pies, and tarts.
UNITED KINGDOM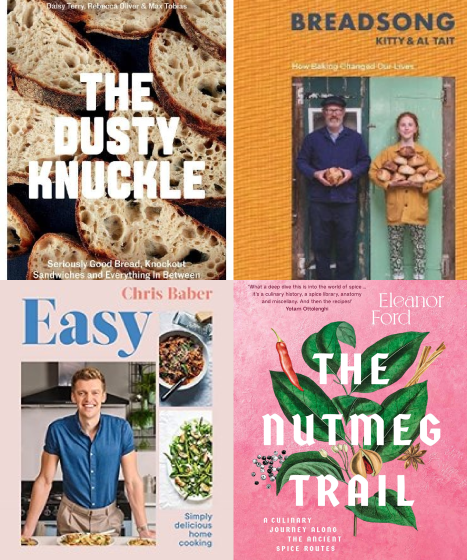 Breadsong by Kitty and Al Tait: Kitty Tait and her dad Al live in Watlington, Oxfordshire and between them run the Orange Bakery. From the most original flavoured sourdough (miso and sesame, fig and walnut) to huge piles of cinnamon buns and Marmite and cheese swirls, the shop sells out every day and the queues stretch down the street. Two years ago, Kitty was at school and Al worked at Oxford University, but when Kitty became so ill she couldn't leave the house, the two discovered baking and, in particular, sourdough. Chronicled in Kitty's Instagram kittytaitbaker they went from a small subscription service to pop ups to a shop – all in two years. Along the way Kitty got better, a Corgi got involved and Al realised that he was now a baker not a teacher.
Easy: Simply Delicious Home Cooking by Chris Baber: Stuffed with quick, simple and mouth-watering recipes, Easy is the only cookbook you'll need to make every meal count without stressing in the kitchen. Whether it's having a crowd of mates over for a weeknight dinner, recreating your favourite takeaway or rustling up a delicious brunch to start the weekend right, Chris has a dish for every occasion. Packed with straightforward recipes and handy tips, this title is the perfect guide to creating delicious food that hits the spot every time.
The Nutmeg Trail: A Culinary Journey Along the Ancient Spice Route by Eleanor Ford: Through 80 spice-infused recipes, spectacular images, and a mouthwatering culinary journey along the ancient spice trail, award-winning author Eleanor Ford's luscious new volume reveals how centuries of spice trading and cultural diffusion changed the world's cuisine and how to best stock and enjoy spices in your own home. (US release May 2022)

The Dusty Knuckle: Seriously Good Bread, Knockout Sandwiches and Everything In Between by Max Tobias, Rebecca Oliver and Daisy Terry is a celebration of all things bread, from east London's favorite bakery.
Packed with step-by-step instructions for mixing, fermenting and shaping dough – even home baking hacks and leftover spin-offs – includes exciting chapters for (unforgettable!) sandwiches, sauces, soups and salads to enjoy on, in, and with bread. In this epic collection of recipes, you'll find everything from Dusty Knuckle's legendary potato sourdough and knockout focaccia, to their ground-breaking sandwiches and unforgettable sweet things.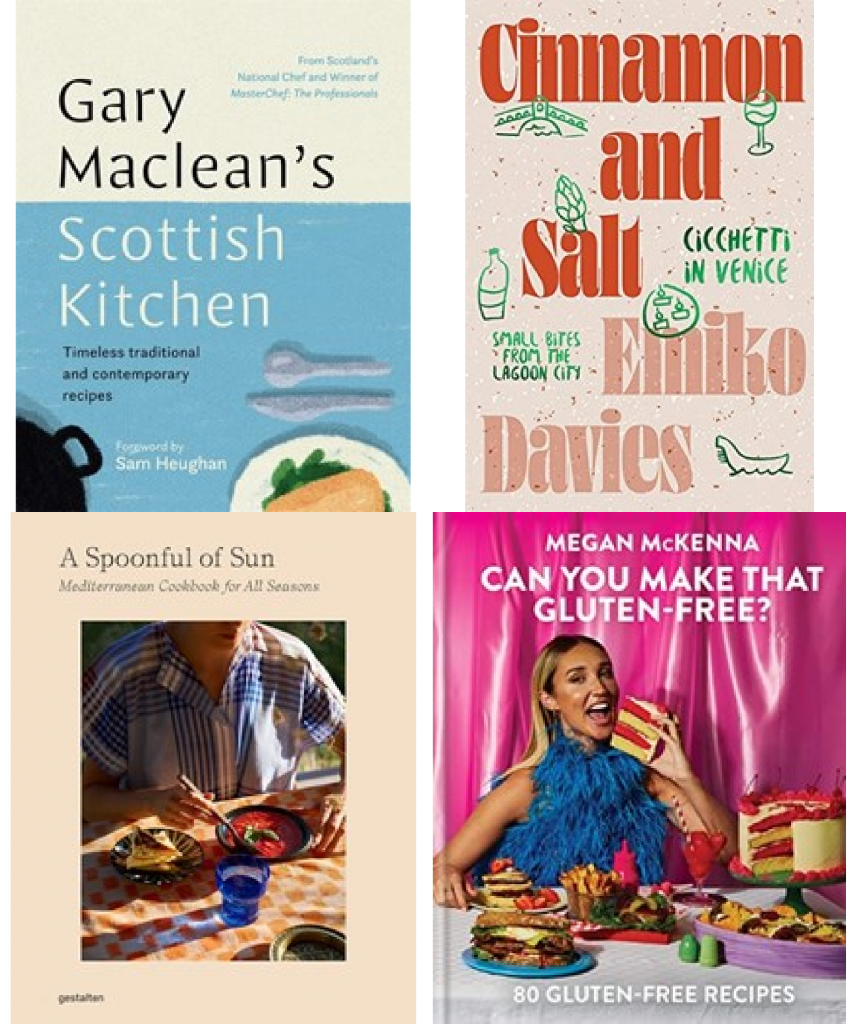 Cinnamon and Salt: Ciccheti in Venice: Small Bites From The Lagoon City by Emiko Davies: Cicchetti (pronounced chi-ke-tee) are little morsels; think of them as appetizers, apertivo, hors d'oeuvres or, if you absolutely must, as Spanish tapas – but cicchetti are undeniably, distinctly Venetian and a delicious nod to Venice's casual way of life. In Cinnamon and Salt, Italy-based food writer Emiko Davies explores the rich history of Venice and its long relationship with cicchetti, detailing more than sixty classic and modern recipes, from fried to sweet and from small plates to drinks. Try sweet and sour radicchio, or mackerel, walnuts and black olive pâté. Indulge in Venetian soft-shell crab before moving on to rose petal jam. You'll even find recipes for a spritz, a bellini and a thick hot chocolate, and be let in on the secrets to creating your own authentic cicchetti.

Scottish Kitchen: Timeless Traditional and Contemporary Recipes by Gary Maclean: Scotland's larder has some of the world's most sought-after food. Its phenomenal beef, fish and shellfish are unrivalled – from langoustines to black puddings, from hot smoked salmon to Shetland mussels. Now, with his inimitable flair for flavour and expert hands-on approach, Gary Maclean – Scotland's National Chef and MasterChef: The Professionals winner – gathers together the best of Scottish cookery from its historic beginnings to where we are today. With over 100 recipes, Scottish Kitchen will connect you to the landscapes, history and produce that make Scotland's kitchens so distinctive, from treasured family recipes passed down through the ages to innovative new twists on beloved Scottish staples.
Can You Make That Gluten-Free? by Megan McKenna, Celebrity MasterChef finalist, singer-songwriter, highly engaged influencer, coeliac and home cook, invites you into her gluten-free kitchen in her debut cookbook. Regularly sharing her cooking videos with over 4 million viewers, Megan is often messaged to ask: 'Can you make that gluten-free?' With more than 80 gluten-free recipes to explore, and chapters covering Quick Bites, Naughty Nights In, Posh Nosh and Heaven O'Clock, there's no need to feel left out on pancake day, spend another birthday without cake or miss out on the food at parties and events.
A Spoonful of Sun: Mediterranean Cookbook for All Seasons by Pauline Chardin: Life is better under the sun, and so is food. Everybody knows a Mediterranean diet is the healthiest way of eating, but how does a modern cook approach it? From her beautiful home in the heart of Provence, in the south of France, Pauline Chardin experiments with local fare, seasonal products, and flavors inspired as much by her surroundings as by her travels around the world. A self-taught cook, Pauline has an eye for beauty that translates into her effortless and nutritious recipes for the day-to-day. An invitation to living slowly, rediscovering what nature offers cyclically, and transporting it to the table with endless creativity.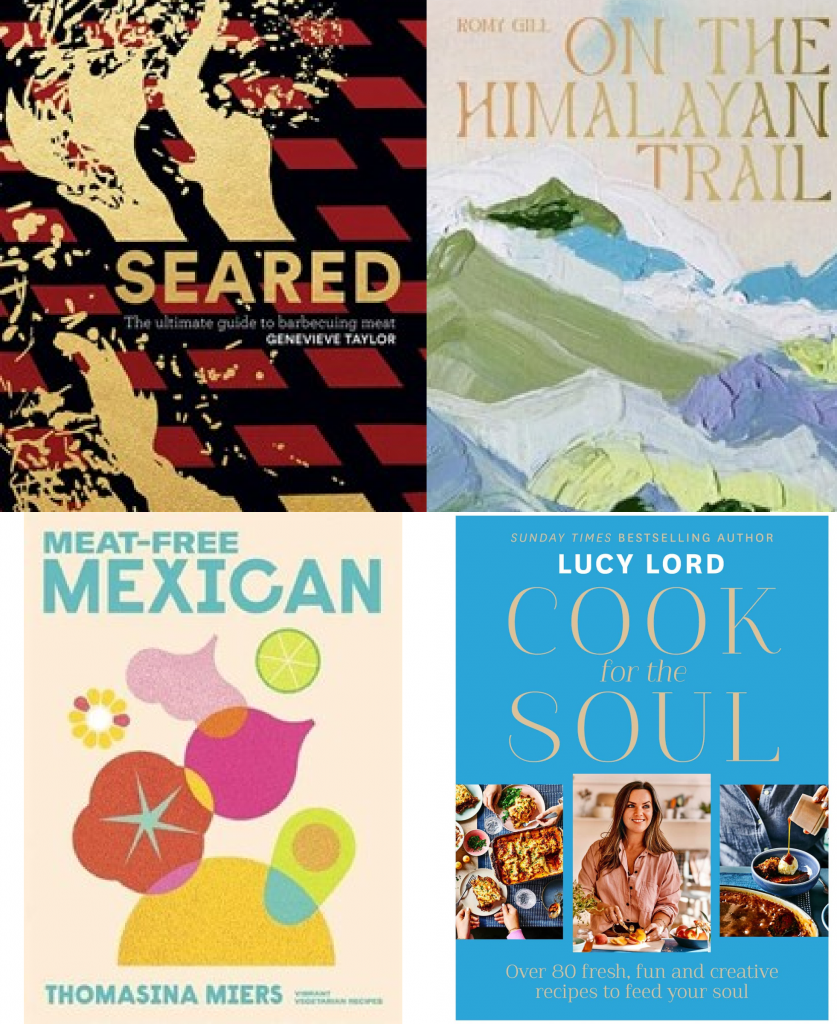 Cook for the Soul by Lucy Lord: From the Sunday Times bestselling author, comes the follow up to Food for the Soul which is bursting with fresh, flavourful, and creative dishes to help you rediscover a love for cooking. Food can lift your mood, deliver new experiences, and help you connect with family and friends away from the pressures of daily life. Lucy's philosophy is all about finding those moments – whether you have 20 minutes or two hours to spare – to pause, regroup, and share the joy delicious homecooked dishes, amazing ingredients, and good times.
Meat Free Mexican by Thomasina Miers, owner of award-winning restaurant group Wahaca (with over 25 branches across the UK) is back with her newest cookbook, sharing 100 Meat-Free Mexican recipes– simple, easy, and delicious! While meat and fish are important components of Mexican cooking, more often than not its salads, vegetables and pulses that are the stars. Plant-based Mexican food has so much to offer! From Sweet potato and mushroom tacquitas to a Mexican tetela – a burrito packed with seasonal vegetables, black beans, avocado salsa and cashew crema; and from Tacos loaded with plantains and squash to Fresh corn and black beans with mixed leaves dressed with a tongue tingling lime and chilli salsa, Meat Free Mexican has something tasty– and vegetarian– for everyone!
On the Himalayan Trail: Recipes and Stories from Kashmir to Ladakh by Romy Gill tells the story of Kashmir and Ladakh's unique and tantalizing cuisine sharing over 80 extraordinary recipes that can be recreated in your own home kitchen.

Seared: The Ultimate Guide to Barbecuing Meat by Genevieve Taylor is a one-stop shop for recipes and practical advice that will help you get the most from cooking meat on your barbecue, beginning with the science of why we need to cook different cuts in different ways and the physics of how fire works. Divided into two sections – BEAST and BIRD – and into SLOW and FAST within those sections, Taylor covers everything you'll ever need to know about buying and cooking all kinds of meat, from steaks and fillets, to whole joints and whole birds, and looking at techniques from brining to marinading, smoking to braising, searing super-hot and low and slow cooking.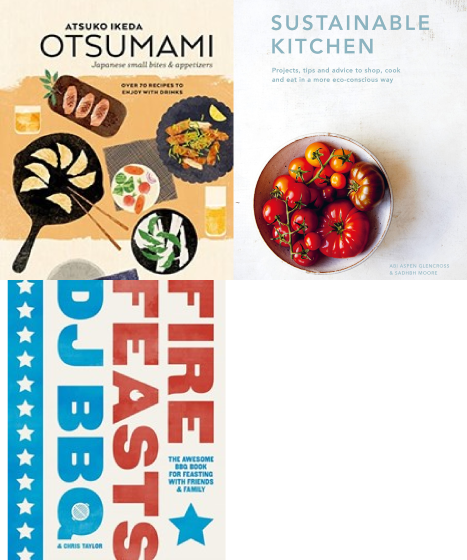 Fire Feasts: The Awesome BBQ Book for Feasting with Friends and Family by Christian (aka DJ BBQ) Stevenson shares a feast of dishes for outdoor occasions and "the DJ" wants you to get grilling for friends and family with a medley of new dishes that are perfect for sharing. There are even sides, cocktails and so-sweet-my-teeth-hurt desserts, all made over fire. Christian provides a detailed introduction explaining the basics of setting up your grill, what fuel to use, and how to get the best from your cooking with hacks and tips for making the best fires, including crazy mega awesome fires.

Otsumami: Japanese Small Bites & Appetizers by Atsuko Ikeda contains more than 70 recipes for moreish Japanese small plates and bites, designed to be enjoyed alongside a drink, plus tips on presentation and menu planning. I am a fan of Atsuko's cookbooks and will be featuring her titles with an author interview very soon.

Sustainable Kitchen: Projects, Tips and Advice to Shop, Cook and Eat in a More Eco-Conscious Way by Sadhbh Moore and Abi Aspen Glencross is a positive, practical handbook on how to shop, cook and eat in an ecologically sustainable way. Founders of the Sustainable Food Story, Abi and Sadhbh, have put together tips and step-by-step projects on how to adapt your kitchen habits to a more eco-friendly way of life. Whether you are unsure about the best places to shop, what to do with your leftover lemons or how best to clean your kitchen without impacting the environment, Sustainable Kitchen is the complete guide to changing the way you think about food and the kitchen, in a way that is healthier for you and healthier for the planet.

Other titles of interest:
AUSTRALIA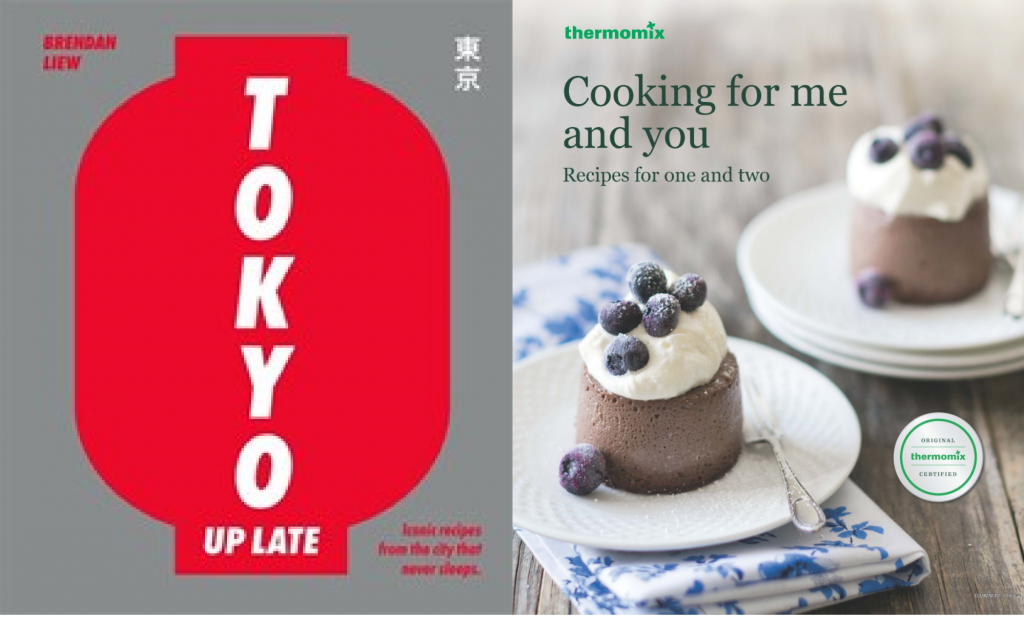 Thermomix: Cooking for Me and You: Recipes for One and Two by Thermomix: the Thermomix Recipe Development team share top tips and tricks to help you reduce your food waste and your weekly shopping bill, as well as nutritious breakfast, snack, lunch ideas and easy dinner recipes for one and two that'll help you cut down on packaged convenience foods.
Tokyo Up Late: Midnight Snacks, Things on Sticks, Fried Goodness, Ramen + (More) Cocktails by Caryn and Brendan Liew is your guide through the night, from the lamp-lit streets to menu-plastered walls, where a Japanese smorgasbord is on offer: sake and beer snacks (think burdock chips and grilled ginkgo nuts) to sashimi and sake- or saikyo miso–grilled fish, karaage (fried chicken), and yakitori.