Mother's and Father's Day Gift Guide for the Cookbook Lover and Giveaway
April 19, 2022 by Jenny
The two special days to celebrate mom and dad are right around the corner. I've prepared a guide to a few gifts that are sure to please the cook, baker and cookbook lover in your family.
In addition to this guide, we are offering a worldwide giveaway for a chance to win a set of cookbooks:
Lioroooosh: Baking from my Tel Aviv Kitchen by Lior Mashiach. To learn more about this book see my write up from last year. (I purchased two extra copies of this title for this promotion. Right now Amazon has this book selling for under 8.00 USD. Order a few for all the bakers in your life!).
Horn Barbecue: Recipes and Techniques from a New Master of the Art of BBQ by Matt Horn

. Matt's barbecue style, which he calls West Coast Barbecue, is original. Other barbecue cookbooks focus on one regional tradition, such as Texas or the Carolinas. Matt draws on both of those traditions – and recipes from them appear liberally in this book – he draws on other traditions as well and adds his own California-style spin to the mix, by working in lots of veggies and fruits and by featuring poultry and seafood.
Two winners worldwide will receive both books.
---
Cookbooks for bakers: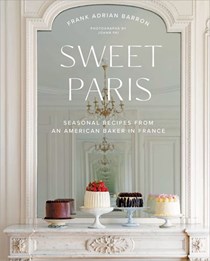 Sweet Paris: Seasonal Recipes from an American Baker in France by Frank Adrian Barron: This gorgeous book brings the timeless allure of Paris into our home kitchens. Not only is Sweet Paris filled with stunning photography and inspirational recipes, Frank shares Paris-insider information such as "treasure hunting at a Paris flea market" or "must-not-miss summer experiences in Paris". Imagery of the recipes as well as the city of Paris are plentiful and make us long for the city of lights and a Parisian dessert. The recipes are a brilliant mix of approachable for the novice baker: the Blood orange mini bundt cake or Raspberry caves (Hallongrotta) are relatively a cinch to pull off. And, there are "sure to impress" desserts: an elegant Ivoire Parisienne or Lemon meringue cake (Gâteau au citron). Frank also includes sections entitled "blooms in my basket" with seasonal floral details including edible flowers. This book has it all. We will be doing a giveaway on this book as well as an author Quick Bites soon.

Events tentatively planned.
Bake from Scratch: Volume Six: Artisan Recipes for the Home Baker by Brian Hart Hoffman: These volumes are always a must have! This latest collection of over 650 recipes from the editors of Bake from Scratch magazine features step-by-step tutorials, tried-and-tested recipes, and stunning photography. This cookbook will have you mastering yeasted breads, layer cakes and so much more.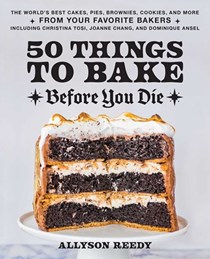 50 Things to Bake Before You Die: The World's Best Cakes, Pies, Brownies, Cookies, and More from Your Favorite Bakers, Including Christina Tosi, Joanne Chang, and Dominique Ansel by Allyson Reedy is the equivalent of having the best recipes from the world's best bakers. Daniel Boulud's Madeleines; Milk Jar Cookies' Chocolate pecan caramel cookie; and Christina Tosi's Birthday layer cake recipes are a few examples of what this lovely little gem holds.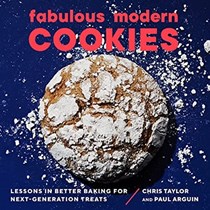 Fabulous Modern Cookies: Lessons in Better Baking for Next-Generation Treats by Paul Arguin and Chris Taylor (the authors of The New Pie) are now tackling cookies in only the way these two bakers can. Paul and Chris want to make sure your cookies are everything they should be – from proper placement of dough on cookie sheets to a plethora of "cookie byte" blocks of information throughout the book. Recipes include: Mango sunshine bars; Where's Waldorf? blondies (yes, Waldorf salad inspired); Moonstrucks (think a tiramisu sandwich cookie) and Next generation peanut butter cookies. The authors perfect the classics along with offering new cookie ideas that you'll wish you had thought of – this book has looked inside your cookie dreams and made them a reality. Events.
Baking for Every Season: 75 Favorite Recipes to Savor and Share by Williams-Sonoma shares recipes that cover classics (like bûche de Noël and pumpkin pie bars), contemporary recipes (such as candy bar pie and hot cocoa cookies), and fun kid-friendly delights (including piñata cupcakes and classic sugar cookies). Guides and tips for decorating and serving, trouble shooting, and flawless baking make this cookbook a go-to guide for home cooks of all skill levels.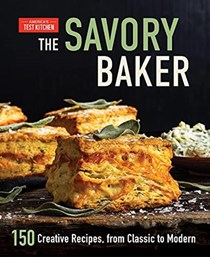 The Savory Baker: 150 Creative Recipes, from Classic to Modern by America's Test Kitchen explores the savory side of baking with a multitude of flavor possibilities. There are creative twists like gochujang-filled puff pastry pinwheels or feta-studded dill-zucchini bread as well as baked goods from around the world, from Chinese lop cheung bao to Brazilian pão de quejo. This is a keeper and a must for any baker.

(See our promotion for this title.)
The Cake Book: Beautiful Sweet Treats for Every Craving by Rebecca Firth is a cake lover's dream. Since the publication of Rebecca's The Cookie Book, I've been waiting for another title from the voice behind The Displaced Housewife blog. Rebecca is a baking star and frequently contributes to Bake from Scratch and bakes up treats for local eateries in California. I recommend following Rebecca on Instagram for a world of inspiration.

(See our promotion for this title.)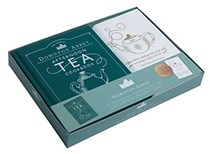 The Official Downton Abbey Afternoon Tea Cookbook Gift Set captures the essence of teatime at Downton Abbey, pairing an exclusive tea towel with the Afternoon Tea Cookbook, which features classic recipes for sweets and savories, etiquette notes, and lavish imagery. This set would be an ideal gift for Mother's Day or those Downton Abbey fans in your life.

---
Miscellaneous cookbooks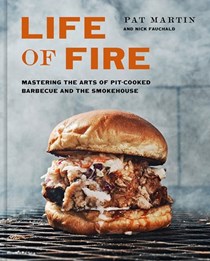 Life of Fire: Mastering the Grill, Pit, and Smoker by Pat Martin: One of the few pitmasters still carrying the torch of West Tennessee whole hog barbecue, Nashville's Pat Martin has studied and taught this craft for years. Now, in his first book, he reveals all he knows about the art of barbecue and open-flame cooking, in all the stages of a fire's life.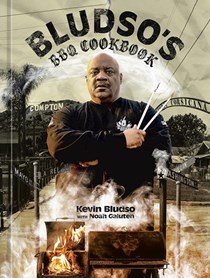 Bludso's BBQ Cookbook: A Family Affair in Smoke and Soul by Kevin Bludso: A deep look at family, community, and Texas BBQ through 90 recipes and stories from the famous pitmaster and restaurateur behind Bludso's BBQ. Kevin Bludso was born and raised in Compton, California, by a Black Panther–supporting mother and a police officer father. To stay out of trouble, he spent his summers in Corsicana, Texas, where he was schooled on the art of barbecue and worked long, hot hours on the pits at his granny's legendary BBQ stand. In 2008, Kevin opened his own Bludso's BBQ, a small walk-up stand in the heart of Compton that has led to multiple locations in California, Texas, and even Australia.
The Official Guinness Cookbook and Gift Set: Over 70 Recipes for Cooking and Baking From Ireland's Famous Brewery by Caroline Hennessy: Unique in its velvety finish and bold, rich flavor perfectly balanced between bitter and sweet, Guinness Draught Stout, along with the brewery's other beers, has long been used by home cooks as either the secret ingredient or the perfectly paired beverage to a variety of dishes and drinks. Now this reputation for excellence in cooking is going from under the radar to official with The Official Guinness Cookbook Gift Set, featuring a striking chef's apron emblazoned with the iconic Guinness logo. From savory braised short ribs to traditional Guinness soda bread to decadent cheesecake brownies, the comprehensive book includes over seventy recipes for dishes that feature or pair with the stouts, ales, and lagers of the Guinness breweries, including several recipes from the Dublin Guinness Storehouse and the Open Gate Brewery in Baltimore, Maryland. The beers featured in the book include the classic Guinness Draught, crisp Extra Stout, bittersweet Foreign Extra Stout, citrusy Baltimore Blonde, and more.

Other titles that would make fantastic gifts for mom or dad:
---
Emile Henry storage bowl – this gorgeous bowl is for storing fruits and vegetables, keeping them fresh longer. However, I am using mine to store my measuring cups, spoons and those small kitchen tools I use frequently. The bonus is that with the cork top – I can also place a baking sheet on top of the bowl during prep to save a little kitchen island space. From the website: "The upper level – made of cork serves as a fruit bowl. The lower level, made of ceramic acts as a mini pantry to store potatoes, onions, beets and other root vegetables, as well as fruit that is not ripe enough. The natural properties of the cork help preserve the fruit and keeps it fresh for longer and keeps pesky fruit flies at bay. The ceramic body keeps the light out, and together with the insulating properties of the cork lid, they help maintain a constant temperature, much like in an old school cellar."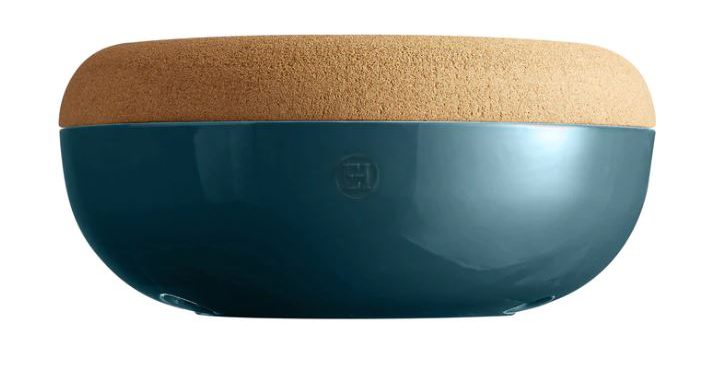 ---
Emile Henry Dutch oven – Emile Henry's new sublime line of Dutch ovens are not only beautiful but another workhorse for your kitchen. From the website: "The result of extensive research, 'Sublime' ceramic makes it possible to create and serve all kinds of recipes – with unparalleled ease of use. Sublime is made from a new ceramic technology designed to do all kinds of cooking and to do it better than other materials. You could feasibly own just one pot to make all your meals. What makes this technology so remarkable is its versatility. It can handle the high heat of searing, frying or barbecuing on the grill and also softly cook on low heat so that sugars in a caramel sauce or a custard are gently heated without burning or over cooking. The Sublime ceramic distributes heat smoothly across the whole pot better than any metal, including cast iron or stainless steel and it is 35% lighter than those other materials. Sublime can be used on direct flame, stovetop – gas, electric or glass, charcoal or gas BBQ grills, in the oven, microwave, and is dishwasher safe. Sublime works on induction with an induction disc."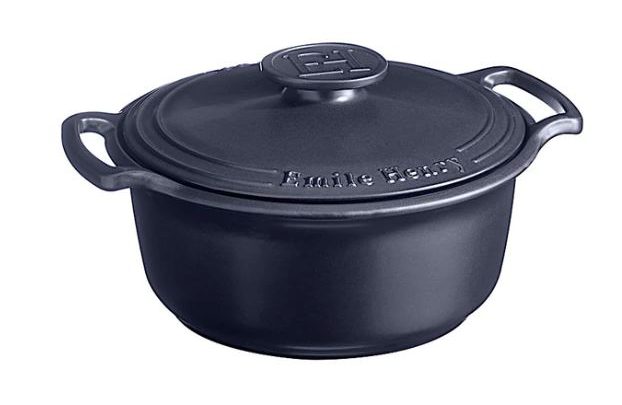 ---
Diaspora Co has joined forces with League of Kitchens for a special online class: On May 21st, they will be making baghali ghatogh – lima beans cooked with dill, garlic, and spices, and topped with poached eggs – using Panneer Rose petals, Pragati Turmeric, Wild Cinnamon Quills, Himalayan Tejpatta, Kashmiri Saffron, and Guntur Sannam Chillies. They will also be making mast o khiyar on the side: yogurt with cucumber and mint, topped with Panneer Rose Petals and nuts! There is even a little starter kit with all the spices, plus a 30% discount (pictured below). Signing up for this class with mom would make a great idea for a Mother's Day gift; order the kit, invite mom over and have a feast that you prepare together.
A cooking or baking box from Hardcover Cook is the gift that keeps on giving. Choose from one of the quarterly options – or make your own box from HCC cookbooks and cookbook pantry and impress your recipient. See Hardcover Cook's other cookbook and ingredient bundles and see this page for more information on the subscription service. My favorite box so far has been the one pictured above – I loved it so much I bought it twice! Now I need time to start baking.
---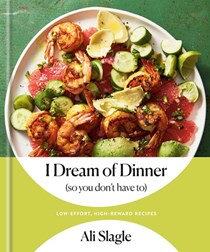 CrateChef was founded in 2016 to deliver a subscription box that felt like a personal gift from a top-name chef. Every other month, the box is filled with the featured chef's favorite products including a selection of artisan foods, kitchen tools, gadgets or cookbooks, selected recipes and a letter from the chef. CrateChef boxes are only available for shipping in the US.
April and May's box shares Ali Slagle's new book I Dream of Dinner (So You Don't Have To): Low-Effort, High-Reward Recipes. In this box you'll get a selection of ingredients, tools and an autographed copy of the book. Look for a giveaway for this box very soon.
---
A gift certificate to any of your local bookstores or cooking schools would be a great idea as well. Our calendar lists bookstores/classes worldwide for reference.
---
Of course, a gift certificate for Eat Your Books is always a thoughtful present for the cookbook lover/cook. If you need help purchasing a gift certificate, see this help section or email info@eatyourbooks.com.
Link to prior gift guides and all preview posts including this year's Mother's Day guide for the UK.
Entry options include answering the following question in the comments section of this blog post.
What title from those mentioned above are you most looking forward to?
Please note that you must be logged into the Rafflecopter contest before posting or your entry won't be counted. For more information on this process, please see our step-by-step help post. Once you log in and enter your member name you will be directed to the next entry option – the blog comment. After that, there are additional options that you can complete for more entries. Be sure to check your spam filters to receive our email notifications. Prizes can take up to 6 weeks to arrive from the publishers. If you are not already a Member, you can join at no cost. The contest ends at midnight on June 14th, 2022.
a Rafflecopter giveaway
Please note: While we will ship these prizes through the USPS and obtain tracking numbers, we are not responsible for the USPS' delivery of said packages.