Food news antipasto
April 17, 2022 by Darcie
When Nigella Lawson tells you to read something, you read it, and you are not disappointed. A few days ago she posted a link to an article in The Paris Review where writer Valerie Stivers offers a story that involves the intersection of food and the stories from Soviet dissident writer Sergei Dovlatov. Stivers attempts to recreate the foods in Dovlatov's stories, deftly weaving the food into commentary about what the dissident author was able to accomplish with his vignettes that undercut Soviet propaganda during the Cold War.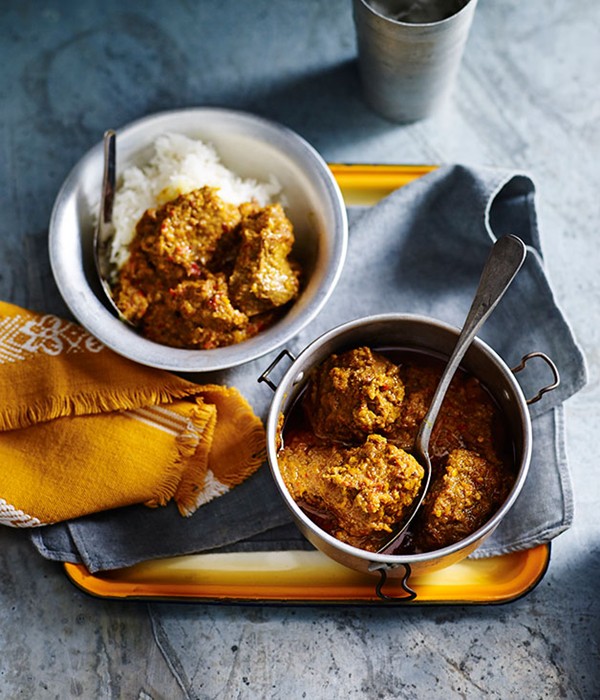 This is a long weekend (bank holiday weekend) in several countries. If you are enjoying an extra day off you might be taking additional time to make meals. To help in that regard, Australian Gourmet Traveller has curated a list of 31 slow-cooked recipes for when time is on your side. The collection includes the Beef rendang recipe pictured above.
Have you ever enjoyed going to a restaurant because it just smelled so darn good? If so, maybe you can ask its management to join a growing trend in the industry – creating a perfume that is reminiscent of the restaurant. Writer Emma Orlow thinks these scents are more than just clever marketing tricks: "These perfumes aren't gimmicks. Rather, they reflect the ever-expanding role of food in wider culture. Increasingly, food is fashion," she writes.
Last fall journalist Dan Saladino wrote a book titled Eating to Extinction: The World's Rarest Foods and Why We Need to Save Them. Recently Saladino, a journalist and presenter on the weekly Food Programme on BBC Radio 4, spoke to The Guardian about his book, discussing why the loss of food diversity is an important issue. He notes that humans spent thousands of years to develop a diverse set of food crops that have been threatened in just a few decades by the push to uniformity in the agricultural sector.
If you are among those who despise it when people pull out their cell phones in a restaurant, you might consider eating at Spice Fusion in Kent, England. The restaurant has initiated a new policy where diners can receive a hefty discount on their bill on one condition: they keep their cell phones and tablets in a tiny tabletop jail cell. "We love to see people enjoying each other's company," the restaurant posted on Facebook. "And because we like to see this so much, we're offering 20% off food on tables of four or more if all diners on the table agree to lock away their phones in a phone jail so everyone can concentrate on the important things."