Cooking shows you should know about: The Julia Child Challenge; Top Chef returns and more
February 27, 2022 by Jenny
On March 14th, Food Network will air a new competition show entitled The Julia Child Challenge.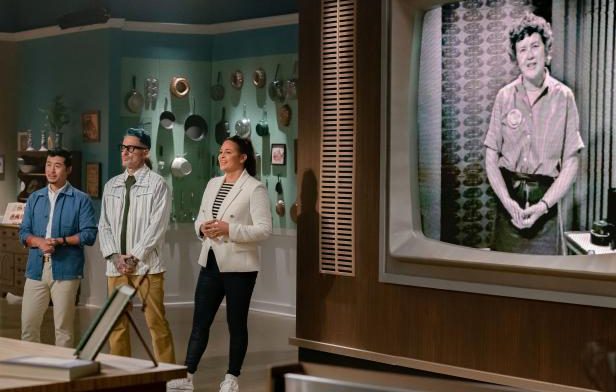 In this new series, eight home cooks compete in culinary challenges to find out who has the fire, skill and passion to win the first-ever primetime competition series dedicated to all things Julia.
"The competitors, all Julia Child superfans, share personal stories about their hero, cook in a kitchen recreated in the likeness of where Julia herself cooked, using the same ingredients Julia used and are even guided by Julia herself, through a larger-than-life television screen right in the middle of all the action. Head judge Antonia Lofaso and a rotating panel of guest judges including Molly Baz, Cliff Crooks and Brooke Williamson ultimately decide who wins the life-changing grand prize that literally follows in Julia's footsteps: an all-expense paid three-month cooking course at Le Cordon Bleu."
---
Season 19 of Top Chef is set in Houston and begins on March 3rd on Bravo. The 15 contestants hail from cities across the US and are experienced in cuisines from around the world.
---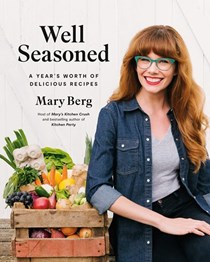 A new-to-me show I just caught was Mary Makes it Easy featuring Canadian chef and cookbook author Mary Berg. Yesterday, I watched the episode devoted to chicken and was inspired to make the Hoisin chicken and Scallion pancakes for dinner and it was incredible. Everyone in the family enjoyed the meal.
---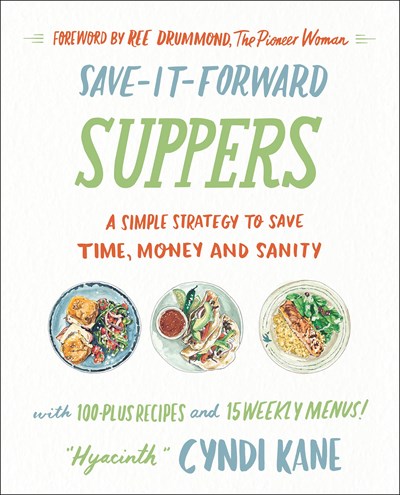 A reminder that Cyndi Kane will be on Good Morning America February 28th with Ree Drummond to talk about her new cookbook Save-it-Forward Suppers. Check out our promotion to win a copy and set your DVRs.
---
Lastly, just a note on the cookbook deals post: Please note that the "publisher" (see photo below) and "cookbook deals" links under each country share a load of new deals every week. This post explains the deals post in more detail. We get emails letting us know that a book is on sale and we missed it and often the book was a part of the range links.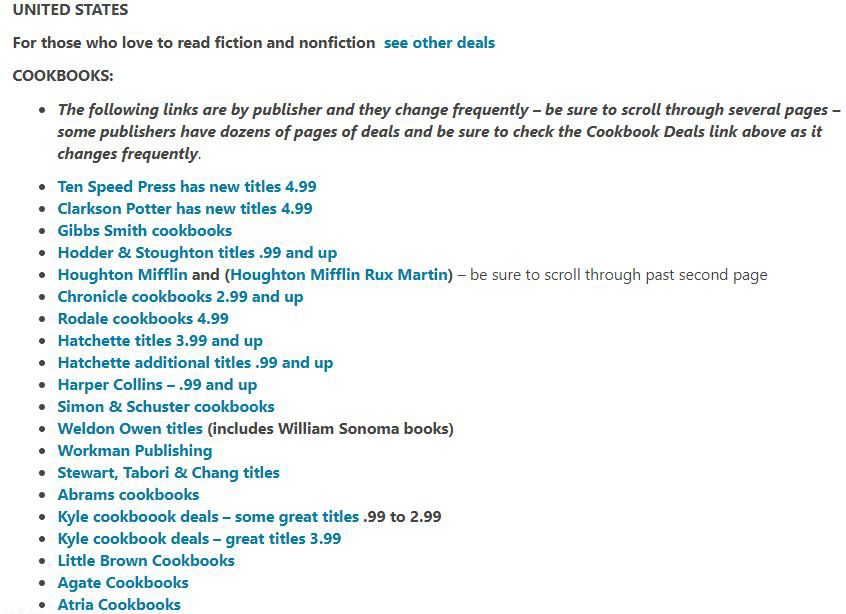 I do try to list separately popular books and include reminders to the "range links". There are so many sales and they change daily/weekly that this is the most effective way to make sure you are in the know. I update the post frequently so bookmark this link so that you can check for new sales. Lastly, I bump up the post on the blog page so frequent visitors to the site will know that it has been updated.
Please email me at jenny@eatyourbooks.com with any questions.