Food news antipasto
February 27, 2022 by Darcie
Let's start off this week with a timeline cleanse. This one comes to us from Taste of Home, which recently assembled a pairing of classic American desserts with zodiac signs. As a Boston cream pie-loving Aquarius, I concur with the match for my sign (but really, I would have been okay with most of them).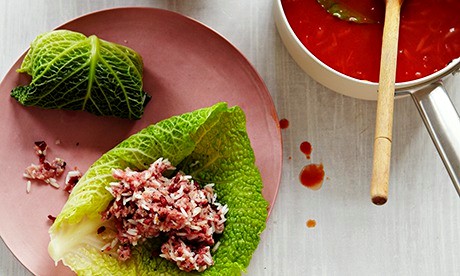 For those of us in the Northern Hemisphere, spring is just around the corner, so Food52's guide to spring vegetables is timely. It includes ideas for how to use spring vegetables in dishes and provides expert tips for prepping and storing spring produce, such as Ruffage author Abra Berens' suggestion to store asparagus in a container of water in the refrigerator "so the stalks will continue to wick up water."
While we are dreaming of tender spring vegetables, EYB Members in the Southern Hemisphere are gearing up for the cooler months. Australian Gourmet Traveller can help them get ready for the season with a guide to indulgent food and drink as summer turns to autumn.
We would like to give a shout out to an amazing feat by EYB Member Beebopalulu, who has indexed The New York Times Heritage Cookbook. This weighty tome was published in 1972 and contains 2,174 authentic heirloom recipes from six different regions of the United States. Thanks to Beebopalulu and all of our Member indexers!
It's estimated that up to twenty-five percent of wine is not what the label says it is. While nefarious characters have been misrepresenting wines for ages, 'wine crime' has been steadily increasing in recent years. A new crop of 'wine detectives' has arisen to thwart the culprits, however, bringing high-tech science to the job with them.
A couple of weeks ago we learned that Itamar Srulovich and Sarit Packer were closing Honey & Co. at the end of April, after 10 years at their current location. Their lease is up and the building has been sold. The couple says "We are so sad to be closing, but excited for new horizons," so while this is an ending, we haven't seen the last of this duo.
If you have been doing a lot of thinking about Ukraine in recent days, you are not alone. You may also wonder what you can do besides pray, and about the only thing I can think of is to support aid organizations. I was just reminded that World Central Kitchen is busy feeding thousands of people streaming into Poland as well as serving up hot food for residents of Odessa in southwestern Ukraine.
Since my great-grandparents on both sides emigrated to the US from Ukraine (where their grandparents settled after leaving Germany), the situation there weighs heavily on my mind. In addition to supporting WCK, I will be making some of my family's favorite dishes from the region, such as haluptsi (also known as goluptsi), stuffed cabbage rolls. Ukrainian food is not well known, although a couple of recent books have shed light onto this corner of the culinary world. Olia Hercules dedicates an entire book to it with Summer Kitchens: Recipes and Reminiscences from Every Corner of Ukraine (and her previous book Mamushka: Recipes From Ukraine and Beyond may be of interest), and Caroline Eden also explores Ukrainian food in her excellent book Black Sea.