Spring 2022 Cookbook Preview
February 3, 2022 by Jenny
It's time for a Spring preview post which will cover all titles from February to May. Please note EYB's Spring preview is much larger than most as we feature books from around the world. While preparing this preview a few of the Spring titles were moved so if you are looking for a book, check the 2022 preview post for updates.
Speaking of the 2022 preview post, while I created a list of exciting books in my January cookbook review; I want to mention a few titles that I learned about today. These books are all coming out this autumn: Home Is Where the Eggs Are by Molly Yeh; JapanEasy Bowls & Bento: Simple and Satisfying Japanese Recipes for All Day, Every Day by Tim Anderson; Holday Cookies Collection: Over 100 Recipes for the Merriest Season Yet! by Brian Hart Hoffman; Tava: Eastern European Baking and Desserts From Romania & Beyond by Irina Georgescu; Supper: Recipes Worth Staying in For by Flora Shedden; and The King Arthur Baking School: Lessons and Techniques from the Baker's Classroom by King Arthur Baking Company.
If you would like to order any of these titles (or preorder/order any other books or items) using our affiliate links below or BUY BOOK button on the book details page, earns Eat Your Books revenue as an Amazon Associate from qualifying purchases when using our links:
USA * Canada * UK * Book Depository
Please remember your local bookstores during this time – for preorders as well and your local restaurants. We need to do what we can to make sure these businesses stay afloat. Speaking of afloat (I'm here all day, tip your wait staff), the reason some titles have been moved to summer/autumn: Buried treasure: cookbooks lost at sea.
---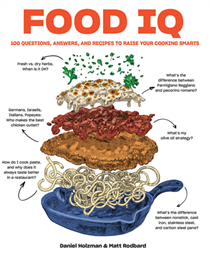 Food IQ: 100 Questions, Answers and Recipes to Raise Your Cooking Smarts by Daniel Holzman and Matt Rodbard features 100 essential cooking questions and answers; 113 recipes and instructions for a variety of dishes that utilize a wide range of ingredients and methods; and essential information every home cook needs on a variety of cooking fundamentals. Food IQ explains which onion you want to use (red, white or yellow) and then how to slice it; the difference between a $30 knife and a $150 knife (the answer is not $120); how to pick the right potato for the job and loads more. Holzman is the author of The Meatball Shop Cookbook and Rodbard the author of Koreatown: A Cookbook and Editor in Chief of Tastecooking.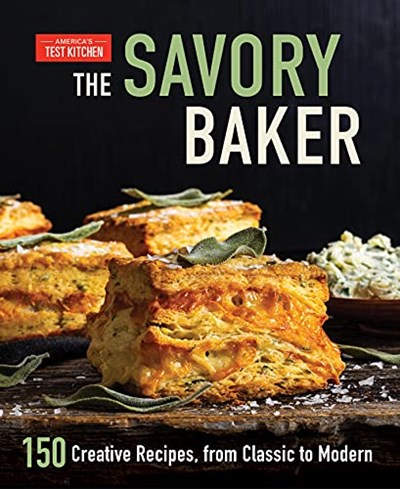 The Savory Baker: 150 Creative Recipes, from Classic to Modern by America's Test Kitchen explores the savory side of baking with a multitude of flavor possibilities. There are creative twists like gochujang-filled puff pastry pinwheels or feta-studded dill-zucchini bread as well as baked goods from around the world, from Chinese lop cheung bao to Brazilian pão de quejo. This is a keeper and a must for any baker. I want to make everything in this title.

Half Baked Harvest Every Day: Recipes for Balanced, Flexible, Feel-Good Meals by Tieghan Gerard: If you know Half Baked Harvest's work, you will not be surprised to learn that this book is an absolute stunner! Is there an echo here? Because I truly want to make every recipe in this book. How this woman makes a naan breakfast sandwich with scrambled eggs and honey seem like a work of genius is beyond me but I am grateful she does. Every page is beautiful in terms of photography and content.

Bagels, Schmears, and a Nice Piece of Fish by Cathy Barrow (Events) is all I hoped it would be and more. Cathy offers guidance on everything we should know and what we need to have on hand to begin bagel making. What is nice is there are many process photos on how to form the bagels which is a true benefit for beginners. Ernest Hemingway (from the grave) could write pages in detail about the process, but there is nothing like having the privilege of those photos. Cathy also includes schmears, sandwich musts and loads more.
Yiayia Next Door: Recipes from Yiayia's kitchen, and the true story of one woman's incredible act of kindness by Daniel and Luke Mancuso: I have not seen this book and I do plan to order it just for the story alone – but you must know about Yiayia Next Door. When the Mancusco brothers lost their mother Teresa to domestic violence, the Greek grandmother next door stepped in and started looking after them, passing home-cooked meals over the fence. This act helped Daniel and Luke navigate their grief and when they started to share the meals and their special relationship with 'Yiayia' on social media, all of Australia was touched. Now Yiayia's recipes are being shared but more importantly the real message of this book is the power of kindness.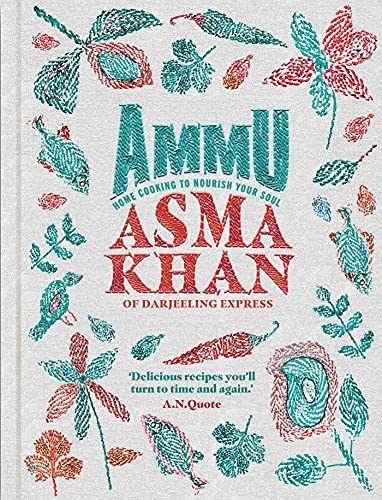 Ammu: Indian Home Cooking to Nourish Your Soul by Asma Khan: Fans of Asma's first cookbook Asma's Indian Kitchen will be overjoyed when they get their hands on Ammu. This new collection of recipes comes from Asma Khan's childhood, her Indian family kitchen. It is a celebration of where she comes from, of home cooking, and the inextricable link between food and love. It is also a chance for Asma to honor her ammu (mother) and to share with us the recipes that made her and rooted her to home. Beautiful photography and approachable recipes fill this stunner of a book.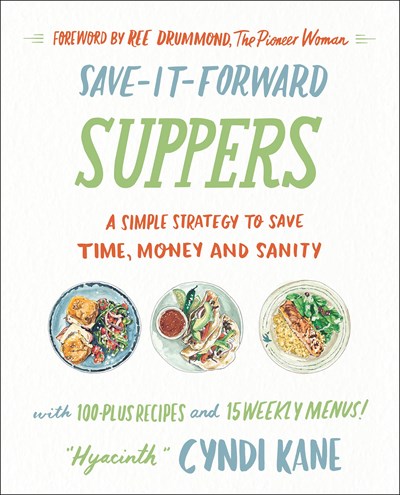 Save-It-Forward Suppers: A Simple Strategy to Save Time, Money, and Sanity by Cyndi Kane is a richly illustrated cookbook from Cyndi "Hyacinth" Kane, often seen on Ree Drummond's hit Food Network show and blog, The Pioneer Woman. Transform leftovers from each meal into a fresh new dish and put a home-cooked dinner on the table every night with 100-plus recipes and 15 easy weekly menus. Cyndi cooks hearty, home-style meals for her busy family using readily available ingredients that don't take a great deal of time.

Your Daily Veg: Modern, Fuss-Free Vegetarian Food by Joe Woodhouse celebrates everyday vegetables in a fresh and modern way. Chapters focus either on one core vegetable or a group of similar vegetables, celebrating seasonality and encouraging you to make swaps if you don't have the exact ingredients. These recipes can then be used as a base for experimenting. Starting with the ingredient and working forward from there, Woodhouse blends textures, spices and flavors to create satisfying meals that use minimal ingredients but achieve maximum flavor. With tips on how best to prep dishes and advice on minimising stress and time in the kitchen, each recipe is as straightforward as possible.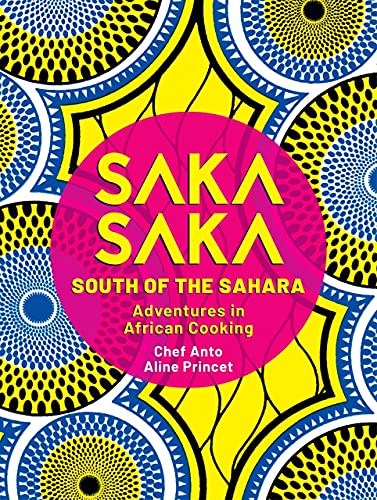 Saka Saka: South of the Sahara – Adventures in African Cooking by Anto Cocagne: In this vibrant and generous celebration of food, friendship and conviviality, photographer Aline Princet and Anto Cocagne, a young chef from Gabon, invite musicians, writers, artists and creatives from all over African, south of the Sahara, to share their recipes and bring the spotlight to focus on the rich diversity of African food. The 80 authentic recipes showcased here include the best dishes from Gabon, Senegal, Ivory Coast, Cameroon, Congo and Ethiopia, and with each recipe comes information on its origins, its key ingredients and tips and advice for the home cook on how to cook them to perfection.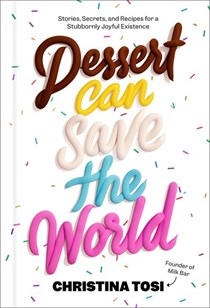 Dessert Can Save the World: Lessons, Secrets, and Recipes for a Stubbornly Joyful Existence by Christina Tosi shares wisdom the author gleaned while growing up surrounded by strong women who showed her baking's ability to harness love and create connection, as well as personal stories about succeeding in the highly competitive food world by unapologetically being her true self. Studded with personal and unorthodox recipes (Banana chocolate chip peanut butter cookies or Nonna's half-frozen cookies), this title reveals the secret ingredients for transforming our outlooks, our relationships, our work, and our entire collective existence into something boldly optimistic and stubbornly joyful. Tosi has another cookbook coming in November: All About Cookies: A Milk Bar Baking Book.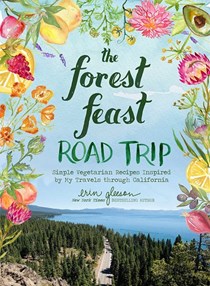 The Forest Feast Road Trip: Simple Vegetarian Recipes Inspired by My Travels through California by Erin Gleeson journals her family's extended road trip around California, staying in unique cabin dwellings along the way and showing readers the beauty and incredible food of the Golden State she knows so well. This new title showcases 100 vegetarian recipes, all inspired by her family's journey by car through a stunningly geographically diverse setting. Each chapter focuses on a different region of California, depicted in Gleeson's signature aesthetic of atmospheric photography, charming watercolor illustrations, and mouthwatering recipes drawn from the fresh, local produce found in each location.

Lanka Food: Serendipity & Spice by O Tama Carey is a comprehensive guide to Sri Lankan cooking from the acclaimed chef and restaurateur. With essays that further contextualize the cuisine, this cookbook is a guide for people wanting a deeper understanding of the culture and the central place of food, and serves as a wonderful starting point for cooking and sharing Sri Lankan feasts with friends and family at home. This is food that any of us can cook at home such as Pan rolls (a type of pancake filled with deliciousness and then coated and deep fried); a selection of roti curries, and hoppers (hoppers are savoury pancakes that are made from coconut milk and rice or rice flour that needs fermenting – ideally, overnight); along with a chapter on sweets such as Milk toffee.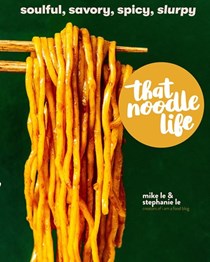 That Noodle Life: Soulful, Savory, Spicy, Slurpy by Mike and Stephanie Le is a 75-recipe celebration of the myriad pleasures of noodles which goes way beyond spaghetti and ramen. Inspired by the noodle- and macaroni-crazed cuisines of Asia, Italy, and the American melting pot, they dish up high-impact, soulful, slurpable flavor with minimal fuss. Gorgeous full-color photographs of every dish enhance the lively and sophisticated spreads. Fried Shanghai noodles with pork belly and kale; Authentic beef Chow Fun with 2 kinds of soy sauce; and French onion mac and cheese are just a few examples of the recipes here.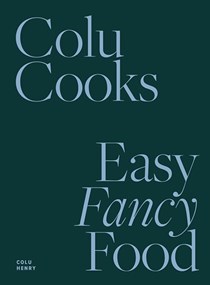 Colu Cooks: Easy Fancy Food by Colu Henry shares 100 recipes and photographs with ideas and solutions to get you out of your weeknight routine, explore new ingredients and techniques, build your confidence, and have a sophisticated dishes on the table in around 45 minutes. Colu begins with stocking your larder (pantry/fridge) and what she keeps near the stove to speed up cooking. I already want to make a load of these recipes including Coconut rice with pea shoots and citrusy cashews; Skillet chicken with wilted radicchio, anchovy and onion; and Skillet pork chops with vinegar and honey collards.

My America: Recipes from a Young Black Chef by Kwame Onwuachi with Joshua David Stein features more than 125 recipes in a celebration of the food of the African Diaspora, as handed down through Onwuachi's own family history, spanning Nigeria to the Caribbean, the South to the Bronx, and beyond. Sections are organized by culinary influence (i.e., Nigeria…..Caribbean) and the recipes are approachable for our home kitchens. This is an impressive title that we all must have in our collection.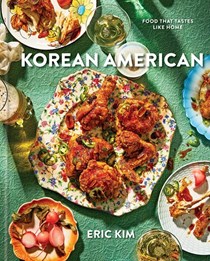 Korean American: A Cookbook by Eric Kim is one of those titles that I've been counting the moments for its release (I have to be honest, I feel that way about many of 2022's titles. Publishers and authors are crushing it.). Kim divides up these recipes as follows: TV Dinners (food to eat in front of the tv); Kimchi is a verb; S is for Stew; Rice cuisine; Garden of Jean (vegetables); Korea is a peninsula; Feasts; and Korean bakery. The recipes and photography are outstanding and include the "Kim Thanksgiving menu", cocktails and breads and desserts in the bakery section. Run to get this book.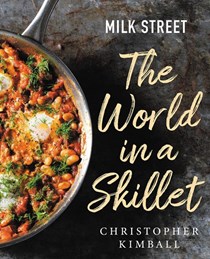 Milk Street: The World in a Skillet by Christopher Kimball is what we expect from the wonderful team of Kimball and the Milk Street Kitchen. Global flavors and the convenience of whipping up these recipes in a skillet. Dishes are all done within an hour and some within 30 minutes. Japanese-style chicken meatballs, Vietnamese caramel pork and South Asian mashed potatoes are calling my name.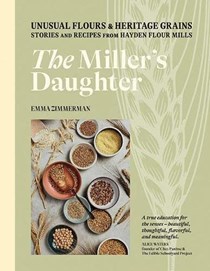 The Miller's Daughter: A Western with Recipes for Unusual Grains and Stone-Milled Flours by Emma Zimmerman is a cookbook at the forefront of America's heritage grain movement with 80 recipes along with beautiful, candid stories that celebrate community, agriculture, sustainability, and the place of grains at every table. Emma with her father, Jeff, is a rebel and a dreamer on the outskirts of rural Phoenix. In a country overrun by corporate, homogenized grain farming, the daughter-father team are champions of rare and near-extinct varieties of ancient grains. Organized by grain (from farro to white sonora to red fife to corn, barley, durum and rye), Emma's collection of recipes covers breakfast, sweet, savory and mains within each chapter.
Arabiyya: Recipes from the Life of an Arab in Diaspora by Reem Assil is a collection of 100 bright, bold recipes influenced by the vibrant flavors and convivial culture of the Arab world, filled with moving personal essays on food, family, and identity mixed with a pinch of California cool, from the chef and activist. This title includes a hefty bread chapter with loads of details, photographs and guidance and the desserts chapter made me swoon with recipes such as Pistachio birds' nests, Quince and cheese pastry rolls and Orange turmeric cake.
Sunday Best: Cooking Up the Weekend Spirit Every Day by Adrienne Cheatman: The author/chef spent her career cooking in some of the country's most prestigious restaurants, from Eric Ripert's Le Bernardin to Marcus Samuelsson's Red Rooster. She went on to become a finalist on Top Chef and founded a popular pop-up series, SundayBest, where she honed her signature style of cooking that combined her family's Southern roots and her own childhood food memories with her classical training in professional kitchens. The name of that series, and this book, were inspired by the special set of clothes that many in the Black community have reserved for church. During segregation, people would put on their "Sunday best" just to go into town as a way of demanding respect from those who didn't accept them as equal. This tradition and its meaning are at the core of Adrienne's debut book which shows how everyday moments should be appreciated, celebrated, and made special for those you love. While impressive and "sunday best" type recipes, these dishes are nothing that can be deemed overwhelming.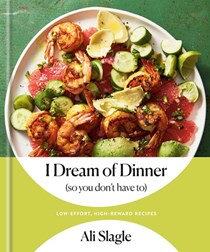 I Dream of Dinner (So You Don't Have To): Low-Effort, High-Reward Recipes by Ali Slagle shares 150 ingenious recipes that make suppertime a snap every night, from the New York Times recipe columnist. These are quick but flavor-filled dishes that will satisfy everyone around the table. Recipes include Eggs with smoky scallion oil; BLT stir-fry (the T stands for tofu); Pasta with rosemary fried walnuts; and Black bean soup with lots of Fritos.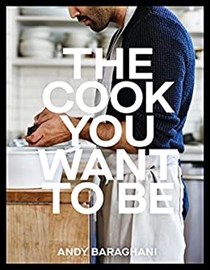 The Cook You Want to Be: Everyday Recipes to Impress by Andy Baraghani: One of Bon Appétit's favorite talents shows us how to define and develop our individual cooking style – and become the cook we want to be – in 120 recipes. The imagery and dishes shared here are spectacular and not overly complicated: Spicy coconut chowder with toasted garlic; Tangy pomegranate chicken and Broken feta with sizzled mint and walnuts.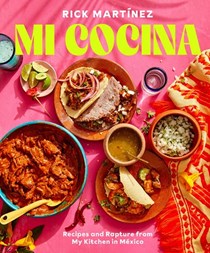 Mi Cocina: Recipes and Rapture from My Kitchen in Mexico by Rick Martinez: Here the author travels to each of the seven regions in Mexico to explore 100 unique dishes, the recipe for each accompanied by stunning on-site photography. His recipes are based on his favorite home-tested version of each dish, veering from tradition when inspired. Rick always keeps availability of ingredients in mind and provides substitutions and replacements when needed. Another vibrant cookbook that will introduce us to Mexican cuisine with fun recipes and stunning photography.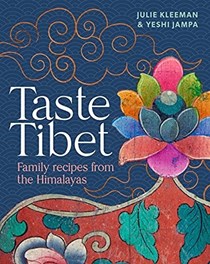 Taste Tibet: Family Recipes from the Himalayas by Julie Kleeman and Yeshi Jampa shares wholesome food made with simple ingredients that heal as well as feed: this has been the tried and tested way of eating in Tibet for over 8,000 years. Sharing the practices of the nomads, this is the first ever comprehensive collection of recipes and food stories from Tibet. Julie and Yeshi bring millennia-old dishes to your table that are simple to make and use ingredients that are easy to come by.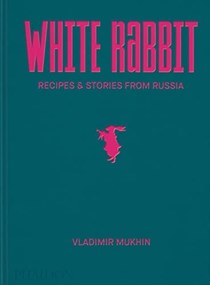 White Rabbit: Recipes & Stories from Russia by Vladimir Mukhin: The debut cookbook from the most celebrated chef in Russia, and his globally acclaimed White Rabbit – a magical restaurant with a sublimely talented chef whose exquisite cooking and fantastical presentation attract diners from around the world to Moscow. Mukhin is a fifth-generation chef from a small town in the Caucasus Mountains. His evocative menus at White Rabbit in Moscow are a revelation – demonstrating his innovative approach to the centuries-old cooking of his homeland.
The Dusty Knuckle: Seriously Good Bread, Knockout Sandwiches and Everything In Between by Max Tobias, Rebecca Oliver and Daisy Terry is a celebration of all things bread, from east London's favorite bakery.
Packed with step-by-step instructions for mixing, fermenting and shaping dough – even home baking hacks and leftover spin-offs – includes exciting chapters for (unforgettable!) sandwiches, sauces, soups and salads to enjoy on, in, and with bread. In this epic collection of recipes, you'll find everything from Dusty Knuckle's legendary potato sourdough and knockout focaccia, to their ground-breaking sandwiches and unforgettable sweet things.

Six California Kitchens: A Collection of Recipes, Stories, and Cooking Lessons from a Pioneer of California Cuisine by Sally Schmitt is the quintessential California cookbook, with farm-to-table recipes and stories from Sally Schmitt, the pioneering female chef and original founder of the French Laundry. Sally Schmitt opened The French Laundry in Yountville in 1978 and designed her menus around local, seasonal ingredients – a novel concept at the time. In this beautiful book, Schmitt takes us through the six kitchens where she learned to cook, honed her skills, and spent her working life. Six California Kitchens weaves her remarkable story with 115 recipes that deliver simple, delicious dishes, plus evocative imagery, historic ephemera, and cooking wisdom.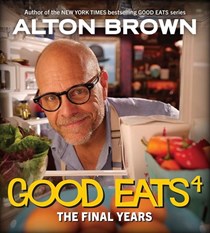 Good Eats: The Final Years by Alton Brown is an all-new collection of must-have recipes and surprising food facts from Alton Brown, drawn from the return of the beloved Good Eats television series, including never-before aired material. Brown delivers 175 new recipes in this must have piece of the Good Eats puzzle.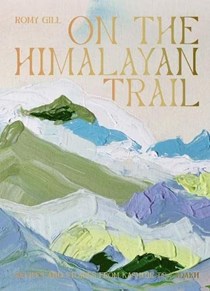 On the Himalayan Trail: Recipes and Stories from Kashmir to Ladakh by Romy Gill tells the story of Kashmir and Ladakh's unique and tantalizing cuisine sharing over 80 extraordinary recipes that can be recreated in your own home kitchen.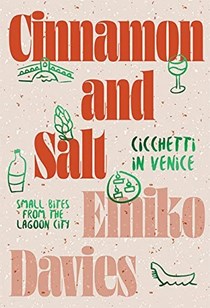 Cinnamon and Salt: Ciccheti in Venice: Small Bites From The Lagoon City by Emiko Davies: Cicchetti (pronounced chi-ke-tee) are little morsels; think of them as appetizers, apertivo, hors d'oeuvres or, if you absolutely must, as Spanish tapas – but cicchetti are undeniably, distinctly Venetian and a delicious nod to Venice's casual way of life. In Cinnamon and Salt, Italy-based food writer Emiko Davies explores the rich history of Venice and its long relationship with cicchetti, detailing more than sixty classic and modern recipes, from fried to sweet and from small plates to drinks. Try sweet and sour radicchio, or mackerel, walnuts and black olive pâté. Indulge in Venetian soft-shell crab before moving on to rose petal jam. You'll even find recipes for a spritz, a bellini and a thick hot chocolate, and be let in on the secrets to creating your own authentic cicchetti.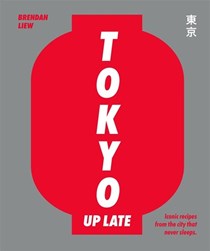 Tokyo Up Late: Midnight Snacks, Things on Sticks, Fried Goodness, Ramen + (More) Cocktails by Caryn and Brendan Liew is your guide through the night, from the lamp-lit streets to menu-plastered walls, where a Japanese smorgasbord is on offer: sake and beer snacks (think burdock chips and grilled ginkgo nuts) to sashimi and sake- or saikyo miso–grilled fish, karaage (fried chicken), and yakitori.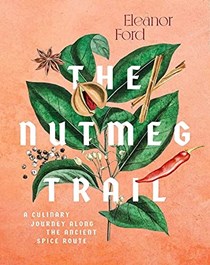 The Nutmeg Trail: A Culinary Journey Along the Ancient Spice Route by Eleanor Ford: Through 80 spice-infused recipes, spectacular images, and a mouthwatering culinary journey along the ancient spice trail, award-winning author Eleanor Ford's luscious new volume reveals how centuries of spice trading and cultural diffusion changed the world's cuisine and how to best stock and enjoy spices in your own home.
Core by Clare Smyth is an exclusive insight into the work and mind of the highly acclaimed chef Clare Smyth and her three-Michelin-starred restaurant, Core, in London's Notting Hill. Clare Smyth's food is of superlative elegance and redefines modern British cuisine. Through Core's tasting menu Smyth shares stories about ingenuity, nostalgia, humour and craft, and showcases Britain's outstanding produce. In so doing, Smyth provides an exceptional fine-dining experience. This much-anticipated debut book includes 60 key recipes served at Core as well 70 recipes for basics including stocks, sauces and breads, and tells the fascinating story of Smyth's journey and philosophy that led to her opening and running one of the finest restaurants in the UK.
Kin Thai: Modern Thai Recipes to Cook at Home by John Chantarasak: KinThai translates as "Eat Thai" and is a collection of 80 delicious recipes featuring Thai food we know and love. Chapters are structured by type of dish, from snacks and relishes to curries, stir-fries, and salads, so you can easily find your favorites. As well as using ingredients native to Thailand, John explores the origins of the western ingredients, explaining their place in Thai cuisine, and how the home cook can use them to achieve Asian flavors.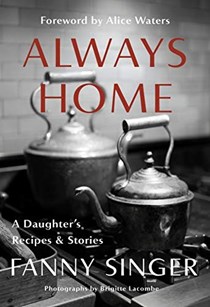 Always Home: A Daughter's Recipes & Stories by Fanny Singer is being released in February in paperback version. With 73 recipes, this culinary memoir about growing up as the daughter of revered chef/restaurateur Alice Waters is a story of food, family, and the need for beauty in all aspects of life. Recipes include: My mom's garlicky noodle soup (embroidered version); Gigot d'agneau à la ficelle and Buckwheat "tarte au citron" along with some basics such as Chicken stock; Roast chicken; and Pizza dough. A loving tribute from a daughter to her mother.
Gullah Geechee Home Cooking: Recipes from the Mother of Edisto Island by Emily Meggett is the first major Gullah Geechee cookbook from "the matriarch of Edisto Island," who provides delicious recipes and the history of an overlooked American community. Meggett's Gullah food is rich and flavorful, though it is also often lighter and more seasonal than other types of Southern cooking. Heirloom rice, fresh-caught seafood, local game, and vegetables are key to her recipes for regional delicacies like fried oysters, collard greens, and stone-ground grits. This cookbook includes not only delicious and accessible recipes, but also snippets of the Meggett family history on Edisto Island, which stretches back into the 19th century.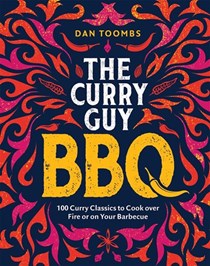 Curry Guy BBQ: 100 Curry Classics to Cook Over Fire or on your Barbecue by Dan Toombs brings you his best ever recipes for cooking outdoors and on a barbecue. Curry dishes and flavors work exceptionally well for grilling and live-fire cooking. As well as familiar meals like kebabs and skewers, naans and tandoori chicken, Dan has come up with original recipes using ribs and British-Indian burgers based on fast food, as well as one-pot curries that can be cooked over the fire. It's the ultimate crossover – Curry Guy meets BBQ!

A Good Day to Bake: Simple Baking Recipes for Every Mood by Benjamina Ebuehi is full of 70 sweet and savory baking recipes for any day of the week, led by flavor from the GBBO star. Recipes include Sour cream sage doughnuts, Malted milk crème brûlée and Banana, tahini and rum cake.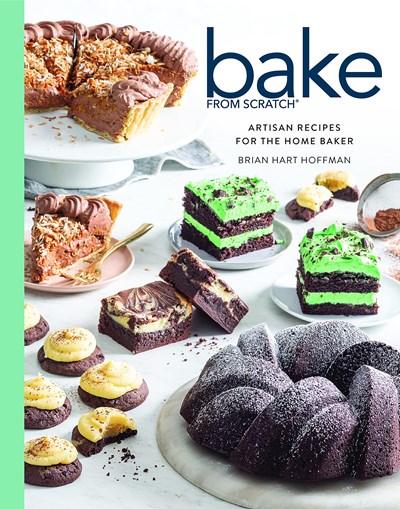 Bake from Scratch: Volume Six: Artisan Recipes for the Home Baker by Brian Hart Hoffman — always a must have! This latest collection of over 650 recipes from the editors of Bake from Scratch magazine features step-by-step tutorials, tried-and-tested recipes, and stunning photography. This cookbook will have you mastering yeasted breads, layer cakes and so much more.
---
Below please find a list of titles that should be fantastic but I have not previewed. I hope to bring you more information in the monthly cookbook reviews.
The Fresh Eggs Daily Cookbook: Over 100 Fabulous Recipes to Use Eggs in Unexpected Ways by Lisa Steele (Events)
Everyday Celebrations from Scratch by Maria Provenzano
The Sweetness of Doing Nothing by Sophie Minchilli
The Modern Table: Kosher Recipes for Everyday Gatherings by Kim Kushner
Cake & Loaf: Everyday Baking and Special Treats by Josie Rudderham and Nickey Miller
Sweet Paris: Seasonal Recipes from an American Baker in France by Frank Adrian Barron
The Modern Proper: Simple Recipes Meant to Be Shared by Holly Erickson and Natalie Mortimer
Fabulous Modern Cookies: Lessons in Better Baking for Next-Generation Treats by Paul Arguin and Chris Taylor
Outside: Cooking Outdoors – Recipes for the Wild by Gill Meller
50 Things to Bake Before You Die: The World's Best Cakes, Pies, Brownies, Cookies, and More from Your Favorite Bakers, Including Christina Tosi, Joanne Chang, and Dominique Ansel by Allyson Reedy
Homestead Recipes: Midwestern Inspirations, Family Favorites, and Pearls of Wisdom from a Sassy Home Cook by Amanda Rettke
Watermelon and Red Birds: A Cookbook for Juneteenth and Black Celebrations by Nicole A. Taylor
Meat Free Mexican by Thomasina Miers
Snackable Bakes: 100 Easy-Peasy Recipes for Exceptionally Scrumptious Sweets and Treats by Jessie Sheehan
Learning Korean: Recipes for Home Cooking by Peter Serpico
A Year at Catbird Cottage: Recipes for a Nourished Life by Melina Hammer
The Weekend Cook: Good Food for Real Life by Angela Hartnett
The Seasonal Baker: Baking All Year Round by Michelle Evans-Fecci GBBO contestant
The Year of Miracles: Recipes to Save Your Life by Ella Risbridger (
Grain and Fire: A History of Baking in the American South by Rebecca Sharpless
Yawd: Modern Afro-Caribbean Recipes by Adrian Forte
Pig Beach Cookbook: Smoked, Grilled, Roasted, and Sauced by Matt Abdoo and Shane McBride
The Artful Pie Project: A Sweet and Savoury Book of Recipes by Denise Marchessault and Deb Garlick
The Wok: Recipes and Techniques by J. Kenji López-Alt (Events)
Paon: Real Balinese Cooking by Tjok Maya Kerthyasa and I Wayan Kresna Yasa
The Spanish Home Kitchen: Seasonal Recipes from my Home by José Pizarro